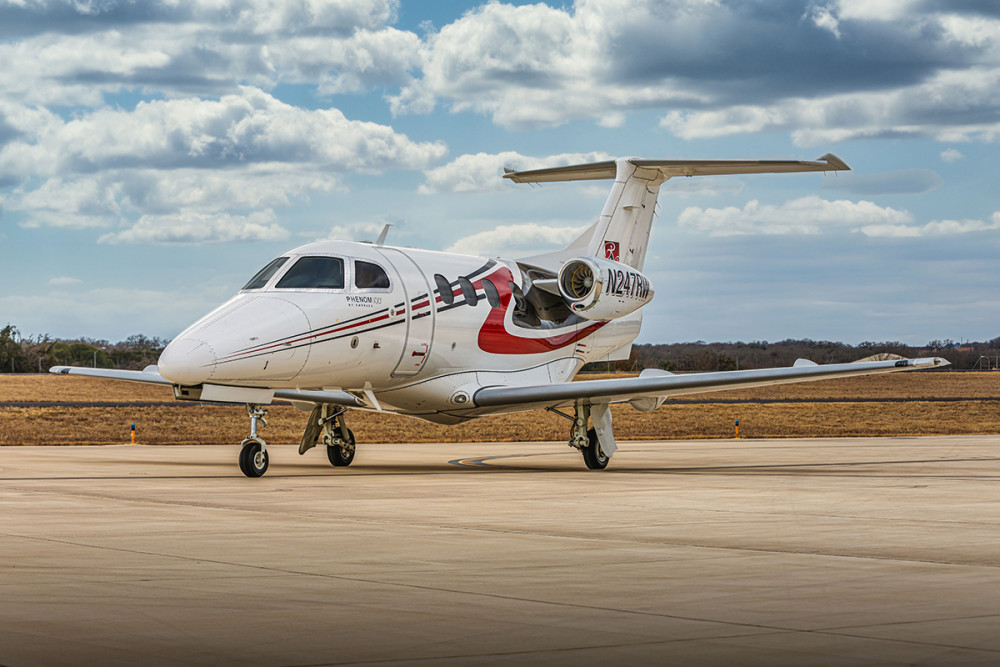 2009 Embraer Phenom 100
Price: Call for Price
Serial Number:

50000019

Tail Number:

R247RW

Hours:

1,908

Cycles:

1,291
This beautiful 2009 Phenom 100 has less than 2,000 hours since new. The airframe is on EEC Standard and the engines are on ESP Silver Lite. Interested? Contact Eric Hammer at sales@elliottjets.com or call 336.553.8888.
Offered by:

Milan, IL
Airframe
Program Coverage:
Aux Advantage, Bacon Low Utilization, Bombardier SmartParts, Bombardier SmartParts Plus, Cessna ProAdvantage, Cessna ProParts, Cessna ProTech, Dassault FalconCare, Embraer Executive Care (EEC), Embraer Executive Care Enhanced (EEC Enhanced), Flight Ready, FlightLevel, GCMP, Gulfstream PlaneParts, JSSI Parts, JSSI Platinum Plus, JSSI Plus, JSSI Tip-to-Tail, LUMP (Low Utilization Maintenance Program), MPP, MSG-3, MyCMP, P2 (Flight Ready Service Plan), Pilatus CrystalCare, Sikorsky Powertrain Assurance Program (PAP), SPP Parts, SupportPlus
Engines
Engine Program Coverage:
ESP Silver Lite
Avionics
Prodigy Flight Deck 100 (Garmin 1000 platform)
• Three 12.4 Inch Active Matrix Liquid Crystal Displays
• Integrated Electronic Standby Instrument (IESI)
• Flight Management System (FMS) with Required Navigation Performance
• Dual Flight Director (FD)
• Engine Indication and Crew Alerting System (EICAS)
• Central Maintenance Computer (CMC)
• 3 Axis CAT I Automatic Flight Control System (AFCS)
• Cockpit Voice and Data Recorder (CVDR)
• Satellite Weather and Radio Receiver
Additional Equipment/Features
Weather Radar
TCAS I
Synthetic Vision System (SVS)
Enhanced Takeoff Package
ADS-B Out
Premium Passenger Door
Cockpit Flood Lights
Hobbs Meter
Interior
Original interior with four passenger seats in a Topaz scheme.
Exterior
Original paint in overall White with Lamp Black and Candy Red stripes.
Send a message to Eric Hammer at Elliott Jets