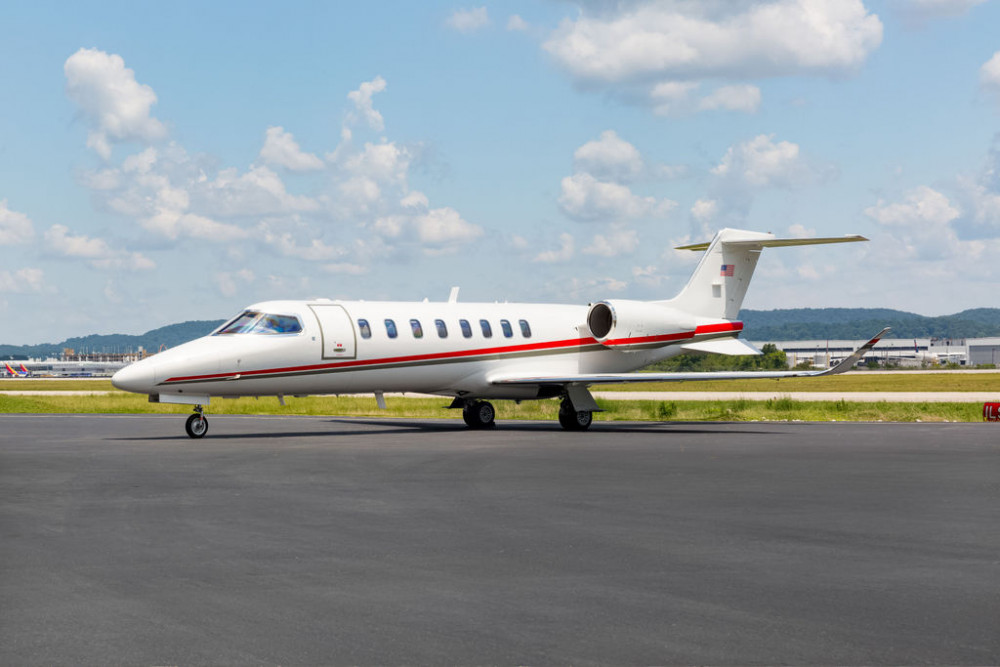 2015 Bombardier Learjet 75
Price: $4,795,000
Serial Number:

45-515

Tail Number:

N40PC

Hours:

2,267

Cycles:

2,981
• Fresh Lease Return Inspection by Standard Aero (PPI)
• Garmin 5000 Avionics Package
• One US Owner (multi Lear 75 aircraft owner)
• Engines and APU on MSP Gold
• Synthetic Vision
• CVR & FDR
• Takeoff and Landing (TOLD) Performance Database
• XM Satellite Weather
• Iridium with ATG Broadband System
Airframe
Engines
Engine Program Coverage:
MSP Gold
APU
Description:
Honeywell RE-100
APU Program Coverage:
MSP Gold
Total Time Since New:
1,180
Total Cycles Since New:
2,761
Avionics
Garmin 5000 Avionics Suite
Flight Deck (3)Triple, 14' Flight Displays
(2) Primary Flight Displays (PFD)
(1) Multi-Function Display (MFD)
Touchscreen Controllers
Dual (2) 5.7" LED-backlit, full-color
Auto Flight
Single (1) three-axis Automatic Flight Control System (AFCS)
Communications
Integrated Avionics Units
(2) remote-mounted avionics units house GPS/SBAS receivers
VHF Communication radios (8.33 KHz or 25 KHz)
VHF Navigation Radios
Glideslope receivers
(1) Single HF Communication with SECAL
Audio System
Radio Navigation
Dual (2) VOR/ILS receivers
Dual (2) Marker Beacon Receivers
Maintenance Interphone
Indicating / Recording Systems
Cockpit Voice Recorder (CVR)
Digital Flight Data Recorder (DFDR)
Emergency Locator Transmitter (406 MHz)
Navigations
Flight Information System
Synthetic Vision System
Standby Instrument System
Weather Radar System
XM Satellite Weather
Navigation and Surveillance Sensors
Dual (2) VHF Nav receivers
Single (1) DME Transceiver
Dual (2) 24 channel GPS WAAS receivers
Single (1) TCAS II system ( TCAS 7.1)
Dual (2) Mod S Transponders (ADS-B Out)
Terrain Awareness and Warring System (TAWS)
Air Data System (ADS)
Dual (2) digital air data computers
Surface Awareness System - Display of taxiways and airport
building
Flight Management System (FMS)
Dual (2) FMS
Moving Map Display on PFD and MFD
Flight Planning and Navigation Functions

Additional Features:
Iridium with ATG Broadband System
Provisions for Datalink Digital Radio
Lighted Control Wheel Chart Holder
O2 Bottle (Portable)
Takeoff and Landing (TOLD) Performance Database
Additional 110 Volt outlets in cockpit
Smartphone handsets (wired)
Media Center
3D Mapping
MiniQAR System
Inspections
Inspection Type
Performed
Next Due
600 Hour/36 Month Inspections
1200 Hour/72 Month Inspections
2400 Hour/108 Month Inspections
Interior
Double Club Configuration with swivel and reclining features.
Culpataro Carpet, dark veneer, blond leather seats, plating is satin nickel.
Forward Galley with Galley Rest Seat.
Aft Belted Lavatory.
Interior storage aft lavatory 15 cubic feet up to 150 LBS - Heated tail cone baggage 50 cubic feet up to 500 LBS.
Entertainment
12.1" Flat panel screen & (6) 7" popup screens
Media Center
3D Mapping
LED Lighting
Exterior
Base Paint Colors:
Matterhorn White
Stripe Colors:
Warm Red and Black Desoto stripes
Send a message to QS Partners