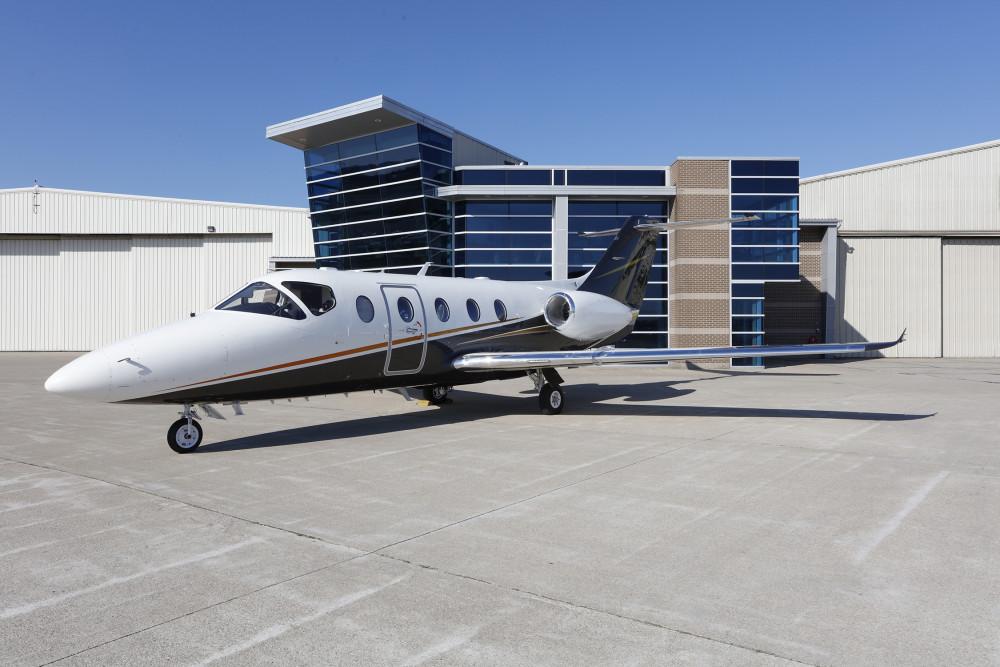 2014 Nextant 400XTi
Price: $2,495,000
Serial Number:

RK-0506

Tail Number:

N415FL

Hours:

1,617

Cycles:

1,242
New to Market!! 2014 Nextant 400XTi with winglets, ADS-B Out, FDR and WiFi
Offered by:

Cleveland, OH
Airframe
Maintenance Tracking:
CAMP
Airframe Certification:
FAR Part 91
2014 Nextant 400XTi with Winglets, ADS-B out and Wifi
Total Hrs: 6115/4896Lnd.
Total Time since Remanufacture: 1617hrs/1242Lnd
Engines
Williams International FJ44-3AP
Engine Program Coverage:
TAP Elite
Avionics
Rockwell Collins Pro Line 21 Flight Deck
Collins Pro Line 21- 4 Tube Display
Dual Collins FMS-6100
Collins APS-4000 Autopilot
Collins VHF-422C Comm W/8.33 Spacing
Dual Collins VIR-432 Navs
Collins ADF-462 ADF
IFIS
Dual Collins DME-422 DME
Dual Collins TDR-94D's Mode "S" Transponders
Collins TCAS 7.1
Dual Collins AHARS 3000S
Dual Collins RTU-870 Radio Tuning Units
Collins WXR-850 WX Radar
Dual Collins DB-438 Audio
Collins ALT-55B Radar Altimeter standby
Collins GPS-4000S WAAS/LPV
L3 Communication CVR 2 Hour
Dual Glideslope Rec
JET Standby Horizon
Dual Digital Clocks
Dual Marker Beacons
Landmark TAWS 1A
ADSB-Out
RVSM Compliant
Other Features/Upgrades:
Xti Winglets
Dual Channel Iridium Phone
Broadband Internet/Wi-Fi
Freon Air Conditioning
Aft Baggage Extension
Lead Acid Battery Conversion
Tail De-Ice Mod
110VAC Outlets - 2 Cabin; 1 Cockpit
Tail Logo Lights
Left and Right Wing Ice Lights
LED Exterior and Cabin Lighting
406MhZ ELT
Flight Data Recorder

Enhanced Flight ID
MD-302
Cabin Stair Upgrade
Engine Inlet Modification
Navigation and Compliance
Interior
Interior Last Refurbished:
2020
8 Place interior with 3 place Divan and Belted Lavatory. Seats: Townsend Classic Leather, color Pale Tan w/M&G Sirerra welt cord accents. Crew seats: Garrett Leather Native Blackfoot w/ gray sheepskin. Window Lines: Tapis Ultraleather Ostrich, color China White. Headliner: Tapis Ultraleather, color China White. Sidewall Accent Panels: Townsend Classic Leather, color Pale Tan w/lower trim: Townsend Textured Leather, color Oatmeal. Carpeting: Delos Gridlock, color Tan. Veneer: Quarter figured Walnut w/Gloss finish. Plating: Polished Smoke Nickel. Fireblocked Interior to Meet FAR Part 135 Requirements - Custom Galley With Dual Mapco's. Flexjet Europe design theme: Abbey Road. January 2020
Entertainment
High Speed Internet:
ATG-5000
Exterior
Base Paint Colors:
Chevron White mica
Stripe Colors:
Charcoal with Red/Gold Harlequin
Flexjet design theme. Chevron White Course Mica, & Charcoal with Red/Gold Harlequin accents.
Send a message to Jeffrey Csorba at Sojourn Aviation Company, LLC