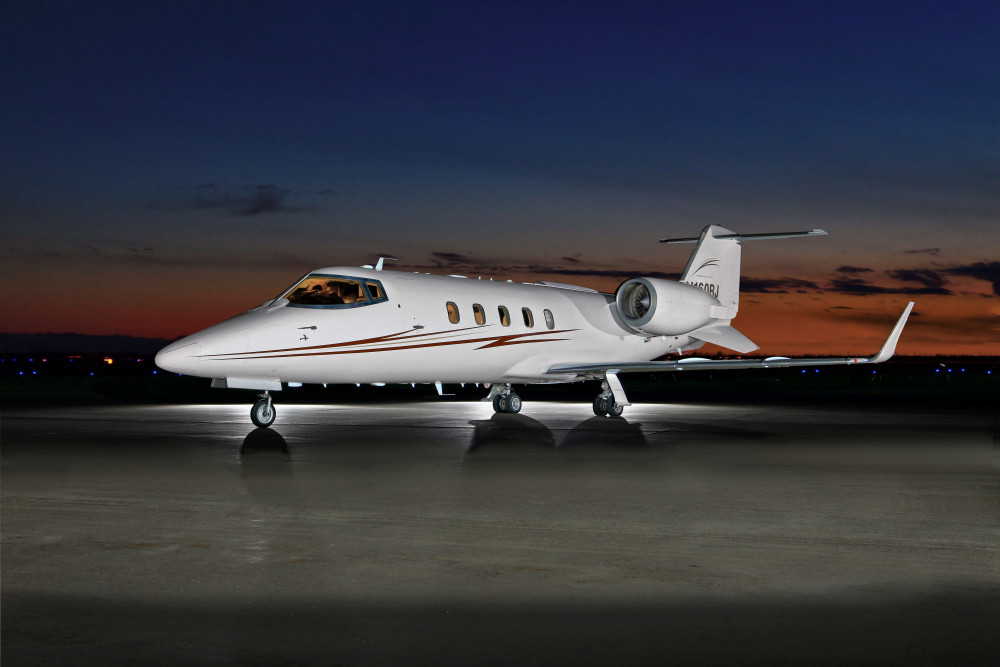 2002 Bombardier Learjet 60
Price: Make an Offer
Serial Number:

0255

Tail Number:

N160RJ

Hours:

6,788

Cycles:

4,531
INCENTIVES FOR ANY PROSPECT WHO CAN CLOSE IN 2019
Fresh A Inspections with sale
$500,000 in upgrades, making this the best equipped Lear 60 available!

Duncan Aviation is pleased to present Bombardier Learjet 60 serial number 255 as pre-market opportunity to our fellow IADA members.

Few Lear 60s of this vintage are as well equipped. Serial number 255 features WiFi, ADS-B, TCAS 7.1, and upgraded FMS capable of shooting WAAS/LPV approaches. Additional highlights include:
• Excellent Cosmetics
• Aft belted lav
• Engines on ESP Gold
• Titanium flap track mod
• 3-Rotor brake mod
• CAMP maintenance tracking

The aircraft was completely repainted in 2015 and sports a tasteful scheme with nordic grey, medium grey, and red striping. The 8-passenger interior was entirely refurbished at the same time, with complementary cream and chocolate leathers, dark satin wood cabinetry, and elegant brass hardware.

For further details about the aircraft please contact:

David G. Coleman
Aircraft Sales and Acquisitions
Transaction Management and Fleet Analysis
Duncan Aviation, Inc.
Direct +1.847.450.1090 | Mobile +1.773.425.2498
Dave.Coleman@DuncanAviation.com
Offered by:

Lincoln, NE
Airframe
Entry Into Service Date:
May, 2002
Maintenance Tracking:
CAMP
Engines
Engines: Pratt & Whitney PW305A
Engine 1: 5024 Hours to Overhaul
Engine 2: 3237 Hours to Overhaul
Engine Program Coverage:
ESP Gold
APU
Description:
Hamilton Sundstrand T-20G-10C3A
Total Time Since New:
2,624
Avionics
• ADF: Dual Collins ADF-462
• AFIS: Universal Unilink 601
• AHRS: Dual Collins
• Autopilot: Collins FCC-850A
• Avionics Package: Collins Pro Line 4
• Communication Radios: Collins VHF-422C and Collins VHF-422D w/8.33 kHz spacing
• Compass: Dual Collins AHRS
• CVR: Universal CVR-120
• DME: Dual Collins DME-442
• DTU: Universal SS Data Loader
• EFIS: Collins 4-tube
• FDR: L3 FA2100
• Flight Director: Collins 4-tube
• FMS: Dual Universal UNS-1Ew
• Hi Frequency: Dual Collins w/SELCAL
• Navigation Radios: Dual Collins VIR-432 w/FM immunity
• Radar Altimeter: Collins ALT-55B
• SATCOM: Universal Aero-M
• TAWS: Honeywell Mark V EGPWS
• TCAS: Collins TCAS-4000 w/change 7.1
• Transponder: Dual Collins TDR-94C w/enhanced surveillance (ADS-B compliant)
• Weather Radar: Collins RTA-844
Navigation and Compliance
Inspections
Inspection Type
Date Performed
Next Due
Interior
Interior Last Refurbished:
2015
8 Passenger executive configuration, with fireblocked
cream leather seats in a forward 4-place club, aft
single club, and aft chocolate leather 2-place divan,
as well as an aft belted lav seat. White ultraleather
headliner and upper sidewalls with muted lower
sidewalls. Satin wood and veneer cabinetry and
woodwork throughout, including dual executive
tables. Polished brass fixtures. Forward refreshment
center and underseat storage.
Entertainment
Display TV Monitors:
Dual bulkhead mounted LCD monitors
Airshow System:
Airshow 400
High Speed Internet:
Aerowave 100 WiFi
DVD/CD Players:
Dual DVD players, 10-disc CD player
In-Flight Phone:
Cabin in-flight phone
Exterior
Stripe Colors:
Nordic grey, medium grey, red
Overall pure white with Nordic grey, medium grey, and
red accents. Exterior refinished in 2015.
Send a message to David Coleman at Duncan Aviation, Inc.