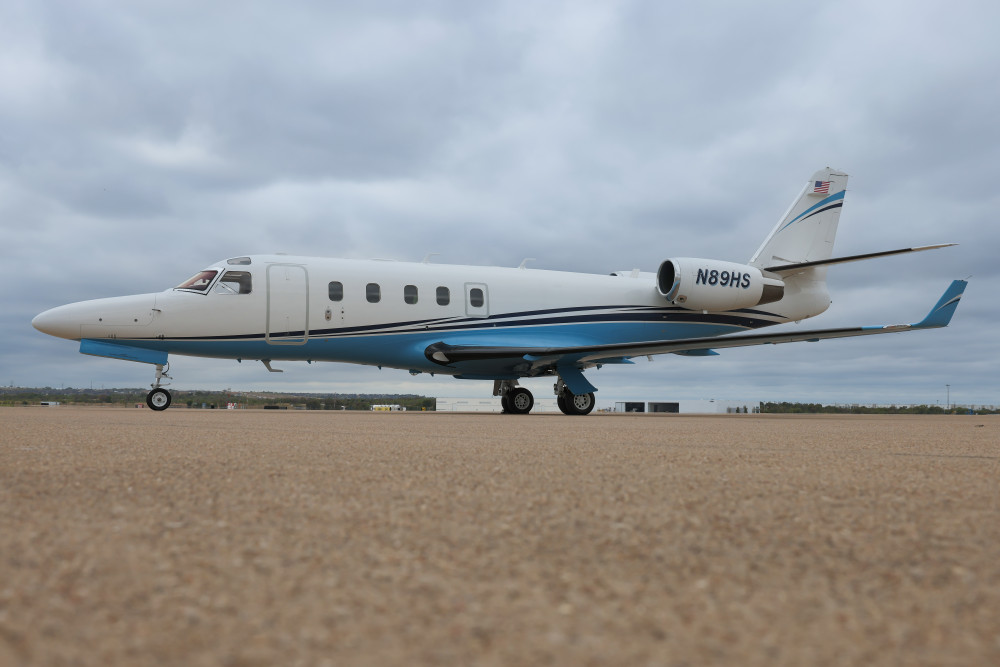 1997 Astra/Gulfstream 1125 Astra SPX
Price: Make Offer
Serial Number:

89

Tail Number:

N89HS

Hours:

6,516

Cycles:

3,919
➢ Aircraft enrolled on Gulfstream CMP Maintenance Tracking
➢ Collins Avionics Service Plan (CASP)
➢ A (250 hour), B (500 hour), and C (1000 hour) Inspections c/w 06/2019 at Trimec Fort Worth, TX
➢ Engines Enrolled on Honeywell MSP Gold
Offered by:

Westlake, TX
Airframe
Engines
Allied Signal TFE-731-40R-200G
Engine Program Coverage:
MSP Gold
Avionics
COMM: Dual Collins VHF-422D with 8.33 spacing
NAV: Dual Collins VIR-432 with FM immunity
AUTOPILOT: Collins FCC-4000 (Pro Line 4)
TRANSPONDER: Dual Collins TDR-94D with Mode S & ADS-B Out
ADF: Dual Collins ADF-462
DME: Dual Collins DME-442
ADC: Dual Collins ADC-850C (Enhanced w/SB 1125-34-171)
FMS: Dual Universal UNS-1EW with WAAS & LPV
GPS: Dual Universal WAAS GPS
AFIS: Universal UniLink UL-801
HFCOM: Dual Bendix/King KHF-950 with SELCAL
EFIS: Collins EFD-4000 (ProLine 4)
RADAR: Collins RTA-854 with Turbulence
TCAS: Collins TTR-921 TCAS II with Change 7.1
ELT: Artex C406-N
EGPWS: Honeywell EGPWS Mark V with Windshear
SSCVR: Universal Solid State CVR-120A
RADALT: Collins ALT-55B
RMI: Collins
SATCOM: TruNorth Iridium
AUDIO PANEL: Dual
SSDTU: Universal Digital Data Loader (FMS+UNILINK)
Additional Equipment/Features
➢ SBAS FMS Approved System
➢ RVSM Compliant, NAT HLA Capable
➢ RNP-4, RNP-10 Capable
➢ WAAS and LPV Approach Capable B-RNAV and P-RNAV Capable
➢ TruNorth Avionics Simphone for FANS over Iridium Capability LINK 2000+ & ATN Capable
➢ TAWS Compliant
➢ 5 EMTEQ Electric Outlets (2 Cockpit, 1 Galley, 2 Cabin)
➢ Dual Hawker Securaplane Lead Acid Batteries
➢ DAVTRON M850 Chronometer
➢ Two Large Oxygen Bottles
➢ New Windshields
➢ New DeIce Boots
Interior
Interior Last Refurbished:
2016
The Aircraft is designed with a fireblocked eight-passenger seating configuration (which includes the belted lav seat) with a
forward galley and an aft lavatory. The forward cabin features a two-place divan opposite a single seat with a stowing
worktable and the aft cabin features four single seats in club configuration with two stowing worktables. There is a "swing-out"
flat screen monitor displaying Airshow 400 in the forward cabin. The aft lavatory includes an electric flushing externally
serviced belted toilet. Tan Leather All cabin seats covered in chocolate-brown leather. Carpet is a medium brown tone
throughout with coordinating chocolate-brown runners. Upper sidewalls and headliner covered in cream-colored ultra-leather.
Gold plated hardware. Cabinetry is dark brown with push button latches outlined in gold plating matched to the other cabin
hardware. Partial interior refurbishment completed September 2010 by Duncan Aviation, Lincoln. AFT Baggage refurbished
February 2016 by Accord Aviation Interiors Ft. Worth, TX in Saddle colored fireblocked fabric.
Exterior
➢ The upper fuselage and landing gear is Matterhorn White, the lower fuselage is Bahama Blue, and the stripes are Aristo
Blue.
➢ Painted by Fort Worth Aircraft Painters in May 2019.
Send a message to Brad Harris at Dallas Jet International