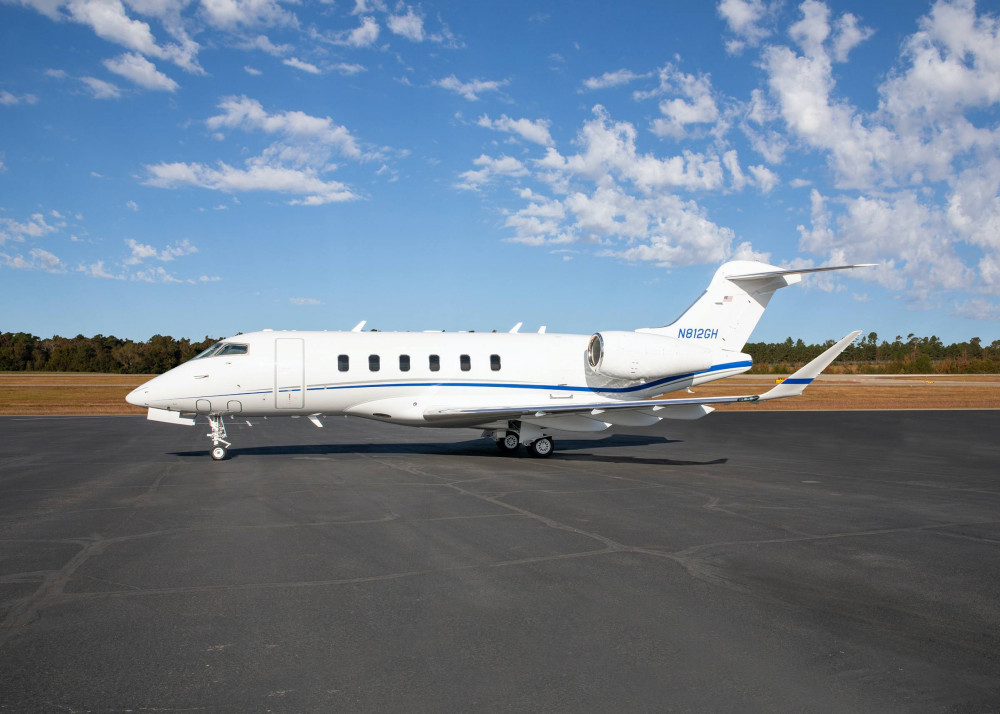 2021 Bombardier Challenger 350
Price: Make Offer
Serial Number:

20897

Tail Number:

N812GH

Hours:

404

Cycles:

226
Three year or approx. 525 hours pre-paid Scheduled & Unscheduled Maintenance, Engine/APU program, Bombardier Technical Publications and CAMP Maintenance Tracking Payments included!

US Based & Registered
One Private Owner Since New
475 Hours TT estimate at Dec. delivery
Under Warranty Until December 2026
Offered by:

Newport Beach, CA
Airframe
Program Coverage:
Bombardier SmartParts Plus
Airframe Certification:
FAR Part 91
Engines
Engine Program Coverage:
MSP Gold
APU
Description:
Honeywell 36-150BD
Avionics
Avionics: Rockwell Collins Pro Line 21 Advanced avionics suite
 Four (4) LCD display units
 MultiScanTM Weather radar system including turbulence detection
 Dual flight management systems
 Synthetic Vision System
 Triple VHF communication System
 Dual HF communication system with SELCAL monitoring
 Automatic flight control system
 Dual air data computers
 Dual VHF navigation receivers
 One (1) auto directional finder receiver
 Dual distance measuring equipment transceivers
 Dual satellite-based augmentation system GPS receivers
 Dual inertial reference systems
 Dual transponders with Mode S and ADS-B Out in non-radar areas
 One (1) radio altimeter
 Engine indication and crew awareness system
 Integrated flight information system displaying electronic charts on the MFD
 Terrain awareness and warning system including windshear detection
 Traffic collision avoidance system (TCAS II) 7.1 compliant
 Electronic flight instrument system
 Cockpit voice recorder, 2 hours
 Digital flight data recorder, 25 hours
 Emergency locator transmitter
 Integrated electronic standby instrument
 Maintenance diagnostic computer
Additional Equipment/Features
Additional Options:
C25-407 Aft Left-Hand Divan Floorplan
C25-707 Galley Enhancement Package
C25-628 Carpet Threshold Plates
C23-441 Datalink Connectivity Suite (including 3rd VHF)
C23-606 FANS1/A+ (CPDLC & ADS-C) and Iridium Satcom with Cockpit Safety Services / ACARS Communications
C34-401 Lightning Detection System (LDS)
C46-418 Enhanced Map Overlays
C33-400 Dual LED Navigation Lights
C25-706-1 Flexible self-serve galley
C25-643-1 Microwave
C25-498 Seat storage Aisle Side
C25-497 Avant Garde Seat Styling
C25-637-4 Upper AFT compartment 1 removable Shelf
C25-631-2 Large ice Drawer Aft Zone
_________ Auto-throttle system (to be installed by Bombardier)
Interior
Interior Last Refurbished:
2021
Ten (10) passenger seating.
Zone 1 Four (4) Single Place Club Seats.
Zone 2 Two (2) Single Place Club Seats, Three (3) Place Divan.
Forward Galley.
Lavatory Aft with vanity (seat is belted and certified for takeoff, taxi and landing).
Baggage Accessible in-flight
Cabin Main Cabin Gaspers.
Entertainment
High Speed Internet:
GOGO L5 Avance Wi-Fi
Dual SATCOM (Iridium) phone system
2 HD LCD monitors (22")
1 Blu-ray player
1 HDMI-in, 1 multimedia USB
Flat trim panel speakers
1 passenger control panel at each seat
Exterior
Send a message to Brant Dahlfors at JetTransactions