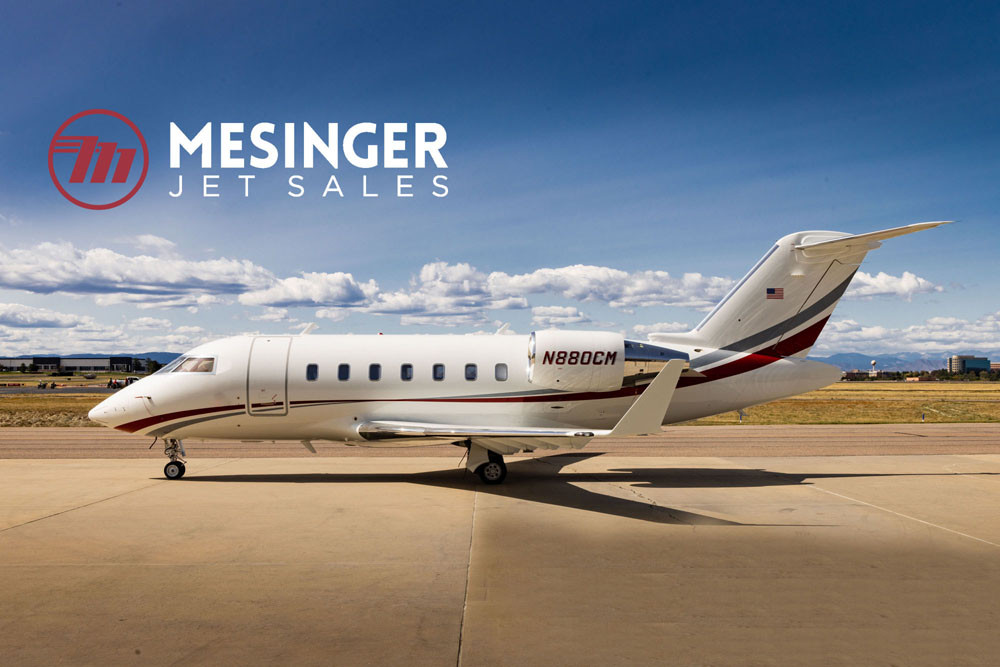 2010 Bombardier Challenger 605
Price: $12,750,000
Serial Number:

5818

Tail Number:

N880CM

Hours:

4,972

Cycles:

2,275
Reasons to buy THIS Challenger 605

• Two U.S. Owners Since New •
• Engines Enrolled on OnPoint & APU Enrolled on MSP Gold •
• Avionics Enrolled on Collins CASP •
• Collins Pro Line 21 Advanced with Electronic Charts •
• Dual FMS with WAAS/LPV, Triple IRS, 3rd VHF •
• FANS 1/A+, Link 2000+, ADS-B Out V2, TCAS 7.1 •
• XM Weather, MultiScan Radar, Lightning Detection System •
• Gogo AVANCE L5 4G Wi-Fi Internet •
• ICG ICS-220A Iridium Satcom •
• Avionica MiniQAR with avCM 4G Cellular Module •
• Dual VisionSafe Emergency Assurance Systems (EVAS) •
• LoPresti Boom Beam Taxi/Landing Light System •
• 2020 Refurb Incl. Carpet, Counters, Stone Lav Floor & Cabin Dado •
Offered by:

Boulder, CO
Airframe
Engines
APU
Total Time Since New:
3,283
Avionics
Collins Pro Line 21 Advanced with Collins CASP
AFCS: Dual Three-Axis Category II Automatic Flight Control System with Autothrottles
EFIS: Four (4) 12" AMLCD Adaptive Flight Displays with Electronic Charts
IFIS: Collins Integrated Flight Information System with DBU-5010E Database Unit
FMS: Dual Flight Management System with WAAS/LPV and 3D Map/Long Range Cruise
EFB: Dual Collins EFB-6000 Electronic Flight Bags
CDU: Dual Collins CDU-6200 Control Display Units
LRNAV: Triple LASEREF® V Inertial Reference Units
GPS: Dual SBAS/WAAS GPS Receivers
NAV: Dual VHF Navigation Receivers
ADF: Dual ADF Receivers
AUDIO: Dual Audio Control Units with Jumpseat Audio Control Panel
VHF COM: Triple VHF Communication Transceivers
HF COM: Dual HF Communication Transceivers with SELCAL
SATCOM: ICG ICS-220A Iridium Satcom
DATA: Gogo AVANCE L5 4G Wi-Fi Internet
DATALINK: Datalink System with Link 2000+ and FANS 1/A+ CPDLC
RADAR: Collins MultiScan Weather Radar
WX: XM Graphical Weather
LDS: Lightning Detection System
RADALT: Radio Altimeter Transceiver
XPNDR: Dual Collins Mode S Transponders with ADS-B Out V2
TAWS: Honeywell MK V EGPWS
ACAS: Collins TTR-4000 (TCAS II) with Change 7.1
ELT: Artex C406-N 406 MHz Transmitter
CVR: L3 Solid State 2-Hour Cockpit Voice Recorder with Data Link
FDR: L3 Solid State Flight Data Recorder
Interior
Passenger Seating Capacity: Ten (10)
Cockpit Jump Seat: Yes

Configuration:
This Challenger 605 features a 10-passenger configuration with a forward galley, aft lavatory, and an aft in-flight accessible baggage compartment. The main cabin consists of a forward 4-place club and an aft left-hand 2-place club opposite a 4-place berthing divan.

Seating, Storage & Miscellaneous:
The cabin single seats feature varying degrees of adjustments, and the divan has manual berthing. Storage compartments are located throughout the interior, and there is an aft lavatory wardrobe closet. The forward cabin bulkhead features a manual pocket door, and the lavatory and baggage compartment have hinged doors. Executive tables are located at each pair of club seats, and 115VAC/60Hz outlets and located throughout the interior.

Cabin Management & Entertainment:
The Collins Cabin Electronics System (CES) integrates cabin management and entertainment system control via various touch-screen control units and switch panels. Also included are dual bulkhead LCD monitors, a dual-slot DVD player, a cabin speaker system, and a moving map system.

Communications & Data:
An ICG ICS-220A Iridium Satcom provides voice calling via cockpit and cabin handsets, and the aircraft features Gogo AVANCE L5 4G Wi-Fi Internet.

Interior Finishes:
The interior woodwork was refinished in 2013, and the upper galley was refinished in 2017. In 2016, the cabin hardware was re-plated, the cabin seat bottom cushions were re-foamed, and the cabin seat belts were replaced. In April 2020, Duncan Aviation – Lincoln installed new galley and lavatory countertops, lavatory stone flooring, and carpet from the flight deck through the lavatory. Also, Duncan refurbished the flight deck mid and lower sidewalls/pedestal, cabin lower sidewalls (dado), pilot and copilot seat covers, baggage door flap, lavatory seat cover, and the entryway, flight deck and flight deck closet curtains. The cabin is finished with "Qtr. Recon Wenge" gloss veneer, "Polished Almond Gold" decorative hardware plating, and SJ Lipkins white stone countertops. Tai Ping-Edward Fields brown striped 100% wool carpet is installed in the entryway and cabin, and the aft lavatory features Cambria Crowndale cream/beige/dark tan stone flooring. The cabin headliner, PSU, and window panels are finished in "Chablis" Ultraleather®, and the lower sidewall is covered in "Vello D' Oro" fabric. The cabin single seats and divan seats are finished in "Sand Tan" leather.

Galley: Forward
The galley features a TIA microwave, TIA oven, TIA coffee maker, sink with faucet, countertop with pull-out work surface, gasper-cooled compartment, clean ice drawer, divided beverage drawer, trash drawer, and various storage compartments.

Lavatory: Aft
The lavatory features an electric-flushing toilet and an adjacent mirrored vanity with sink and faucet with multiple storage compartments. A large wardrobe is opposite the toilet.

Baggage Compartment:
An in-flight accessible baggage compartment is located behind the aft lavatory.
Exterior
The exterior is painted overall "Matterhorn White" with "Thunderstorm Grey" and "Battalion Red" stripes. The U.S. Flag is painted on both sides of the vertical stabilizer.
Send a message to Jay Mesinger at Mesinger Jet Sales