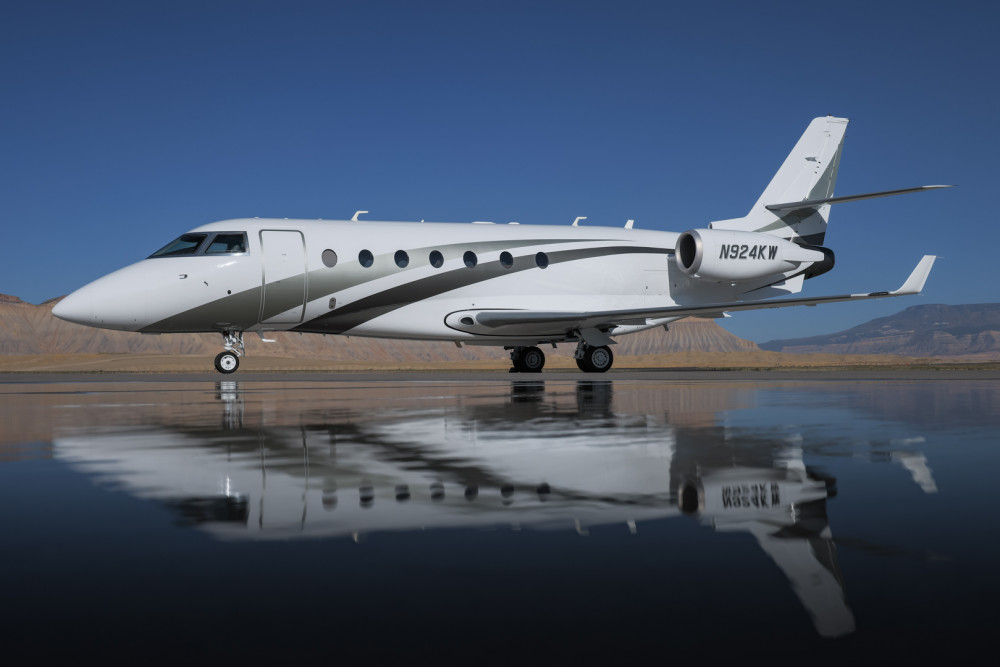 2007 Gulfstream G200
Price: Make Offer
Serial Number:

168

Tail Number:

N924KW

Hours:

7,775

Cycles:

4,712
➢ Brand New Interior (including wood re-finish and
new plating) completed September 2023, West Star Aviation
➢ Fresh 16C/16-Year Inspection completed September 2023, West Star Aviation
➢ Engines on ESP Gold
➢ APU Enrolled on Honeywell MSP Gold
➢ 9 passenger configuration with 3-place divan in rear
➢ ATG-5000 Internet
➢ WAAS-Equipped, LPV Approach Capability
➢ TCAS II 7.1
Offered by:

Westlake, TX
Airframe
Maintenance Tracking:
Gulfstream CMP
Engines
Engine Program Coverage:
ESP Gold
APU
Description:
Honeywell GTCP-36-150
APU Program Coverage:
MSP Gold
Total Time Since New:
4,726
Avionics
➢ Collins Pro Line 4 EFIS / Avionics
➢ Collins FCC-4005 Auto Pilot
➢ Dual Collins VHF-4000E Comms
➢ Collins NAV-4500 (VOR/ILS) Computer
➢ Collins NAV-4000 (VOR/ILS/ADF) Computer
➢ Dual Collins DME-4000
➢ Dual Collins ADC-850C Air Data Computers
➢ Dual Collins AHC-3000 Attitude Heading Reference System
➢ Dual Collins RTU-4220 Radio Tuning Units
➢ Dual Collins TDR-94D Mode "S" Transponders w/with Flight ID and ADS-B out
➢ Dual Collins FMC-6100 FMS w/Dual GPS 4000S w/WAAS and LPV Approaches
➢ Honeywell Mark V EGPWS
➢ Collins TCAS 4000 w/Change 7.1
➢ Collins TRW-850 Weather Radar
➢ Collins ALT-4000 Radio Altimeter
➢ AirCell Axxess II SATCOM System
➢ AirCell ATG5000 High Speed Internet
➢ Honeywell SS Cockpit Voice Recorder (120 Minute)
➢ Dual Honeywell KHF-950 HF Radio w/ Jetcal SELCAL
➢ Artex C406 MHz ELT
Additional Equipment/Features
MAINTENANCE STATUS:
➢ 16C/192-Month Inspection completed by West Star – Sept. 2023
➢ Gulfstream CMP Maintenance Tracking
➢ New RH Windshield –Sept. 2023
➢ New Passenger Cabin Windows- Sept. 2023

ADDITIONAL FEATURES:
➢ Honeywell AFIS
➢ Rosen Moving Maps
➢ Standard Electrical Outlets and USB Charging Outlets throughout cabin
➢ iPad holders located throughout cabin
➢ Upgraded Sound System with Alto Entertainment with bluetooth
Interior
Interior Last Refurbished:
2023
Brand New Interior (Including Wood and Plating)
completed September 2023, West Star Aviation. Luxurious fire
blocked nine (9) passenger configuration featuring a fully
equipped full-service galley followed by a forward cabin four
(4)place club with pull out tables. The aft cabin offers a three (3)
place divan opposite a two (2) place club; aft private lavatory.
Additional amenities are aft bulkhead mounted monitor, new Alto
entertainment sound system with Bluetooth, standard electrical
outlets and USB charging outlets throughout cabin, and iPad holders located throughout cabin.
Exterior
Base Paint Colors:
Snow White
Stripe Colors:
Charcoal Metallic and Aztec Silver Metallic
Send a message to Shawn Dinning at Dallas Jet International