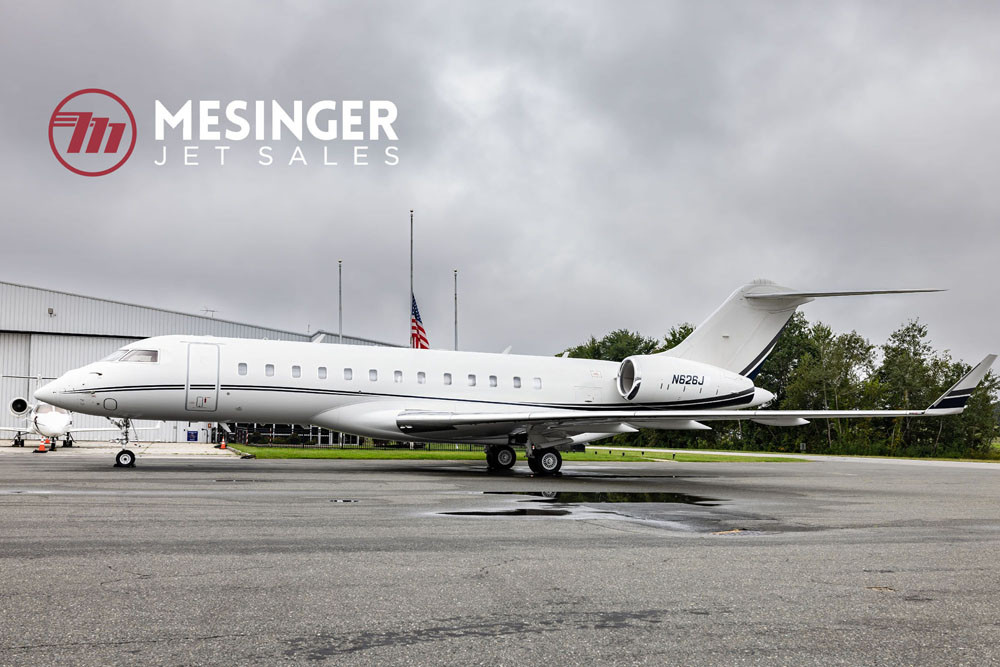 2014 Bombardier Global 6000
Price: $17,850,000
Serial Number:

9599

Tail Number:

N626J

Hours:

4,054

Cycles:

2,397
Reasons to buy THIS Global 6000
• YEAR-END OPPORTUNITY – This Aircraft is now at the Bombardier Hartford, CT service center for a Seller-paid pre-purchase inspection. Expected return to service mid-December for a buyer. •
• One U.S. Owner & FAR Part 91 Operated Since New •
• Airframe Enrolled on Bombardier Smart Part Plus •
• APU Enrolled on Honeywell MSP •
• Bombardier Vision Flight Deck with Software v5.2 •
• HUD, EVS, SVS, ADS-B Out, FANS 1/A+ CPDLC, ATN CPDLC •
• XM Graphical Weather & Datalink Graphical Weather •
• Inmarsat & Iridium SATCOM Systems •
• Rockwell Collins SwiftBroadband Satellite Wi-Fi Internet •
• Dual Flight Crew EVAS •
• 14 Passenger Floorplan with Workstation Cabinet/Single Seat & FWD Crew Rest •
• "Prestige" Package Soundproofing •
• Majority of Scheduled Inspections Performed at Bombardier
Offered by:

Boulder, CO
Airframe
Program Coverage:
Bombardier SmartParts
Engines
APU
Total Time Since New:
3,023
Avionics
Bombardier Vision Flight Deck (Collins Pro Line Fusion) with Software v5.2
AFCS: Dual Three-Axis, Active-Standby Category II Automatic Flight Control System
EFIS: Four (4) Collins 14"x11" Active-Matrix LCDs
VGS: Collins Head-up Display (HUD) and Enhanced Vision System (EVS)
SVS: Collins Synthetic Vision System
FMS: Triple Collins Flight Management Systems with SBAS/WAAS/LPV
IFIS: Dual Collins Integrated Flight Information Systems
VHF COM: Triple Collins VHF Communications Radios with Triple Audio Control Panels
HF COM: Dual Collins HF Communication System with SELCAL
PHONE: Honeywell Iridium Satellite Telecommunications System with Multiple Handsets
SATCOM: Collins Inmarsat & Honeywell Iridium Satcom Systems
DATA: Rockwell Collins SwiftBroadband Satellite Wi-Fi Internet
DATALINK: FANS 1/A+ CPDLC & ATN CPDLC
GPS: Dual Collins SBAS/WAAS GPS Receivers
LRNAV: Triple Honeywell LASEREF VI Inertial Reference Units
NAV: Dual Collins Navigation Receivers with Dual ADF Receivers
RADAR: Collins MultiScan Weather Radar System
WX: XM Graphical Weather, Datalink Graphical Weather & Lightning Detection System
RADALT: Dual Collins Radio Altimeter Transceivers
TAWS: Collins Terrain Awareness and Warning System
ACAS: Collins Traffic Surveillance System with Change 7.1
XPNDR: Dual Collins ADS-B Out (DO-260B) Transponders
FDR: L3 Solid State Flight Data Recorder
CVR: L3 Solid State Cockpit Voice Recorder
ELT: Artex 406 MHz ELT with NAV Interface
Interior
Passenger Seating Capacity: Fourteen (14)
Cockpit Jump Seat: Yes
Crew Rest Area: Yes – Forward

Configuration:
This Global 6000 features a 14-passenger forward galley with forward crew rest configuration, forward and aft lavatories, and an in-flight accessible baggage compartment. The 3-zone main cabin consists of a forward 4-place club, followed by a left-hand 4-place conference/dining group opposite a workstation cabinet and single seat, and an aft cabin right-hand 3-place divan opposite a 2-place club.

Seating & Miscellaneous:
The main cabin seats feature electric lumbar, and all single seats incorporate a legrest. A manual pocket door with electric release is installed in the forward and mid-cabin bulkheads. The mid-cabin workstation single seat can swivel to face the conference group table, which can be extended by inserting the plug-in extension. The cabin features electric window shades and universal AC outlets.

Crew Rest Area:
The forward left-hand crew rest features a single seat with legrest and a sliding door.

Cabin Management & Entertainment:
The Rockwell Collins High-Definition Cabin Entertainment System (CES) features a galley HD LCD touchscreen controller, dual bulkhead 24" HD LCD monitors, dual Blu-ray players, various media ports, an HD media streamer, and Airshow.

Datacom:
Rockwell Collins SwiftBroadband satellite Wi-Fi Internet compliments Collins Inmarsat and Honeywell Iridium satcom systems with multiple handsets.

Interior Finishes:
The cabin is finished with "Makore Pommele" gloss veneer, "Satin Nickel" decorative hardware plating, and "Sahara" Corian countertops. Tai Ping custom 100% wool carpet is installed throughout the cabin. The cabin headliner and PSU are covered in "Rice" Ultraleather, the window panels are finished in "White Chocolate" Tapisuede Strie fabric, and the lower sidewall is covered in "Soft Beige" leather. The cabin single and double seats are finished in "Eggshell" leather, and the crew rest seat and the divan are covered in coordinating beige fabric.

Forward Galley:
The galley features a microwave, oven, Nespresso machine, sink with faucet, dual pull-out work surfaces, catering and wine bottle storage, stainless divided ice drawer, and multiple storage compartments and drawers.

Lavatories: Forward & Aft:
The forward and aft lavatories feature a vacuum toilet and a vanity with a sink and faucet.

Baggage Compartment:
An in-flight accessible baggage compartment is located behind the aft lavatory.
Exterior
The exterior is painted "Matterhorn White" with "Gloss Mingo Blue" and "Gloss Culmulus Gray" stripes.
Send a message to Jay Mesinger at Mesinger Jet Sales