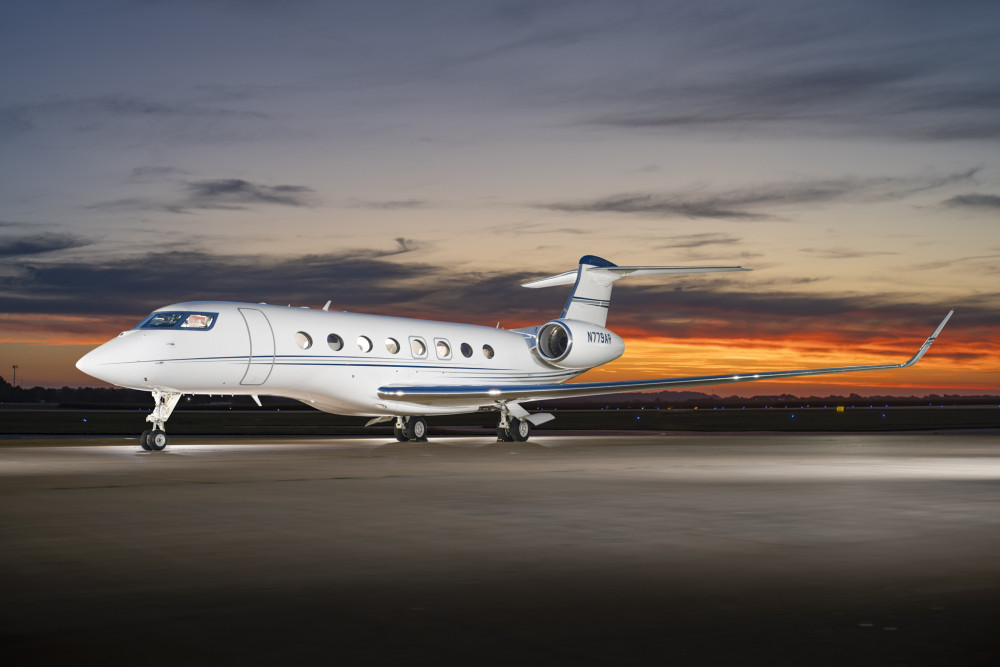 2019 Gulfstream G650ER
Price: $53,900,000
Serial Number:

6398

Tail Number:

N779AR

Hours:

649

Cycles:

335
• 13 Pax Forward Galley with Crew Compartment Universal Floorplan.
• Enrolled on 100% JSSI Essential Since New - 100% Coverage for Compressor & Turbine Shop Visits (Overhaul).
• APU Enrolled on MSP.
• FANS 1/A+ / CPDLC, ADS-B Out v2, TCAS 7.1.
• Premium ARCS, 24-48 Month Inspections, & Block 3 Baseline Upgrade Scheduled at Gulfstream St. Louis (11/01/23 Reserved Input Date).
• Jet Connex (KA-Band) Hi-Speed Internet Service.
• Aircraft is Hangared at St. Louis Lambert International Airport (STL) in St. Louis, MO.
Offered by:

Leading Edge Aviation Solutions, LLC
Parsippany, NJ
Airframe
Date of Manufacture: July 15, 2019
Date of In-Service: December 5, 2019
Engines
Rolls Royce BR700-725A1-12

On Condition & Enrolled on 100% JSSI Essential Since New - 100% Coverage for Compressor & Turbine Shop Visits (Overhaul)
APU
Description:
Honeywell RE220 (G650ER)
Avionics
Gulfstream PlaneViewTM II Avionics System
Triple (3) Flight Management Systems (FMS)
Enhanced NAV (FANS-1A+, CPDLC)
Triple (3) Modular Avionics Units (MAUs)
Four (4) Large Flat Panel LCD Electronic Display Units (Pilot PFD-MFD & Copilot PFD-MFD)
Dual (2) Standby Multifunction Controllers (SMC)
Triple (3) Multi-Function Control Display Units (MCDU)
Dual (2) Cursor Control Devices (CCD)
Four (4) Multifunction Air Data Probes (MFP) Air Data System
Triple (3) Inertial Reference Systems (IRS)
Dual (2) Global Positioning Systems (GPS) w/ Wide Area Augmentation System (WAAS)
Datalink VDL Mode 2
Synthetic Vision - Primary Flight Display (SV-PFD)
Head-Up Display (HUD)
Enhanced Vision System II (EVS)
One (1) Data Loading LAN Management Unit (DLMU)
Dual (2) High Frequency (HF) Communications
Dual (2) Very High Frequency (VHF) Communications
One (1) VHF Communication / Navigation (NAVCOM) Unit
VHF Navigation, Instrument Landing System (ILS), and Market Beacon
Dual (2) Mode S Transponders w/ ADS-B Out Capabilities (DO-260B Compliant)
Traffic & Collision Avoidance System (TCAS 7.1)
Dual (2) Distance Measuring Equipment (DME) Transceivers
Satellite Communications System (SATCOM)
Enhanced Ground Proximity Warning Systems (EGPWS)
Flight Data Recorder System (FDR) - Twenty-Five (25) Hour Recording (88 Parameters)
Cockpit Voice Recorder (CVR)
3-D Color Weather Radar
Dual (2) Digital Radio Altimeters
Automatic Flight Guidance System
Autothrottle System
Central Maintenance Computer (CMC)
Emergency Locator Transmitter (ELT)
Pilot & Copilot Emergency Vision Assurance Systems (EVAS)
Automated Direction Finder (ADF)
Inspections
Inspection Type
Performed
Next Due
12 Mos.
Performed:
December 2022 @ 504 Hours
24 Mos.
Performed:
December 2021 @ 313 Hours
Additional Equipment/Features
Additional Cabin Equipment & Features:
Jet Connex (KA-Band) Hi-Speed Internet Service
Interfaced Inmarsat and Iridium SATCOM Systems
Wireless (Wi-Fi) Local Area Network (LAN) System
Runway Awareness Advisory (RAAS)
One (1) 26" HD LCD Monitor in the Right-Hand Fwd Cabin Bulkhead
One (1) 26" HD LCD Monitor with Electric Lift and Swivel Mounted in the Right-Hand Credenza
One (1) 26" HD LCD Monitor in the Left-Hand Aft Cabin Bulkhead
One (1) 17" HD LCD Monitor in the in Crew Rest Compartment
Dual Blu-Ray/DVD/CD Player
Three (2) External Cameras
Gulfstream CabinViewTM Passenger Flight Information System
Currently Operated FAR Part 91
Previously Operated FAR Part 135
Cockpit Printer
SecuraPlane 500 Aircraft Security System

Major Aircraft Service Changes and Modifications Incorporated:
ASC 002A Comm. Management Function - ARINC Direct Datalink Service Provider
ASC 004A Aircraft Health & Trend Monitor System - Cell Phone Data Transmission Option
ASC 006B Navigation (ATA 34), Lightning Sensor System (LSS) – Installation
ASC 007A Predictive Windshear (PWS) – Activation
ASC 014D (P1) GVI Extended Range (G650ER) – Modifications
ASC 039 Protected MODE - Controller Pilot Data Link Comm (PM-CPDLC) Installation
ASC 076B Aircraft Health and Trend Monitoring System - Software Update 2
ASC 096 8.8 KHZ Underwater Acoustic Beacon (UAB) Installation
ASC 133A Engine Electronic Controller - K9.0.1 Software Modification
ASC 134A Part I/II Wedge Installation – Trailing Edge, Rudder
ASC 134B Part I/II Wedge Installation – Trailing Edge, Rudder
ASC 135 Flight Control Computer (FCC) Software Update V10.1
ASC 138 Engine Fuel & Control (ATA 73) – Engine Electronic Controller - K10.1 Software
Upgrade, Aircraft Service Change
Interior
Completed November 2019 @ Gulfstream – Appleton, WI

Thirteen (13) passenger Forward Galley with Crew Compartment Universal Interior with fire-blocked interior features a crew jump seat, forward crew vacuum lavatory, forward crew rest area, forward main galley, and aft main lavatory. The entry area includes the Left-Hand Side forward crew lavatory, Right-Hand Side forward crew rest area, the Left-Hand Side full-service main galley and Right-Hand Side forward full-service main galley annex. The entry area and forward cabin are separated by an electric pocket door. The interior features a 3-zone cabin with a forward cabin 4-place club, a mid-cabin 4-place conference group opposite a credenza, followed by an aft state room with 2 club chairs opposite a 3-place divan separated from the main-cabin by a bulkhead with an electric pocket door. The club chairs and divan are upholstered in a light crème leather, fabric, complemented by a grey patterned carpet. The galley and lav countertops are a gray/brown quartz polymer surface, and the interior woodwork and cabinetry finished in a medium high gloss veneer with beautiful graining. All exposed cabin functional and decorative metal surfaces are plated in a chrome brushed satin finish. The private aft lavatory and dressing area features a mirrored, lighted vanity, sink, central vacuum style flushing toilet, ample closet and storage areas, and in-flight accessibility to the spacious walk-in aft baggage compartment. Multiple 115VAC/60Hz outlets are located throughout the cockpit, vestibule, lavatories, cabin, and baggage compartment areas for crew and passenger use.

Cabin entertainment includes a Dual Slot BluRay/DVD/CD Player which can be viewed on One (1) 26" HD LCD Monitor in the Right-Hand Fwd Cabin Bulkhead, One (1) 26" HD LCD Monitor in the Left-Hand Aft Cabin Bulkhead, One (1) 26" HD LCD Monitor with Electric Lift and Swivel Mounted in the Right-Hand Credenza. The forward full-service main galley features a refrigerator, microwave oven, high-temp oven, Cuisinart coffee maker, galley sink with cold/hot potable water, ice drawer, crystal/flatware/china specific storage, canned & bottled drink storage, and ample miscellaneous storage drawers
Exterior
New November 2019 @ Gulfstream – Appleton, WI
Overall Matterhorn White with Bright Gray and Royal Blue Accent Striping
Weights
Max Takeoff Weight:
103,600.00
Max Landing Weight:
83,500.00
Max Zero Fuel Weight:
60,500.00
Basic Operating Weight:
54,881.00
Send a message to Frank Janik at Leading Edge Aviation Solutions, LLC