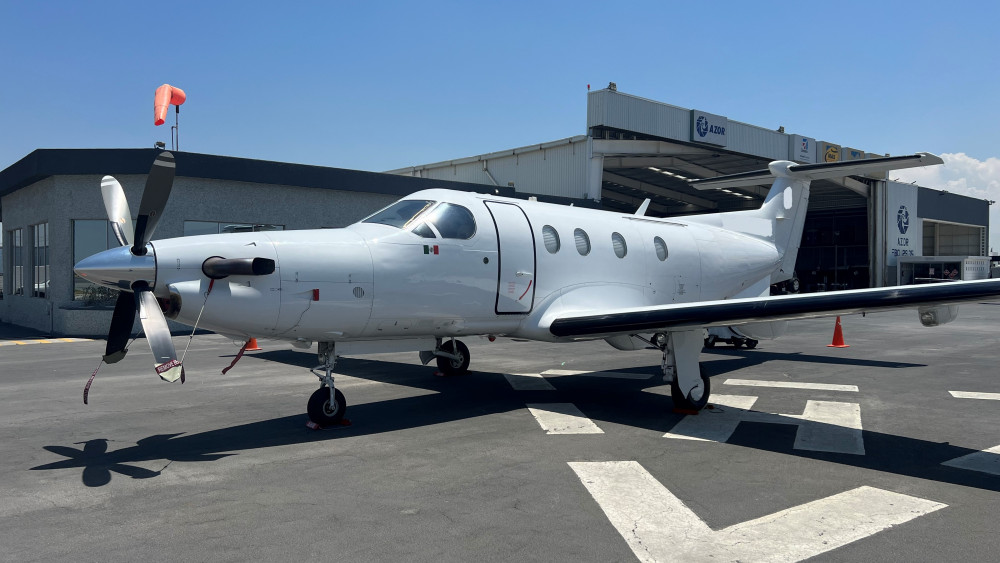 2009 Pilatus PC-12/47E NG
Price: $3,750,000
Serial Number:

1161

Hours:

4,180

Cycles:

4,934
2018 Interior
No Known Damage History Maintenance
Tracking on CAMP
700 hours since Engine Overhaul
Privately Owned & Operated
(One owner since new)
Serviced at Authorized Pilatus Facilities
Offered by:

Guilford, CT
Airframe
Maintenance Tracking:
CAMP
Engines
Avionics
AVIONICS: Honeywell Primus Apex
AIR DATA ATTITUDE HEADING REFERENCE SYSTEM: Honeywell KSG7200 Dual-Channel ADAHRS
AUDIO PANEL: Dual Honeywell KMA 29 Audio Panels
AUTOPILOT: Honeywell KMC 9200 Three-Axis Autopilot
AUTOMATIC DIRECTION FINDER: Single Honeywell ADF
COMMUNICATIONS: Dual Honeywell KTR-2280 VHF Communication Transceivers
DATA LOADER: Honeywell Wireless Data Loading Device
DISTANCE MEASURING EQUIPMENT: Honeywell KN 63 DME Transceiver
GLOBAL POSITIONING SYSTEM: Dual Honeywell KA-96 WAAS GPS Units
NAVIGATION: Dual Honeywell KTR-2280 VHF Navigation Receivers
RADIO ALTIMETER: Single Honeywell KRA 405B Radar Altimeter
TERRAIN AWARENESS & WARNING SYSTEM: Honeywell KMH 920 TAWS B
TRAFFIC COLLISION AVOIDANCE SYSTEM: Honeywell KMH 920 TCAS II
TRANSPONDER: Dual Honeywell KXP 2290A Transponders with ADS-B Version 2
WEATHER RADAR: Honeywell ART2000 Radar
Props
Interior
Interior Last Refurbished:
2018
Exquisite interior features a four-place club with two-fold-outside ledge tables in the forward cabin. The aft cabin
features four forward facing club seats with seat-back pockets and side ledge cup holders. A rear in-flight accessible
cargo bay & forward lavatory complete this aircraft's interior.
Exterior
Base Paint Colors:
Overall Matterhorn White
Send a message to John Peters at Guardian Jet, LLC