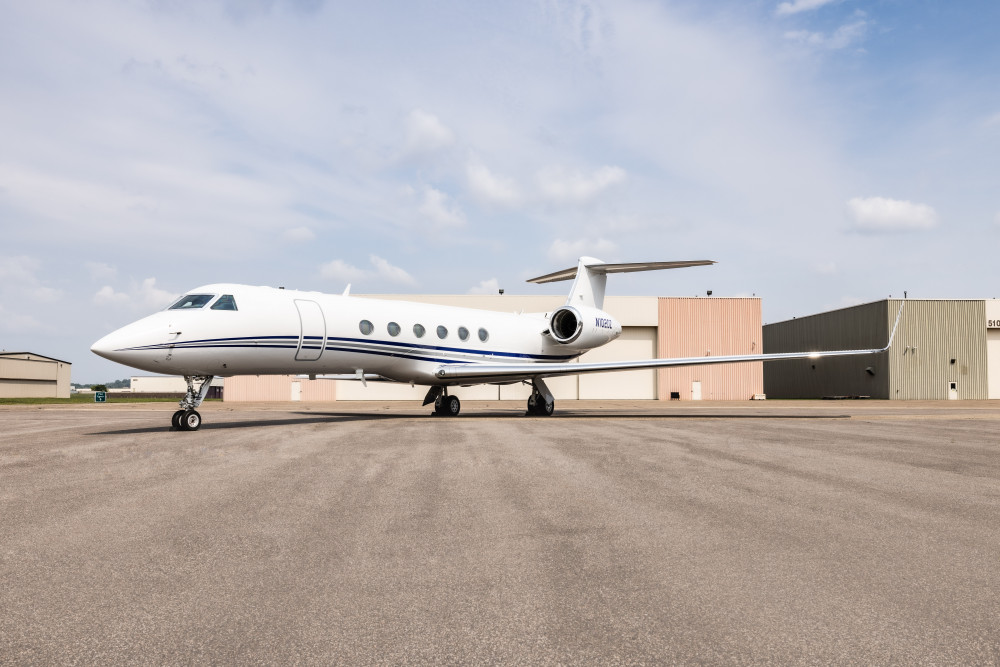 1998 Gulfstream G-V
Price: $9,995,000
Serial Number:

555

Tail Number:

N102DZ

Hours:

4,381

Cycles:

1,906
Fresh 96 Month and ARCS by Gulfstream
Low Time 4400 Total Time
Engines and APU JSSI
Avance L5 WiFi
Looks Very Nice
Offered by:

Leading Edge Aviation Solutions, LLC
Parsippany, NJ
Airframe
Home Base:
Aircraft is located in Minneapolis (St. Paul), Minnesota, USA
Airworthiness Date: September 1998
Entry into Service: November 1999

Airframe: 4,381 Hours 1,906 Landings
Engines
Rolls-Royce PLC BR700-710A1-10

Time to Mid-Life 3,622 Hours
Engine Program Coverage:
JSSI
APU
Description:
Honeywell RE220 (GV)
Total Time Since New:
2,961
Avionics
• Honeywell SPZ-8500 Avionics
• Triple Honeywell FMS w/ 6.1 Upgrade
• Triple Honeywell AZ-840
• Triple Collins VHF-422C
• Dual Collins VIR-432
• Dual Collins ADF-462
• Dual Collins DME-442
• Dual Collins TDR-94D Mode "S"
• Dual Honeywell GPS – SBAS/WAAS/LPV
• Dual Honeywell RT-300
• Dual Collins HF-9034A
• Honeywell WU-880
• Honeywell MKV - EGPWS
• Artex 406-2 ELT
• Honeywell TCAS II TPU-67B (7.1)
• Honeywell DL950 data loader
• Honeywell HG-200 Heads-Up Display
• Honeywell LaserRef IV Triple IRS system
• Gogo Satellite Interface Unit
• FANS 1/A+, CPDLC
Inspections
• Engines & APU enrolled on JSSI • Delivered w/ Fresh Premium ARCS and 96-Month Inspection c/w June 2023 at Gulfstream Brunswick, GA
Additional Equipment/Features
Major Aircraft Service Changes and Modifications Incorporate

• ASC 013 RVSM
• ASC 062 Wing/Tail Nav Lites
• ASC 151A Pack Inlet Valve Replacement
• ASC 162A Navigation Position Lights – LED Navigation Light Installation
• ASC 182A LED Tail Position Light Installation
• ASC 188B TCAS 7.1 Installation (Part 2)
• ASC 189AM2 Modification - Wing Rear Beam Flight Spoiler Actuator Attachment
• ASC 192A Automatic Dependence Surveillance Broadcast Out (ADS-B Out)
• ASC 198A APU Enclosure – Thermal Barrier Installation
• ASC 200B Landing Gear Door Close – Restrictor
• ASC 204 Aileron Cable Penetrations at FS 576.5 Floor Beam – Rework
• ASC 206 Elevator Hardover Prevention System (HOPS) – Improvement
• ASC 209A FMS 6.1 Software w/ SBAS/LPV GPS Install for Dual IAC/3rd Position NZ Config.
• ASC 214 Automatic Dependent Surveillance – Broadcast (ADS-B Out v2) (DO-260B)

Additional Features, Enhancements, & Upgrades:
• Gogo AVANCE L5
• Swift Broadband Wi-Fi
• Honeywell SD700 Satcom
• Collins Venue CMS
• Airshow 4000
• Securaplane 550
• LED Nav Lights
• LED Cabin Lighting
• Upper Logo lights
• 10.4" Monitor embedded in Forward RH Crew Rest Area
• 19" Monitor installed on Forward RH Bulkhead
• 9" Pop-up Monitors housed in Forward aft-facing arm rests
• 9" Pop-up Monitors housed in Mid Cabin arm rests
• 17" Monitor embedded in Aft Cabin RH window line panel
• Microwave Oven
• Cold Air Chiller
Interior
Interior Last Refurbished:
2012
The cabin is configured for 14 passengers. Entering the aircraft is a right hand crew rest area followed by a coat closet, opposing a lavatory equipped with a fold-down sink aft of the main entry door. Moving into the main cabin is a four (4) place club arrangement followed by a right hand four (4) place divan opposing a two (2) place club seat arrangement. Continuing aft is a right hand credenza opposing a four (4) place conference group. Continuing aft through a curtain close-out is a right hand galley annex opposing the aft galley that features a coffee/espresso machine, microwave oven, cold air chiller and full
length pantry. Further aft is a full service lavatory followed by the baggage compartment.

• All cabin single seats are covered in camel colored leather
• The divan is navy blue with a white dotted grid-line design
• Carpet throughout the cabin is navy blue cut pile with a tan swirl pattern
• Cabin Headliner is bone ultra leather
• Lower sidewalls throughout the cabin are beige spotted ultra leather
• Woodwork is light Birch with High Gloss Clear Finish
• Hardware finishes throughout are Brushed Silver
• Countertops in the galley/lavatories are beige Corian solid surface material
Exterior
Matterhorn White base with Blue and Medium Gray accent striping.
Weights
Basic Operating Weight:
48,631.00
Send a message to Rick Richardson at Leading Edge Aviation Solutions, LLC