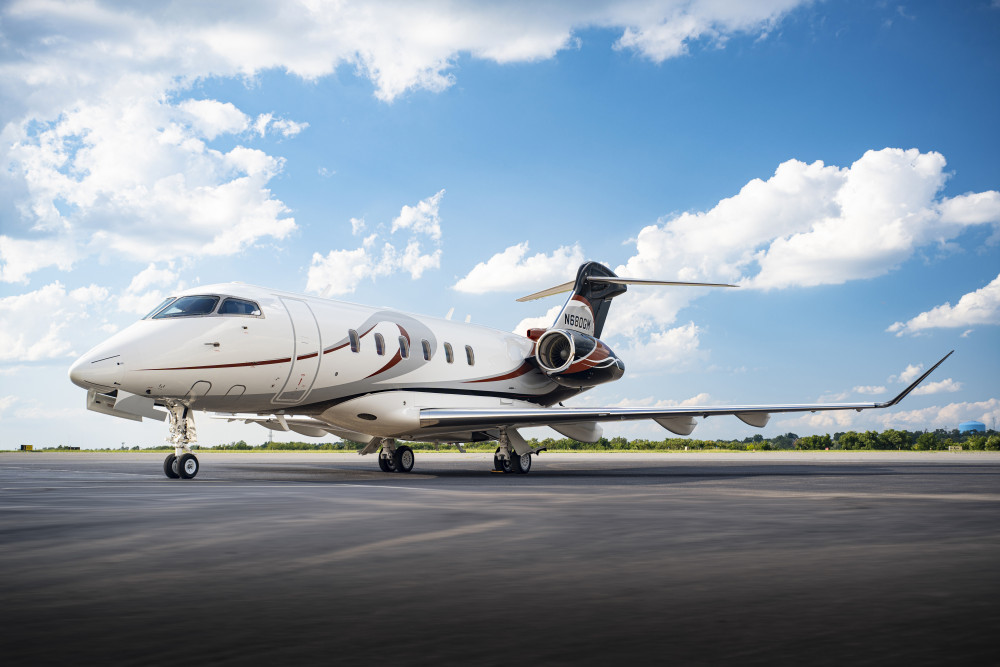 2016 Bombardier Challenger 350
Price: Call for Price
Serial Number:

20613

Tail Number:

N680GM

Hours:

2,141

Cycles:

1,392
• All U.S. Corporate Ownership Since New
• Professionally Managed & Operated
• Engines & APU Enrolled on 100% JSSI Coverage
• Airframe Enrolled on Bombardier Smart Parts
• Bombardier Factory & West Star Aviation Maintained
• Preferred 9 Passenger Divan Floorplan + Belted Lavatory
• GoGo ATG-5000 Domestic WiFi
• FANS 1/A+ / CPDLC / Link 2000+
• MultiScan Weather Radar / Synthetic Vision / 3D + Enhanced Map Overlays
• FlightDocs Maintenance Tracking
• Engine Inlet & Thrust Reverser Corrosion Mods c/w
Offered by:

Annapolis, MD
Airframe
Program Coverage:
Bombardier SmartParts Plus
Maintenance Tracking:
Flight Docs
• Lighted Chart Holders
• Logo Lights (SB350-33-002)
• Pulselights (SB350-33-001)
• 2nd Tail LED Nav Lights & Wingtip Strobe (SB350-33-004)
• Supplemental Oxygen Bottle
• 115 VAC Outlets (Cockpit, Cabin & Lav)
Engines
Engine Program Coverage:
JSSI
APU
Description:
Honeywell GTCP 36-150(BD)
APU Program Coverage:
JSSI
Total Time Since New:
1,773
Avionics
• Collins ProLine 21 Advanced System
• Enhanced Map Overlays (SB350-46-004)
• Dual FGC-3002 Flight Guidance Computers
• 4-Tube AFD-5220E EFIS/MFD w/Synthetic Vision (SB350-34-012)
• Engine Instrument/Crew Alerting System (EICAS)
• DCU-5000 Data Concentrator Unit
• RDC-5000 Remote Data Concentrator Unit
• DBU-5010E Database Loader
• Dual ADC-3000 Air Data Computers
• Dual AHC-3000 AHRS Computers
• ALT-4000 Radio Altimeter
• Triple VHF-4000 Comms w/8.33 MHz Spacing (SB350- 23-003)
• Dual NAV-4000 with 2nd ADF (SB350-34-001)
• Dual DME-4000 DMEs
• TDR-94D Transponder w/ ADS-B Out & Enhanced Surveillance
• Dual FMC-6200 Flight Management System
• Dual GPS-4000S GPS (WAAS/LPV)
• Honeywell Mark V EGPWS
• TSS-4100 TCAS II and Transponder w/ ADS-B Out
• Dual HF-9000 HFs w/SELCAL (SB350 23-001 & 002)
• Dual File Server Units (SB350-46-001)
• RTA-4100 Series Multi-Scan Weather Radar
• Link2000+
• Universal Weather on MFD (SB350-46-003)
• 3D Navigational Map (SB350-34-003)
• FA2100 Cockpit Voice Recorder 120 Mins w/RIPS (SB350- 23-009)
• FA2100 Flight Data Recorder (w/SB350-31-001)
• Artex C406-N MHz ELT w/Nav (FAA, TCCA, EASA STC)
Navigation and Compliance
• Synthetic Vision System (SB350-34-012)
• FANS 1/A+ (SB350-23-011)
• ADS-B Out
• WAAS / LPV
• RVSM, MNPS, RNP Approach, RNP-4, RNP-5, RNP-10 Capable
• 8.33 Spacing
Inspections
Inspection Type
Performed
Next Due
12 Month
Performed:
September 2023
24 Month
Performed:
September 2023
36 Month
Performed:
September 2021
48/96 Month Inspections Scheduled January 2024
Interior
Bombardier Completion Center, Montreal, Canada, March 2016.
Ten (10) passenger seating including the belted lavatory seat. The
cabin features a fully equipped forward galley followed by four (4)
executive seats in a forward club arrangement with two executive
foldout tables, two (2) executive seats with insertable table on RH
aft side and a three (3) place divan on the LH aft side. Belted aft
lavatory for a 10th passenger.
Entertainment
Display TV Monitors:
Forward & Aft Bulkhead Mounted 22" LCD Monitors
High Speed Internet:
Aircell ATG-5000 w/ WiFi (STC FAA,TCCA,EASA)
DVD/CD Players:
Blu-Ray Player
In-Flight Phone:
Aspire 100 Dual Channel Iridium Phone System
• Cabin Entertainment System
• HDMI
• iPod Dock
• USB Port
• NiceView Passenger Information System
• 3-D Navigational Map (SB350-34-003)
• SAT-2200 Inmarsat Satcom System (SB350-23-012)
• Datalink System w/ SELCAL Selective Calling (SB350-23- 004)
• Link 2000+ Option (SB350-23-010)
Exterior
Base Paint Colors:
Matterhorn White
Stripe Colors:
Cork Brown, Black & Gamma Grey
Send a message to Eddie Kilkeary III at Avpro, Inc.