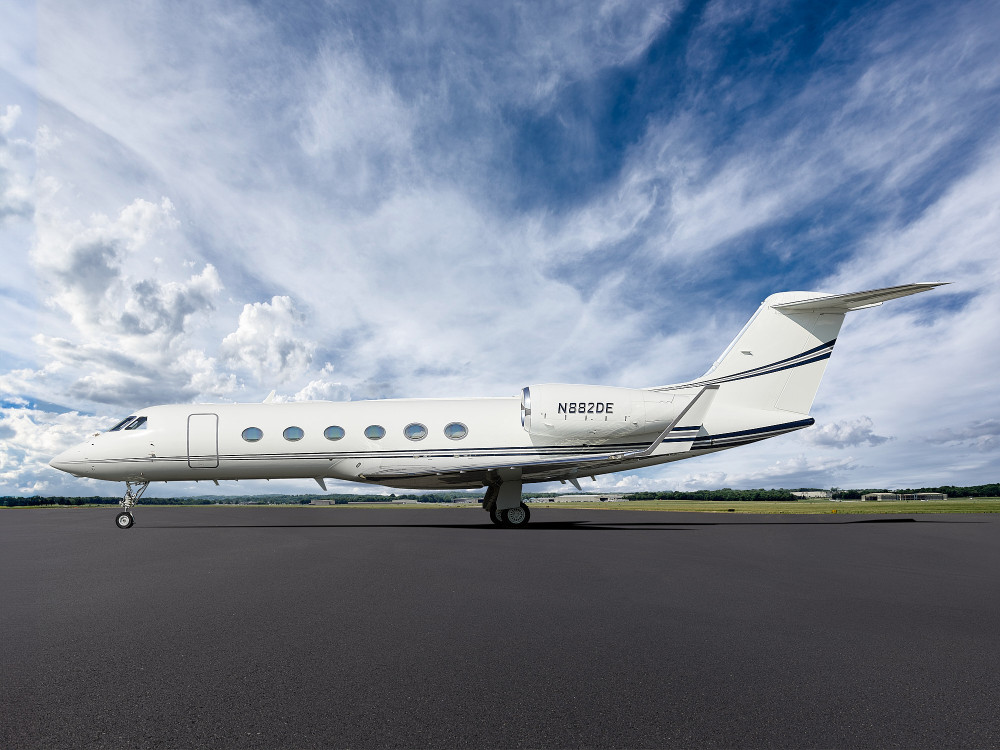 2011 Gulfstream G450
Price: $14,995,000
Serial Number:

4233

Tail Number:

N882DE

Hours:

3,218

Cycles:

1,475
• 12 Pax Aft Galley Dual Lavatory Floorplan.
• Engines Enrolled on Rolls-Royce CorporateCare.
• APU Enrolled on MSP Gold.
• FANS 1/A+ / CPDLC, ADS-B Out v2, TCAS 7.1.
• Fresh 144 Month Inspection completed April 2023 at Gulfstream Westfield.
• Viasat KU-Advanced w/ VR-12C KU-Band Antenna Hi-Speed Internet Service & Wi-Fi.
• Synthetic Vision (ASC 037B).
• 88 Parameter DFDR (ASC 001D) & Operated 135 (Internal Purposes Only).
• Aircraft Hangared at Westchester County Airport (HPN) in Westchester County, NY.
Offered by:

Leading Edge Aviation Solutions, LLC
Parsippany, NJ
Airframe
Airframe:
3,142 Hours 1,424 Landings

Date of Manufacture: August 21, 2011
In-Service Date: December 16, 2011
Engines
Rolls-Royce TAY 611-8C

Mid-Life/10 Year Calendar c/w August 2022 at 2,774 Hrs.
Engine Program Coverage:
Rolls Royce Corporate Care (RRCC)
APU
Description:
Honeywell GTCP36-150
APU Program Coverage:
MSP Gold
Total Time Since New:
2,005
Total Cycles Since New:
2,933
Avionics
Honeywell PlaneView™ Primus Epic Avionics Suite
Four Honeywell 14" Flat Panel LCD MFS Multi-Function Displays

AIR DATA COMPUTER: Triple Honeywell AZ-200 Air Data Modules
AUTOMATIC DIRECTION FINDER: Dual DF-855 ADFs
AUTOTHROTTLES: Yes
COCKPIT PRINTER: TP4840 Thermal Cockpit Printer
COCKPIT VOICE RECORDER: Universal Avionics
COMMUNICATIONS: Dual TR-865 and third NC-860A Nav/Com LRMs
DIGITAL CLOCK: Dual Digital Clocks
DISTANCE MEASURING EQUIPMENT: Dual Honeywell DM-855
DME ELECTRONIC FLIGHT INSTRUMENT SYSTEM: Four Honeywell Flat Panel Displays
EMERGENCY LOCATOR TRANSMITTER: Artex C406 ELT
ENHANCED VISION SYSTEM: Honeywell / Kollsman Visual Guidance System
FLIGHT DATA RECORDER: Universal Avionics Flight Data Recorder and QAR
FLIGHT MANAGEMENT SYSTEM: Triple Honeywell FMS MC-850-2 MCDUs
HEADS UP DISPLAY: Rockwell Collins HUD II System
HIGH FREQUENCY RADIO: Dual Rockwell Collins HF-9034A Receiver/Transmitters
LIGHTNING SENSOR: LSZ-860 Lightning Sensor System
LONG RANGE NAVIGATION: Triple Honeywell LASEREF V Micro IRUs
QUICK ACCESS RECORDER: Micro QAR
RADIO ALTIMETER: Dual Honeywell Radio Altimeters
TRAFFIC COLLISION ALERT & AVOIDANCE SYSTEM: TCAS 3000SP w/ Change 7.1
STANDBY ATTITUDE INDICATOR: L3 GH-3100 ESIS Standby Attitude/Altitude/Airspeed
TERRAIN AWARENESS & WARNING SYSTEM: Enhanced Ground Proximity Module
TRANSPONDER: Dual Honeywell Transponders w/ ADS-B Out v2 (DO-260B)
WEATHER RADAR: Honeywell Weather Radar w/ Dual Weather Radar Controllers
Inspections
Inspection Type
Performed
Next Due
500 Hr
Performed:
March 2023 @ 3,079 Hours
1000 Hr
Performed:
August 2022 @ 2,774 Hours
12 Mos
Performed:
January 2023 @ 2,997 Hours
24 Mos
Performed:
March 2022 @ 2,411 Hours
36 Mos
Performed:
April 2023 @ 3,079 Hours
48 Mos
Performed:
March 2023 @ 3,079 Hours
60 Mos
Performed:
March 2023 @ 3,079 Hours
72 Mos
Performed:
March 2019 @ 2,240 Hours
96 Mos
Performed:
December 2019 @ 2,240 Hours
144 Mos
Performed:
April 2023 @ 3,079 Hours
Enrolled on Honeywell MSP Avionics & MSP Mechanical Components w/ Extended DU-1310 Coverage (formerly HAPP). Maintenance Records Tracked on Gulfstream CMP. On MSG-3 Maintenance Program. Majority of CMP Codes Completed and Next Due as follows:
Additional Equipment/Features
Major Aircraft Service Changes, Enhancements, & Upgrades:
• ASC 001D Digital Flight Data Recorder System Upgrade (88 Parameters)
• ASC 007C Maximum Landing Gross Weight - 58,500 Pounds - Category C - Provisions
• ASC 008B Maximum Zero Fuel Gross Weight 48,000 Pounds – Placard Installation
• ASC 016 Maximum Take-Off Gross Weight (MTOGW) Increase
• ASC 021 Lightning Sensor System Installation
• ASC 037B Synthetic Vision - Primary Flight Display (SVPFD) Installation
• ASC 046A Micro Quick Access Recorder (QAR) Installation
• ASC 059D Enhanced Navigation
o Future Air Navigation System (FANS 1/A+) CPDLC
o Wide Area Augmentation System (WAAS) w/ LPV Approaches
o Circling Approaches
o Temperature Compensated VNAV
o Peaks Display
o Electronic Terminal Charts (Certified Paperless Flight Deck)
o Short-Range/Long-Range Navigation (SRN-LRN) Automatic Preview & Transition
o Honeywell Inertial GPS Hybrid (HIGH) Step 1 IRU Upgrade
o Enhanced Global Positioning System (GPS)
• ASC 066 Communication Management Function (CMF) – SATCOM Direct Datalink
• ASC 070B Planeview Avionics Enhancement
• ASC-076 Engine Electronic Controller - T5.2 Software Upgrade
• ASC 077 TCAS 7.1 Installation
• ASC 079B Automatic Dependent Surveillance - Broadcast (ADS-B) Out Install v2 (DO-260B)
• ASC 080 Low Pressure Cooling AIR Outlet (LPCAO) – Seal Replacement
• ASC 084A Comm / Nav (ATA 23 / 34) Mandates Package (CPDLC / ADS-B Out)
• ASC-085 Aft Pylon Rib Assembly – Drainage Rework
• ASC 086 Flap & Stabilizer Electronic Control Unit – Software Upgrade
• ASC 089 Elevator Hardover Prevention System (HOPS) - Improvement
• ASC 094B Nose Landing Gear (NLG) Harness - Installation
• ASC 095 Baggage Door Striker Plates – Replacement
• ASC 097 Integrated Drive Generator (IDG) Feeder Cable Clamp
• ASC 099C PlaneView Avionics Enhancement
• ASC 100 Nose Landing Gear Electrical Harness & Hydraulic Brake Line Chafing – Mod.
• ASC 103B Equipment and Furnishings (ATA 25) - Flashlights - Replacement
• ASC 104A Junction Panel Relay Obsolescence Mod.
• ASC 107 Auxiliary Hydraulic Pump – Grounding Installation
• ASC 912C PlaneView Master Operating System Software Update


Additional Features and Modifications:
Aircell Axxess II Satellite Phone
Airinc Direct Datalink
Microwave Oven
High Temp Oven
Food Chiller
Dual Coffee Makers
Interior
Complete Refurbishment in January 2015 @ Gulfstream - Appleton

Twelve (12) Passenger Aft Galley Executive Floorplan Interior.

The main cabin features a forward-cabin 4-place club, a mid-cabin 4-place club, and aft-cabin 4-place berthable divans opposite a credenza. The forward-cabin and mid-cabin 4-place clubs include stowable executive writing and dining tables. The club chairs and divan are upholstered in a medium tone gray leather, complemented by a gray carpet. The wood/cabinetry is a marbled walnut veneer complemented by nickel plating on all hardware.

The full service Aft Galley is equipped to provide full meal and beverage service to passengers. The left-hand side Galley features a sink with faucet assembly, sink cover/cutting board, in-line water heater, TIA Coffee machine, Sharp microwave oven, Enflite high-temperature oven, crystal storage, cutlery storage, and waste container. The right-hand side Galley Annex is equipped with an ice compartment, canned drink storage, food storage compartment, crystal storage, miscellaneous storage, china storage, and dirty dish drawer.

The private aft lavatory and dressing area features a mirrored, lighted vanity, sink, central vacuum style flushing toilet, ample closet and storage areas, and in-flight accessibility to the spacious walk-in aft baggage compartment. There is a forward crew lav. Two (2) Winslow 14-man life rafts with triple-frequency ELT (beneath divan).

Cabin entertainment includes Viasat KU-Advanced w/ VR-12C KU-Band Antenna Hi-Speed Internet Service & Wi-Fi via a wireless LAN, a Two Disc Dual DVD player, and Airshow which can be viewed on Three (3) LCD color monitors - One (1) 24" LCD Monitor in the Left-Hand Forward Cabin Bulkhead, One (1) 19" LCD Monitor in the Left-Hand Aft Cabin Bulkhead, one (1) 18" LCD Monitor mounted above credenza - and on Eight (8) 9" LCD Personal Monitors in Each of the Eight (8) Single Seat Inboard Armrests. The AirCell Axxess II Iridium satellite communications system 2-channel digital phone provides direct dial (voice and data), air-to-ground, and ground-to-air call features.
Entertainment
Viasat KU-Advanced w/ VR-12C KU-Band Antenna Hi-Speed Internet Service & Wi-Fi
Honeywell HD-710 Swift Broadband High Speed Data System
Satcom Direct Router (SDR)
Airshow System
Two Disk Dual DVD Player
Three External Cameras
Eight 9" LCD Seat Monitors at Club Seats
18" Sidewall Monitor at Aft Credenza
19" LH Aft Bulkhead Monitor
24" LH Forward Bulkhead Monitor
Exterior
Strip & New Paint January 2015 @ Gulfstream - Appleton
Overall Matterhorn White w/Blue & Gray Accent Stripes.
Send a message to Frank Janik at Leading Edge Aviation Solutions, LLC