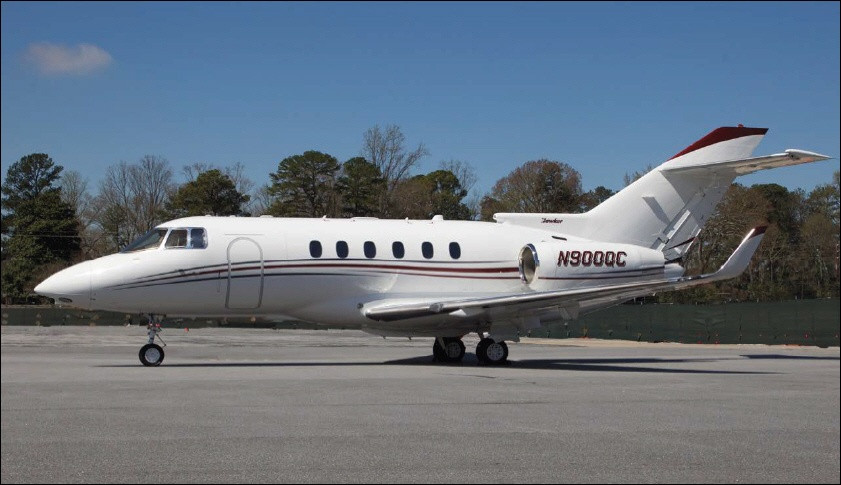 2009 Hawker 900XP
Price: Make Offer
Serial Number:

HA-0143

Tail Number:

N900QC

Hours:

4,179

Cycles:

3,635
Fly into a world of luxury and convenience with our newly available Hawker 900XP! Elegantly designed and meticulously maintained, this exceptional mid-sized jet delivers both high performance and comfort. With an outstanding range and advanced avionics, the Hawker 900XP promises seamless journeys and unparalleled in-flight experiences. Step into a spacious, well-appointed cabin designed to optimize your relaxation or productivity. Don't miss the chance to own this incredible aircraft. Contact us now to explore your horizons with the Hawker 900XP - the sky is no longer the limit. This aircraft highlights are:

• 4,179.5 Total Time
• Engines & APU Enrolled on MSP Gold
• GoGo ATG-5000 WiFi
• New Paint and Interior in 2015 by Duncan
• Incredible 3 owners since new
• Delivered with new Pilot & Copilot Windshields
Offered by:

Greenfield, IN
Airframe
Maintenance Tracking:
CAMP / AVTRAK
Airframe Certification:
FAR Part 91
Engines
Engine Program Coverage:
MSP Gold
APU
Description:
Honeywell GCTP36-150(W)
APU Program Coverage:
MSP Gold
Total Time Since New:
6,339
Avionics
Collins ProLine 21 Avionics Suite
Collins EFIS w/ four 8" x10" Adaptive Flight Displays
Dual Collins (NAV-4000/4500) VOR/ILS/ADF
Dual Collins VHF-4000 Comms
Dual Collins FMS – 6000 with 3D Mapping & VNAV
Dual Collins GPS-4000A
Dual Collins DME-4000
Dual Collins TDR-94D Enhanced Surveillance Diversity Transponder
Dual Collins ADC-3000 Air Data System w/ Dual Computers
Dual AHC-300 Attitude/Heading Computers
Collins TWR-850 Weather Radar System w/ RTA 858
Collins TCAS- 4000 TCAS II 7.1
ACSS TAWS Computer (ACSS TAWS+)
Dual Collins HF-9000w/ Coltech CSD - 714 SELCAL
Universal CVR-120
ELT – Artex C406-N (SAR Type) w/ Integral Latitude/Longitude Information Collins ALT- 4000 - Radio Altimeter
Collins MDC-3110 Maintenance Diagnostic Computer
DBU-5000 Data Loader
Meggitt Standby Instrument System (ESIS)
Collins IFIS – Integrated Flight Information System
FSU-5010 File Server Unit
DUAL CCP-3000 Cursor Control Panels
Dual Collins FGC- 3000 Flight Guidance Computers
Collins FGP - 3010
RAAS
ADSB-Out
Navigation and Compliance
Inspections
Inspection Type
Performed
Next Due
B Inspection
Performed:
September 2021 @ 4,007 Hours
D Inspection
Performed:
September 2017 @ 3,172 Hours
G Inspection
Performed:
September 2021
5000 / 12 Year Landing Gear Inspection
Delivered with new Pilot & Copilot Windshields
Interior
Interior Last Refurbished:
2015
This nine-passenger interior features a four place club arrangement in light tan leather and a single seat across from a three- place divan covered in same light tan leather and a belted lavatory seat. The five seats feature adjustable recline, swivel, side motion, and headrest/armrests. All woodwork is done in a hi-gloss medium brown tone. Single tone beige carpet throughout the floor and side panel. The interior has many storage options – a large baggage compartment is located opposite entry door and additional closet in aft cabin plus under seat storage drawers. Cabin Audio & Video Entertainment system includes Airshow 4000, two 15" LCD monitor mounted in the fwd & aft cabin bulkhead and a dual disk DVD player. Six cabin speakers, and two subwoofers included. The forward galley includes microwave, coffee maker, miniature liquor storage, ice/cold stowage drawer with heated overboard drain and a large waste bin. Aft lavatory features a flushing toilet with external servicing. Refurbished in 2015 by Aviation Interior Group.
Entertainment
High Speed Internet:
ATG-5000
Exterior
Base Paint Colors:
Jet Glo White
Stripe Colors:
Gray, Blue, and Red
Painted by International Jets Jet Glo White with gray, blue, and red accent stripes. Repainted in 2015.
Send a message to Julie Ricker at Jet Access Group