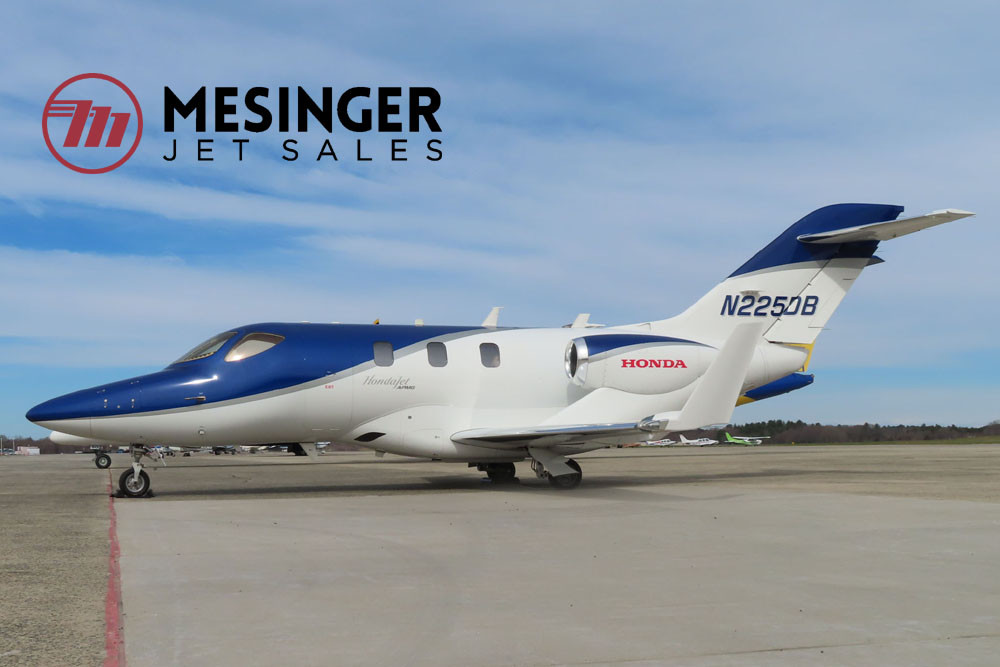 2017 Honda HondaJet APMG
Price: Call for Price
Serial Number:

42000044

Tail Number:

N225DB

Hours:

1,814

Cycles:

1,750
Reasons to buy THIS HondaJet APMG

• U.S. Owned Since New – Formerly Operated IAW FAR Part 135 – Single Pilot Capable •
• 600 Hour Inspection Complied with in July 2023 by flyADVANCED-ILG •
• Advanced Performance Modification Group Package (APMG) Upgrade •
• 1 Pilot + 6 Passengers or 2 Pilots + 5 Passengers •
• Engines Enrolled in GE Honda Engine Maintenance Care EMC² Program •
• Enrolled in HondaJet Flight Ready Service Plan P2 •
• Garmin G3000 Integrated Avionics System with Synthetic Vision •
• XM Weather, DME, 2nd Mode S Diversity Transponder, Radio Altimeter •
• Executive Seat Upgrade – All Single Seats, Leather Crew Seats •
• LH & RH FWD Cabinets, LH Executive Table, Metallic Trim with Lighted Logos •
• Electric Window Shades, 3 AC outlets, 7 Life Vests •
• Externally Serviced Toilet, Vanity with Faucet, Solid Aft Cabin Door •
Offered by:

Boulder, CO
Airframe
Engines
Engine Program Coverage:
GE Honda Maintenace Care (EMC)
Avionics
Garmin G3000 Integrated Avionics System
AFCS: Garmin GFC 700 Automatic Flight Control System
EFIS: Three (3) 14-inch Landscape GDU 1400 Screens with Garmin Synthetic Vision, Garmin FliteCharts, Electronic Checklists
IAC: Dual Garmin GIA 63W Integrated Avionics Units with LPV and RNP 0.3 Capabilities
CDU: Dual Garmin GTC 570 Touchscreen Controllers with TOLD
AHRS: Dual Garmin GRS 77 AHRS Units
GPS: Dual WAAS GPS Receivers
NAV: Dual VHF Navigation Receivers with Single DME-4000 Transceiver
AUDIO: Dual Garmin GMA 36 Audio Control Panels
VHF COM: Dual Garmin VHF Communication Transceivers
DATALINK: Garmin GDL 69A XM Weather Data Link
RADAR: Garmin GWX 70 Digital Color Weather Radar
RADALT: Garmin GRA 5500 Radio Altimeter
XPNDR: Dual Garmin GTX 33D Mode S Diversity Transponders with ADS-B Out V2
TAWS: Garmin TAWS B
ACAS: Garmin GTS 855 TAS (TCAS 1)
ELT: Kannad 406AF 406 MHz Transmitter
Additional Equipment/Features
• Advanced Performance Modification Group Package (APMG) Upgrade – SB-420-55-001 Rev. G – Increased Performance Package
• Forward Baggage Weight Capacity Increase – SB-420-52-002 Rev. C
• Garmin Software 73.20 – SB-420-42-010 Rev. C
Interior
Passenger Seating Maximum Occupancy:
• Single Pilot: Six (6) Passengers (1 Passenger in Cockpit + 5 Passengers in Cabin)
• Two Pilot: Five (5) Passengers (5 Passengers in Cabin)

Configuration & Seating:
This HondaJet APMG features a 5-passenger executive cabin, aft lavatory, and nose and tail cone baggage compartments. Passenger seating maximum occupancy may be increased from five (5) to six (6) with a passenger seated in the cockpit during Single Pilot operations. The cabin is configured with a 4-place club and forward belted side-facing seat. All four (4) single seats are the upgraded "Executive Seat" featuring seat base tracking. Additional installed upgrades include the lefthand and righthand forward cabinets with carbon fiber cabinet faces, electric pleated window shades, left and right stowable executive tables, personal storage compartments, three (3) 110V/60Hz AC universal outlets, seven (7) life vests, and metallic trim with illuminated logos.

Interior Finishes:
The interior features the "Parchment" Interior Scheme with a soft beige base and light tan accents, brushed silver metal accents, maple-colored trim, and light tan carpet. The crew seats feature upgraded leather upholstery.

Lavatory: Aft
The aft lavatory is equipped with an upgraded externally serviced toilet, vanity cabinet with sink and touch-free faucet, over-the-sink lighting, and a solid aft cabin door.

Baggage Compartment:
The nose and tail cone baggage compartments offer a combined 66 cu. ft. of baggage capacity.
Exterior
The exterior is painted in two-tone "Snow White" and "Classic Blue Pearl" with "Titanium Silver Pearl" striping.
Send a message to Jay Mesinger at Mesinger Jet Sales