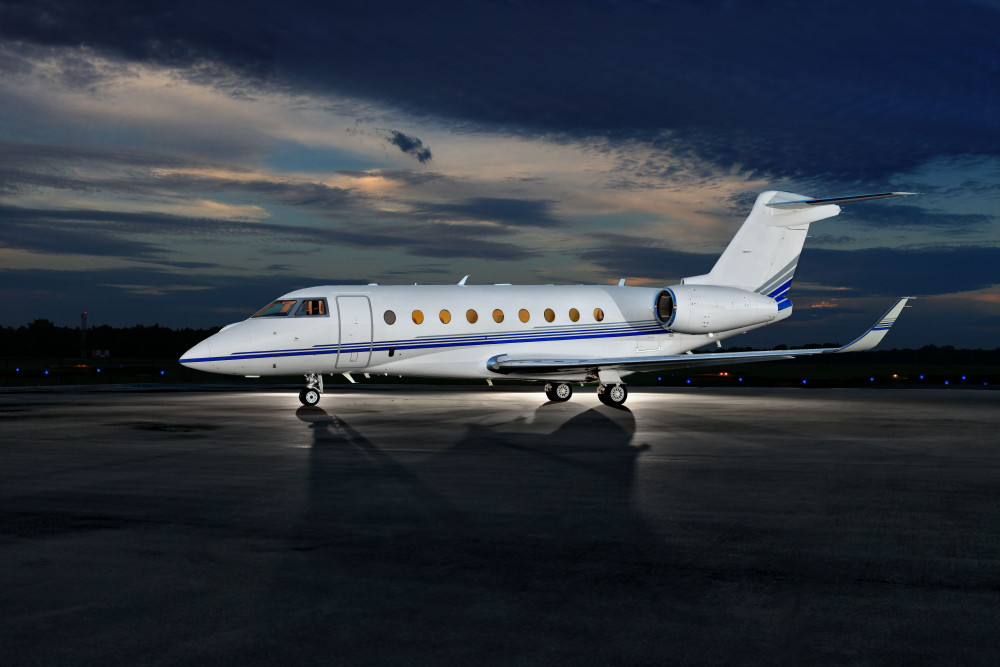 2014 Gulfstream G280
Price: $14,950,000
Serial Number:

2028

Tail Number:

N301WM

Hours:

3,030

Cycles:

1,660
Engines & APU Enrolled on MSP Program
12 & 24 Month CMP Codes Completed at Gulfstream Dallas May 2023.
Gogo Biz® Hi-Speed Internet Service
U.S. Owned & Registered Since New
FANS 1/A, CPDLC, WAAS/LPV
Hangared at Los Angeles International Airport (LAX)
Offered by:

Leading Edge Aviation Solutions, LLC
Parsippany, NJ
Airframe
Date of Manufacture (CofA): August 1, 2013
Entry into Service: January 16, 2014
Engines
Engine Program Coverage:
MSP
APU
Description:
Honeywell GTCP36-150
Total Time Since New:
1,296
Avionics
Gulfstream Planeview280/Collins ProLine Fusion Avionics Suite
Three 14"x10" Flat-Panel LCD Display Units
Triple ProLine Fusion FMS w/ Dual Collins GPS-4000S 12-Channel GPS
Dual Honeywell AHRS AH-3200 Altitude Heading Reference Systems
Triple VHF-4000 VHF COMMs w/ Datalink Capability
Triple Collins NAV-4500/4000 VHF NAVs
Dual Collins AFCS Automatic Flight Guidance Systems
Dual Collins HF-9000 HF COMM
Dual Collins ALT-4000 Radio Altimeters
Dual Collins DME Distance Measuring Equipment Transceivers
Traffic Collision Avoidance System (TCAS II) w/ Change 7.1
Collins Terrain Awareness Warning System (TAWS)
Laseref VI Inertial Reference Unit (IRS/IRU)
Collins RTA-4118 Color Weather Radar
Dual Collins Cursor Control Devices
Collins TDR-94 Mode S Transponder
Artex ELT Emergency Locator Transmitter
Combination CVR/FDR Enhanced Multipurpose Flight Recorder System
Inspections
Inspection Type
Performed
Next Due
48 Mo.
Performed:
November 2021 @ 2,721 Hours
72 Mo.
Performed:
May 2022 @ 2,850 Hours
96 Mo.
Performed:
January 2022 @ 2,801 Hours
Collins Avionics Service Plan (CASP), Maintenance Tracked on Gulfstream CMP, Currently on Part 91 Certificate
Additional Equipment/Features
Additional Features, Enhancements, & Upgrades:
FANS 1/A / CPDLC
ADS-B Out v2 (DO-260B)
Intercontinental Flight Package (2nd Altimeter, HF Radio & Data Link, & 3rd FMS and Nav Computer)
WAAS/LPV
Head-Up Guidance System (HGS) with Enhanced Vision System (HUD / EVS)
Synthetic Vision (SVS)
Aircell ATG-5000 Gogo Biz® Hi-Speed Internet Service & Wi-Fi
EVAS
Second IFIS (Paperless Cockpit)
3rd FMS
ICG ICS-220A SATCOM
XM Satellite Weather
LoPresti Boom Beam Taxi Lighting
Tail Logo Lights
Dual Autothrottle System
Precise Flight Pulslite System
Pressurized Water System
Passenger Oxygen System
Interior
Interior Last Refurbished:
2013
New December 2013 @ Gulfstream, Dallas, TX

Eight (8) passenger Fwd Galley Floorplan interior featuring a forward crew jump seat, aft main lavatory, and aft garment closet. The forward and aft cabins feature a 4-place club seating groups with stowable executive writing/dining tables between the opposing club chairs. The seats are covered in a deep navy leather. The cabin is complemented with a grey-tone carpet. The wood/cabinetry is a high-gloss medium stained walnut woodwork veneer complemented by silver plating on all hardware, fixtures, & switch panels.

The full-service Forward Galley features granite countertops and is equipped to provide meal and beverage service to passengers. The galley includes a sink and faucet assembly, cabinet & drawer storage, coffee maker, microwave oven, and ice drawer. The private aft lavatory features a mirrored, lighted vanity, sink, flushing toilet, and storage areas, and in-flight accessibility to the spacious walk-in aft baggage compartment.

Cabin entertainment includes Gogo Biz® Hi-Speed Internet Service, 19" LCD Monitors in the forward and aft bulkheads, CabinView Passenger Information System, Dual BluRay Player with media player & HDMI LED Lighting throughout.
Exterior
New December 2013 @ Gulfstream, Dallas, TX
Matterhorn White w/ Crest Blue & Gamma Grey Accent Stripes.
Weights
Max Takeoff Weight:
39,600.00
Max Landing Weight:
32,700.00
Max Zero Fuel Weight:
28,200.00
Basic Operating Weight:
24,195.00
Send a message to Frank Janik at Leading Edge Aviation Solutions, LLC