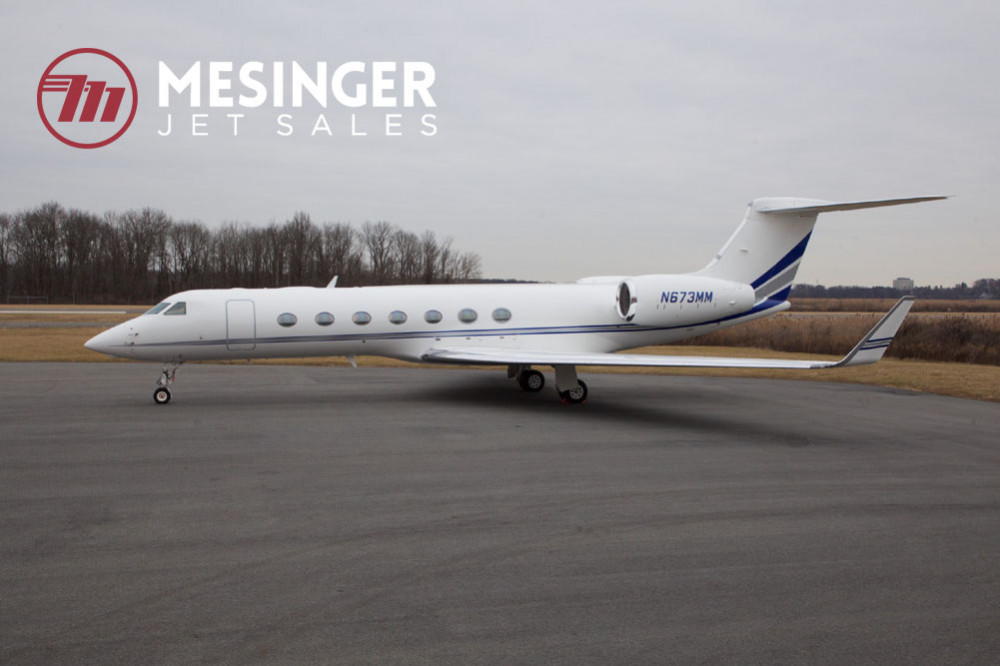 2007 Gulfstream G550
Price: Call for Price
Serial Number:

5139

Tail Number:

N673MM

Hours:

4,400

Cycles:

1,438
• 16-Passenger Forward Galley with Forward Crew Compartment Configuration
• Low Time & Landings for Vintage
• Enrolled on JSSI Platinum Engines 100% & JSSI APU
• Honeywell Ka-band Satellite Internet
• Aircell ATG 4000 Broadband Internet System
• Triple FMS with Enhanced Navigation & WAAS/LPV
• HUD, EVS & Synthetic Vision 2.0
• FANS 1/A+ CPDLC, TCAS 7.1, RAAS, LSS
• Digital Flight Data Recorder (88 Parameters) with Quick Access Recorder
• 2018 Exterior Paint and Interior Refurbishment
• CES Upgraded to Gulfstream AVDS with HD Monitors and Two (2) HDMI Ports
• Cabin and Cockpit True Blue USB-A / USB-C Dual Charging Ports
• Upgraded 7801 Series LED Upwash/Downwash Lighting Throughout Cabin
• Previously Operated & Maintained IAW FAR Part 135
• Currently Undergoing 12/24/48/96/192 Month Inspections at Gulfstream -Appleton, WI
Offered by:

Boulder, CO
Airframe
Maintenance Tracking:
MyCMP
Engines
Rolls-Royce BR700-710C4-11
Engine Program Coverage:
JSSI Premium
APU
Description:
Honeywell RE220[GV]
APU Program Coverage:
JSSI
Total Time Since New:
3,841
Avionics
AFCS: 3-Axis Automatic Flight Control System with Autothrottle & Dual Cursor Control Devices
EFIS: Four (4) Honeywell DU-1310 Flat Panel Display Units
VGS: Honeywell/Kollsman Visual Guidance System
SVS: Honeywell Synthetic Vision 2.0 (ASC 061B)
FMS: Triple Honeywell FMS with Enhanced Navigation & SBAS/LPV (Software NZ7.1.2)
CDU: Triple Honeywell Multifunction Control Display Units
ADS: Triple Honeywell Air Data Modules
VHF COM: Triple Honeywell VHF Modules with Triple Audio Panels
HF COM: Dual Collins HF Communication System with SELCAL
PHONE: Aircell Axxess II Iridium Satellite Telecommunications System with Multiple Handsets
SATCOM: Honeywell Inmarsat & Aircell Axxess II Iridium Satcom Systems
DATA: Honeywell Ka-band Satellite Internet and Aircell ATG 4000 Broadband Internet Systems
DATALINK: Honeywell CMF with FANS 1/A+ CPDLC
GPS: Dual Honeywell SBAS/WAAS GPS Sensors
LRNAV: Triple Honeywell LASEREF V Micro Inertial Reference Units
NAV: Triple Honeywell Navigation Modules
ADF: Dual Honeywell ADF Modules
RADAR: Honeywell Primus 880 Weather Radar System
LSS: Honeywell Lightning Sensor System
RADALT: Dual Honeywell Radio Altimeters
TAWS: Honeywell EGPWS with Runway Awareness Advisory System (RAAS)
ACAS: TCAS II with Change 7.1
XPNDR: Dual Honeywell ADS-B Out V2 Transponder Modules
FDR: Digital Flight Data Recorder (88 Parameters) with Quick Access Recorder
CVR: FA2100 Solid State Cockpit Voice Recorder
ELT: Artex C406-2 406 MHz Transmitter
Inspections
Inspection Type
Performed
Next Due
Currently Undergoing 12/24/48/96/192 Month Inspections at Gulfstream -Appleton, WI USA
Additional Equipment/Features
Vision Safe Corp. Emergency Vision Assurance System (EVAS)
Heads Up Technologies CMS-400 Checklist Management System
Talon Aerospace LED Landing/Taxi Lights
Interior
Interior Last Refurbished:
2018
This G550 features a 16-passenger forward galley with forward crew compartment configuration, forward and aft lavatories, and an in-flight accessible baggage compartment. The 3-zone main cabin consists of a forward 4-place club, a mid-cabin left-hand 4-place conference/dining group opposite a credenza, and dual 4-place berthing divans in the aft cabin. The interior features electric window shades, 115V/60Hz outlets, cabin and cockpit True Blue USB-A / USB-C dual charging ports and upgraded 7801 Series LED upwash/downwash lighting throughout the cabin.

The forward right-hand crew compartment features a single seat with berthing capability, a plug-in LCD widescreen monitor, and a hinged door.

Gulfstream – Savannah, GA refurbished the interior soft goods and replaced the countertops in September 2018.
Entertainment
High Speed Internet:
Honeywell Ka-band satellite data and Aircell ATG 4000
In-Flight Phone:
Honeywell Inmarsat and Aircell Axxess II Iridium Satcom
The Cabin Management System (CMS) incorporates an upgraded Gulfstream Audio/Video Distribution System (AVDS), along with a cabin audio system, forward and aft bulkhead 19" HD monitors, credenza 22" HD monitor, six (6) window panel swing-arm LCD monitors, crew compartment swing-arm LCD monitor, two (2) HDMI ports, Blu-ray player, Airshow® 4000, and an external standard definition camera system.
Exterior
Base Paint Colors:
Snow White
Stripe Colors:
Arc Blue and Starlight Silver
Repainted in September 2018 by Gulfstream – Savannah, GA USA
Send a message to Jay Mesinger at Mesinger Jet Sales