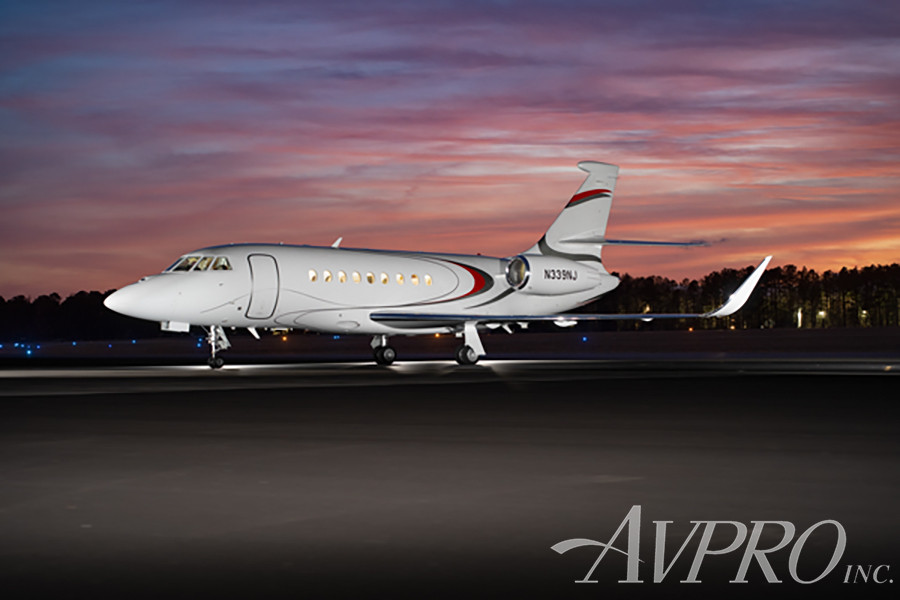 2018 Dassault Falcon 2000LXS
Price: Call for Price
Serial Number:

339

Tail Number:

N339NJ

Hours:

694

Cycles:

442
U.S. Registered & Based in Richmond, Virginia
Very Low Airframe Hours & Cycles
Remaining Factory Warranties
Beautiful Cosmetics in Excellent Condition
Preferred 10 Passenger Interior Configuration
Loaded Optional Equipment
• FalconEye Combined Vision System (HUD + EVS + SVS)
• JetWave KA Band Satcom – Wiring Provisions
• Aircell Gogo AVANCE L5 Satcom / Wi-Fi / Entertainment
• EASy II Cert 4 Upgrade
• CPDLC with FANS-1/A
• Enhanced Nav with SBAS / LPV
• 88 Parameter FDR Upgrade
Engines on ESP Platinum, APU on MSP Gold
Offered by:

Annapolis, MD
Airframe
Engines
APU
Avionics
• Honeywell Primus EPIC EASy II Avionics Suite
• Honeywell EASy II Cert 4 Upgrade
• Honeywell EASy Flight Display w/4 LCD Units+Cursor Control Devices
• Honeywell EASy Flight Control System with Auto Throttle
• Honeywell EASy Communication Management Function (CMF)
• Honeywell Data Acquisition & Central Maintenance Computer
• FalconEye Combined Vision System (HUD + EVS + SVS)
• Elbit Head-up Guidance System (HGS) + Elbit Head-up Synthetic Vision System (SVS)
• Elbit Enhanced Vision System (EVS) + Combined Vision System (CVS)
• Honeywell GP-600 Autopilot / Flight Director
• Triple Honeywell TR-866B VHF Communication Radios (COMM)
• Dual Honeywell NV-875B Navigation Radios (NAV)
• Dual Honeywell DF-855 Automatic Direction Finder (ADF)
• Dual Honeywell DM-855 Distance Measuring Equipment (DME)
• Dual Honeywell AZ-200 Air Data Computer (ADC)
• Dual Honeywell MAU-920 Modular Avionics Unit (MAU)
• Dual Honeywell XS-857A Transponders
• Dual Honeywell EASy II Flight Management Systems (FMS)
• Dual Honeywell EASy II GPS
• Dual Honeywell Laseref V Inertial Reference Systems (IRS)
• Triple Honeywell AV-900 Audio System
• Dual Rockwell Collins HF-9034A HF Comms w/SELCAL
• Honeywell Primus 880 Weather Radar
• Honeywell RT-300 Radar Altimeter
• Honeywell EASy EGPWS w/Windshear
• ACCS TCAS 3000 w/Change 7.1
• Honeywell SS Cockpit Voice Recorder (CVR)
• Honeywell SS Flight Data Recorder (FDR) w/ 88 Parameter Upgrade
• ADT-406 ELTA
• CTS Quick Access Recorder (QAR)
• Honeywell LSS-860 Lightning Sensor System
• SIRS Standby Magnetic Compass
Inspections
Inspection Type
Performed
Next Due
Additional Equipment/Features
• Dual CMC CMA-1310 Electronic Flight Bags
• Galley Sliding Pocket Door
• Enflite High Temperature Oven
• TIA Wavejet Microwave Oven
• Nespresso Maker
• iPad Mounts in Cockpit
• ERDA 3rd Flight Deck Seat
• Two (2) Winslow 9-Person Life Rafts w/ 406 ELT
• Ten (10) Passenger Life Vests
• Two (2) EROS Convertible O2 Masks w/ Smoke Goggles
• Enlarged Oxygen Bottle (116.9 Cu Ft)
• Goodrich Ice Detection System
• Defibrillator
• External Serviceable Water System
• SAFT 405CH10 Nicad Battery
• Remote Cabin Temperature Control
• Cockpit Sun Visors
• Medeco Locks (Baggage Door)

Connectivity:
• Aircell Gogo AVANCE L5 Satcom / Wi-Fi / Entertainment
• Aircell Axxess II 2-Channel Iridium Satcom
• JetWave KA Band Satcom- Wiring Provisions
Interior
Stunning interior in the preferred ten (10) passenger configuration, featuring a four-place club arrangement in the forward cabin, followed by a four-place conference/dining group with an oversized table opposite a two-place club in the aft cabin.

The interior is completed in luxurious earth tones with chairs in beige leather & contrasting seat backs and complimenting lower sidewalls and carpet. Interior finishes include medium toned cabinetry in a matte finish, accented with tasteful brushed nickel colored plating throughout.

The forward galley is optioned with a left-hand crew closet and is fully equipped. A full-size galley pocket door separates the cabin for improved privacy and a quieter environment. The fully enclosed, private lavatory is in the aft cabin with an electric flushing toilet that is serviced externally. The spacious baggage compartment is accessible in-flight through a door in the back of the lav. A 3rd crew member seat completes the flight deck.

Galley amenities include a forward 46" galley with a Nespresso maker, microwave oven, high temp oven, ice chest and ample storage throughout.
Entertainment
• Rockwell Collins Falcon Cabin HD+
• Rockwell Collins 3D Interactive Maps
• Forward & Aft 22" Bulkhead Monitors
• Two (2) 10.5" Individual Monitors for Side Ledge Plug-In
• Two (2) Plug-In Receptacles Throughout the Cabin
• HDMI Interface / USB Charging Port
• Dual Rockwell Collins Blu-Ray Players
• Ten (10) Bose Noise Cancelling Headsets
• Nine (9) 115 Volt AC Power Outlets Throughout the Cabin
Exterior
Overall Matterhorn White with Sunfast Red & Medium Silver Accent Striping.
Send a message to Mike Caruso at Avpro, Inc.