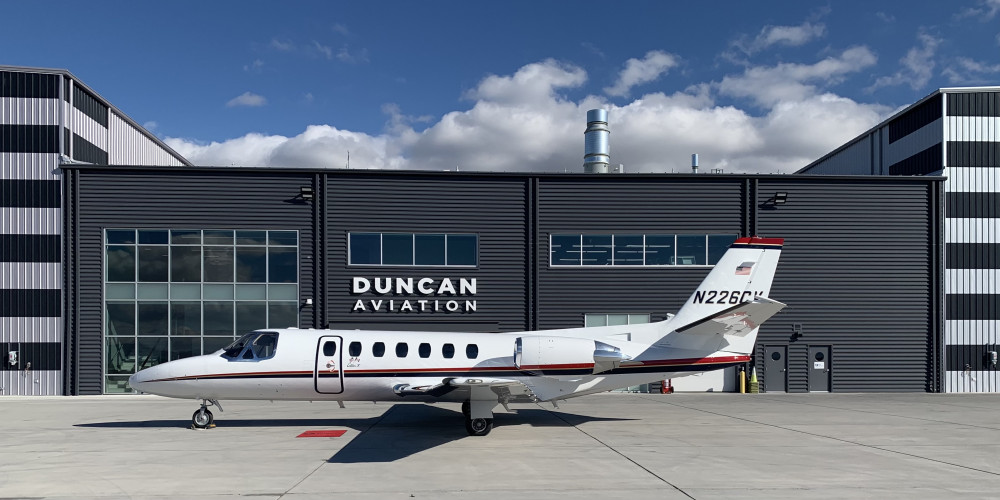 1993 Cessna Citation V
Price: Make Offer
Serial Number:

560-0226

Tail Number:

N226CV

Hours:

9,835

Cycles:

8,530
US Pedigree
Duncan Aviation Paint, 11/2021
Fresh I-IV, 1/2023
Part 135
Upgraded Universal FMS with LPV
GoGo Biz 5000 WiFi
Ultra-style 8 pax interior
Zero Fuel Weight Increase
Offered by:

Lincoln, NE
Airframe
Home Base:
Marshfield, MA, KGHG (20 Miles from Boston, MA)
This beautiful Citation V is loaded with options not typically found on Citation V or Ultra aircraft. US Pedigree, fresh paint by Duncan Aviation 11/2021. Fresh I-IV completed 1/2023 by Shoreline Aviation, maintained under Part 135. Upgraded Universal FMS with LPV, Gogo Biz 5000 WiFi, CVR, HF, Ultra-style 8 passenger interior with fold down steps, upgraded galley cabinets and lav vanity, Zero Fuel Weight Increase, Duncan Aviation paint & interior
Engines
Pratt & Whitney JT15D-5A

*Engine Hot Section Inspections and Overhauls by Pratt & Whitney

Note: Aircraft is actively flying. Airframe/engine hours and cycles are estimated
Engine 1
Hours Since Overhaul:
2,716
Hours Since Hot Section:
920
Engine 2
Hours Since Overhaul:
2,716
Hours Since Hot Section:
920
Avionics
Electronic Flight Instrument System: 3-Tube 5"x5" EFIS
Flight Director: Honeywell SPZ 500
Autopilot: Honeywell SPZ 500
Flight Management System Universal: UNS-1 LW w/ LPV
Dataloader: Universal Solid State DTU
Com Transceivers: Dual Collins VHF 22A
Nav Receivers: Dual Collins VIR-32
Distance Measuring Equipment: Dual Collins DME-42
Automatic Direction Finder: Collins ADF-462
Transponders (ADSB In/Out): Dual Garmin GTX345R
Radio Magnetic Indicator: Dual Collins RMI
Radio Altimeter: Collins
Radar: Honeywell Primus 650
Stabilized Color
Global Positioning System: King KLN 90B GPS
Traffic Collision Avoidance System: Honeywell TPU 66A TCAS 1
Enhanced Ground Proximity Warning System: Honeywell KGP 860 EGPWS
Stormscope: WX 1000+
Cockpit Voice Recorder: Fairchild GA-100 CVR
High Frequency Radio: King KHF-95
RVSM Certified: Star Aviation STC# ST02642AT
Additional Equipment/Features
Ultra/Bravo style fold down entry step service bulletin for easy access
Multiple Ultra-style interior upgrades (see Interior description for details)
8-passenger configuration (forward 1-place divan, 6 seats in main cabin plus belted lavatory seat)
GoGo ATG5000 WIFI
Cabin and cockpit 110V electrical outlets and USB ports
King KHF-95 HF Radio
TCAS 1 Collision Avoidance System
Shadin N1 Computer
Fairchild Cockpit Voice Recorder
RVSM Certified- Star Aviation STC # ST02642AT
EROS Quick Donning Oxygen Masks
Pneumatic Nose Baggage Door Openers (Sierra STC SA09229SC)
Cessna Zero Fuel Weight Increase (SB 560-34-22)
Thrust Reversers
EROS Quick Donning Oxygen Masks
Angle of Attack Indicator
Teledyne (Gill) Lead Acid Battery per STC SA1051SO. New Battery 9/16/2022
Zephyr Freon Air Conditioning
Tail Flood Lights and Pulse Lights
Interior
PASSENGERS: 8 (including belted lav seat)

FORWARD CONFIGURATION: Side-facing, single divan

MID CONFIGURATION: 6 passenger center club arrangement

AFT CONFIGURATION: Belted lav seat

LAVATORY: Aft, fully enclosed with hard pocket door, sink and lighted vanity, and coat rack. Ample storage for toiletries.

CONNECTIVITY: GoGo Biz ATG5000 Wi-Fi

REFURBISHMENT: Complete interior refurb, Duncan Aviation (LNK), 9/2015 | Interior touch-up, 11/2021 |Walnut veneer touch-up, 11/2021

NOTABLE FEATURES: Many extra options including Ultra-style fold down cabin entry steps, optional fold-out tables at 6 main cabin seat stations, dual aft cabin magazine storage cabinets, Walnut veneer cabinetry, modern ultra-style cabinets, drink rail and interior. Right and left side cabinets in forward cabin with full refreshment center, catering storage, coffee and hot water pots. (6) USB plugs and (2) 110V power plugs in aft cabin, (3) USB plugs and (2) 110V power plugs in cockpit. Soothing color palate of taupe/tan leather with blue lower side panels, blue leather drink rail accent and table-inserts.
Exterior
Overall Matterhorn White with Deep Red, Antique Gold and Commercial Blue accent stripes. Complete strip and repaint by Duncan Aviation, 11/2021.
Weights
Max Takeoff Weight:
15,900.00
Send a message to Ann Pollard at Duncan Aviation, Inc.