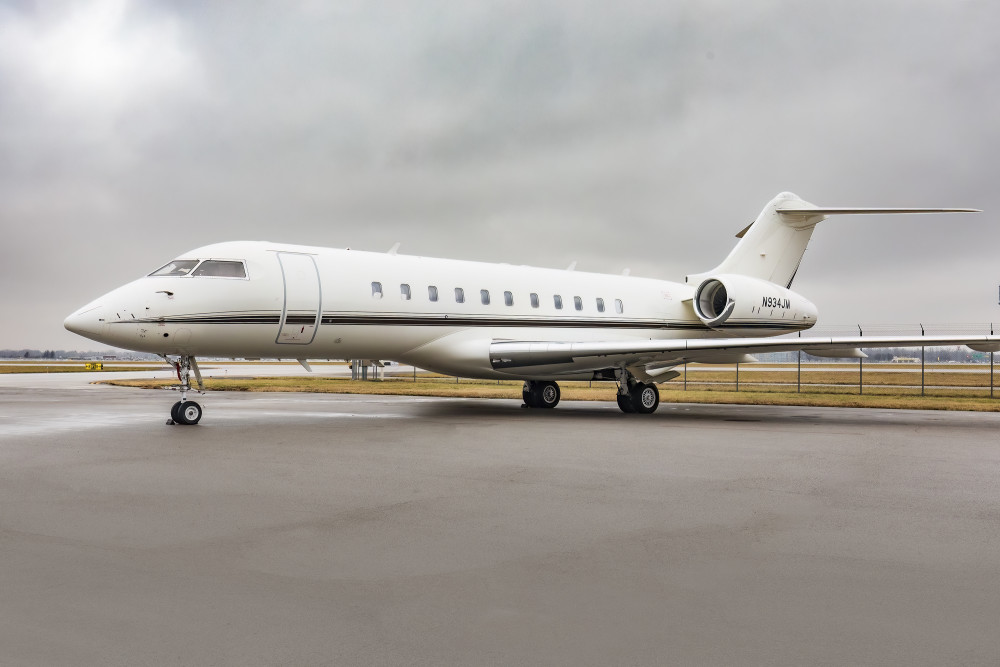 2011 Bombardier Global 5000
Price: $18,600,000
Serial Number:

9398

Tail Number:

N934JM

Hours:

3,379

Cycles:

979
Engines & APU on Programs
Low Time - 1,759 Hours
Honeywell Primus 2000XP Avionics Suite w/ Batch 3 upgrades
Enhanced Soundproofing
Offered by:

Leading Edge Aviation Solutions, LLC
Parsippany, NJ
Airframe
Certification Date: June 6, 2010
Entry into Service: May 13, 2011

Airframe:
3,379 Hours
979 Landings
Engines
Engine Program Coverage:
Rolls Royce Corporate Care (RRCC)
APU
Description:
Honeywell RE-220
Total Time Since New:
1,759
Avionics
• Honeywell Primus 2000XP Avionics Suite w/ Batch 3 upgrades
• Triple Honeywell NZ-2000 FMS navigation computers and dual global positioning
• Triple Honeywell LASEREF IV Inertial Reference System
• Dual Honeywell RCZ-833K w/8.33 spacing Comms
• Dual Honeywell RNZ-851 w/FM Immunity NAVS
• Dual Honeywell RCZ-833K Mode S Transponder
• Dual Honeywell HG2021 GPS
• Dual Honeywell RCZ-851 DME
• Dual Honeywell RNZ-8561 ADF
• Dual Collins HF-9031A w/SELCAL
• Honeywell Primus 880 Weather Radar
• Honeywell LSZ-860 lighting sensor
• Honeywell SSCVR/SSFDR
• ADS-B v2 DO-260B
• CPDLC/Link 2000/FANS 1/A+
• WAAS/LPV
• TCAS-2000 with 7.1
• TAWS Honeywell Mark V EGPWS
• Swift Broadband SATCOM SAT-6100 system w/ CNX-200 Series 2 router
• Thales/Sextant Heads-Up Display
• Collins ASXi Airshow with 24" monitor with network six-paks, day-night with time zones
• HUD
Inspections
Inspection Type
Performed
Next Due
1000 Hour
Performed:
September 2019 @ 2,219 Hours
1500 Hour
Performed:
April 2021 @ 2,564 Hours
3000 Hour
Performed:
April 2021 @ 2,564 Hours
30 Mo.
Performed:
March 2021 @ 2,564 Hours
60 Mo.
Performed:
March 2021 @ 2,564 Hours
120 Mo.
Performed:
March 2021 @ 2,564 Hours
Additional Equipment/Features
• Enhanced soundproofing
• Cabin Entertainment System: CES software update V7
Interior
14 passenger interior. The forward cabin starts with four single club chairs with fold out tables. The mid cabin features a four-place conference group with table opposite a single club chair and in-flight bench seat. The aft cabin includes two single club chairs opposite a 3-place divan. There is an aft main lavatory. There is a forward full service galley and forward crew lav. The club chairs and conference group are covered in a medium-tan leather. The divan is upholstered in a light beige striped fabric and the two chairs across are in mocha. There is a tan, soft pattern carpet throughout the cabin.
Exterior
Overall white with brown accent striping.
Weights
Max Takeoff Weight:
92,500.00
Max Landing Weight:
78,600.00
Max Zero Fuel Weight:
56,000.00
Send a message to Rick Richardson at Leading Edge Aviation Solutions, LLC