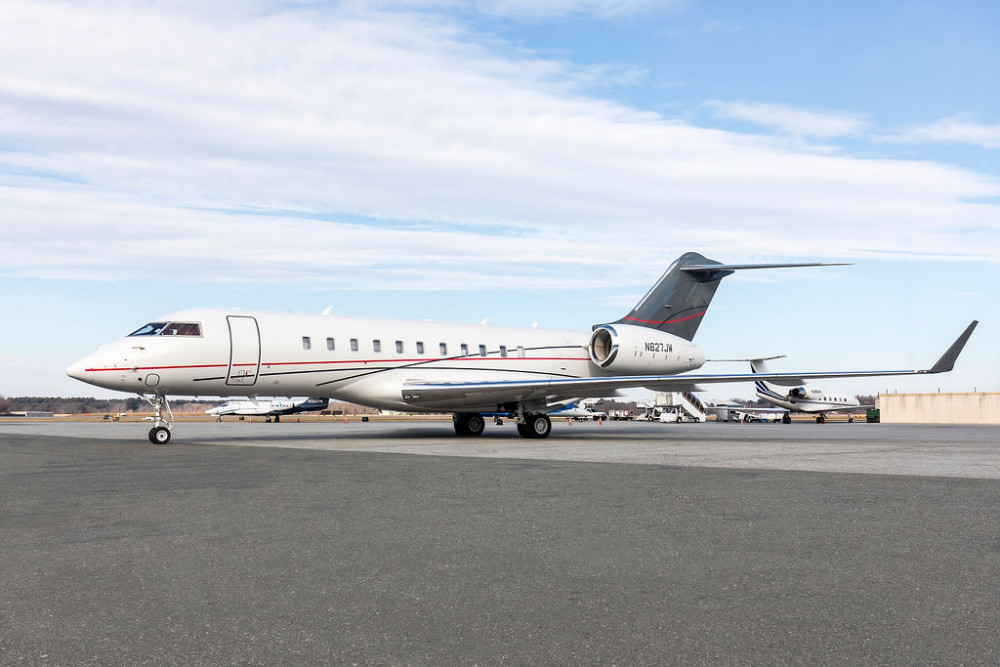 2013 Bombardier Global 5000
Price: $20,500,000
Serial Number:

9550

Tail Number:

N627JW

Hours:

1,588

Cycles:

675
Engines & APU on Programs
One U.S. Owner w/ same Director of Maintenance since new
Vision Cockpit
Low time - 1,588 Hours
Offered by:

Leading Edge Aviation Solutions, LLC
Parsippany, NJ
Airframe
Entry Into Service Date:
December, 2013
Canadian Certification Date: May 20, 2013
US Certification Date: December 11, 2013
Entry Into Service: December 2013
Airframe:
1,588 Hours 675 Landings
Engines
Rolls Royce Derby PLC BR700-710A2-20
Engine Program Coverage:
Rolls Royce Corporate Care (RRCC)
APU
Total Time Since New:
1,944
Avionics
Rockwell Collins Pro Line Fusion Avionics Package
Quad Adaptive Flight Display AFD-6520 EFIS (Electronic Flight Instrument System)
Triple Rockwell Collins Integrated FMS (Flight Management System
Triple Rockwell Collins ADC-3020 ADC (Air Data Computer)
Triple Honeywell LASEREF VI IRS (Inertial Reference System)
Triple Rockwell Collins VHF-4000 VHF COM (Very High Freq. Communication)
Dual Rockwell Collins GPS-4000S GPS (Global Positioning System)
Dual Rockwell Collins NAV-4000 NAV (Navigation Radio)
Dual Rockwell Collins TDR-94D Mode S XPNDR (Transponder)
Dual Rockwell Collins DME-4000 DME (Distance Measuring Equipment)
Dual Rockwell Collins ALT-4000 RA (Radio Altimeter)
Dual Rockwell Collins Integrated AFCS A/P (Autopilot)
Dual Rockwell Collins HF-9031A w/SECAL HF COM (High Freq. Communications)
Single Bombardier EVS (Enhanced Vision System)
Single Bombardier HGS (Head Up Guidance System)
Single Rockwell Collins SVS-6110H SVS (Synthetic Vision System)
Single Rockwell Collins RTA-4118 RADAR
Single Honeywell EGWPS (Enhanced Ground Warning Proximity System)
Single Rockwell Collins TSS-4100 TCAS (Traffic Collision Avoidance System)
Single L3 Communications FA2100 SSCVR CVR (Cockpit Voice Recorder
Single WX-1000E LDS (Lightning Detection Sensor)
Single L3 Communications SSFDR FDR (Flight Data Recorder)
Single Artex B406-4 ELT ELT (Emergency Locator Transmitter)
Single Inmarsat Satcom System with Swift Broadband Capability (432kbs)
Go-Go Biz ATG 5000 Wi-Fi
Two L3 Crewmate 840 EFB's

One U.S. owner with the same director of maintenance since new.
Inspections
Inspection Type
Performed
Next Due
Interior
Twelve (12) Passenger Interior features a forward galley, forward crew lav and aft main lavatory area. The main cabin has a four single club chairs with two fold out tables. Mid-Cabin features a four place conference group with table opposite a 2-place divan (divan has seating for 3 but is legal for 2 passengers for take off and landing) The private aft cabin is separated by a pocket door and includes two-single club chairs opposite a 9G divan that folds into a wide bed. There is a full service aft lavatory with a toilet, sink and mirror. All club chairs are covered in a light beige leather and divan in a matching light beige fabric. There is a medium-tone grey pattern carpet throughout. Carpet replaced in 2015. There are two 24 inch HD monitors in the cabin and two ipod cradles. Equipped with Interactive Airshow ASXI.
Exterior
Overall white with red and grey accent striping.
Weights
Max Takeoff Weight:
92,500.00
Basic Operating Weight:
49,465.00
Send a message to Rick Richardson at Leading Edge Aviation Solutions, LLC