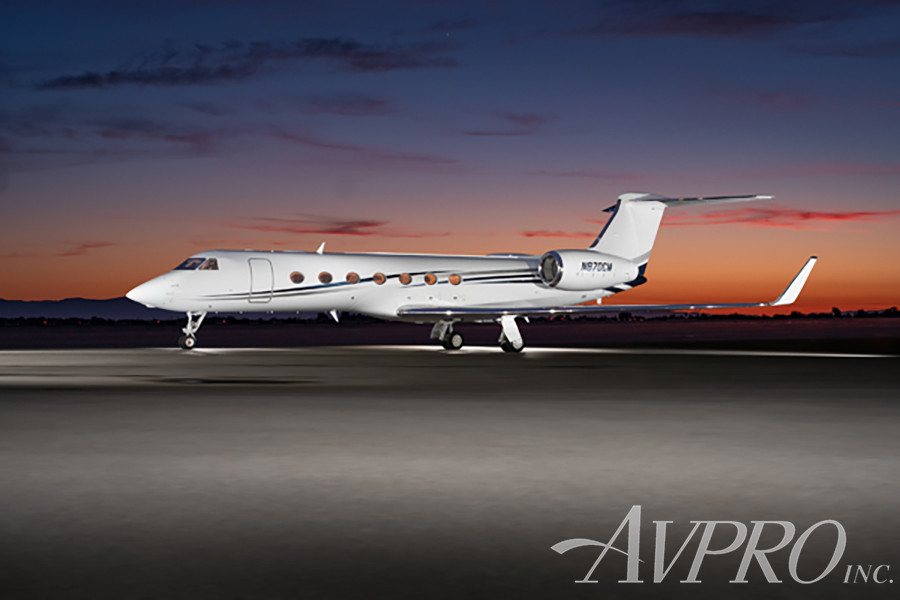 2005 Gulfstream G550
Price: $16,850,000
Serial Number:

5076

Tail Number:

N870CM

Hours:

8,269

Cycles:

3,821
• Exceptional Corporate Pedigree
• Scheduled for 1C/1A/3A/1C/2C, March '23 @ West Star East Alton
• 192 Month Inspection c/w April '22
• Engines Enrolled on Rolls Royce Corporate Care
• APU Enrolled on Honeywell MSP
• Avionics Enrolled on MSP Avionics
• Airframe Enrolled on MSP Mechanical
• KA Band + GoGo L5 AVANCE WiFi
• 2018 Paint & Partial Interior by West Star Grand Junction
• Standard Aft Galley + Crew Rest Floorplan
• ASC-002 Flight Data Recorder
Offered by:

Annapolis, MD
Airframe
Engines
Engine Program Coverage:
Rolls Royce Corporate Care (RRCC)
APU
Description:
Honeywell RE220 (GV)
Total Cycles Since New:
5,287
Avionics
• PlaneViewTM Master Operating Software Update (ASC-912)
• Four (4) Honeywell DU-1310 Flat Panel Display Units
• Honeywell GP-500 Flight Guidance Panel
• Dual Honeywell DC-884 Display Controllers
• Honeywell DP-884 Display Brightness Panel
• Honeywell/Kollsman Visual Guidance System (VGS)
• Triple Honeywell MAU-913 Modular Avionics Units
• Triple Honeywell MC-850 Multifunction Control Display Units
• Triple Honeywell AZ-200 Air Data Modules
• Honeywell WU-880 WX Radar Receiver/Transmitter Antenna
• Dual Honeywell WC-884 Weather Radar Controllers
• Dual Honeywell XS-858B Mode S Transponders
• Triple Honeywell IR-500 LASEREF V Micro IRUs
• Dual Honeywell MRC-855A Modular Radio Cabinets
• Triple Honeywell AV-900 Audio Panels
• Honeywell MT-860 Third Navigation/Communication Cabinet
• Dual Honeywell RT-300 Radio Altimeters
• L3 Cockpit Voice Recorder (CVR) w/Control Panel
• L3 Flight Data Recorder (ASC-002 / 88 Parameters)
• Goodrich EBDl-4000 Radio Magnetic Indicator (RMI)
• Goodrich Magnetometer
• Goodrich GH-3100 Standby Attitude/Airspeed/Altitude Ind.
• Honeywell TCAS 2000 7.1 (ASC-103)
• Two (2) VisionSafe EVAS – Inflatable Vision Units
Navigation and Compliance
• PlaneViewTM Master Operating Software Update (ASC-912)
• Enhanced Navigation (ASC-84)
• ADS-B Out (ASC-105)
• FANS-1/A Compliant
• Honeywell TCAS 2000 7.1 (ASC-103)
Inspections
• 1C/1A/3A/1C/2C Scheduled March '23 at West Star East Alton • 192 Month Inspection c/w April '22
Additional Equipment/Features
• Dual Davtron Digital Clocks
• Therapeutic O2 Outlet
• Sharp Microwave Oven
• Two (2) TIA Coffee Makers
• BE Aerospace Hi-Temp Oven
• Dynamo Electric Cooler
• Two (2) TIA Coffee Makers
• ATG Electric Cabin Window Shades
• 115V AC/60hz Outlets
• Cockpit Custom Planebook Storage & Charging Outlet
• Air Cruisers 63600 Series Life Vests
• Miltope Cockpit Printer

Connectivity:
• GoGo Biz AVANCE L5 (4G) Internet (GoGo Vision Capable)
• KA Band
• SATCOM w/ HD-128 World-Wide Internet
• Thales SATCOM Antenna
Interior
(2018 Partial Refurbishment, West Star Grand Junction)

Fourteen (14) Passenger Configuration, Forward Crew Rest (FAR 135 Certified) and Aft Galley.

The cabin offers a forward four (4)-place club followed by a mid cabin LH two (2)-place club opposite a four (4)-place divan. The aft cabin features a LH four (4)-place conference/dining area opposite a RH credenza. Forward crew and aft passenger lavatories.
The woodwork is Light Stain Quarter-Sawn Fig Eucalyptus with a Hi Gloss finish. All single cabin seats are covered in Light Grey Leather. The divan is covered in Light Grey with Blue & Brown accented Piazetta patterned fabric. All fixtures and latches are Satin Gold colored plating which is complimented by the medium Grey cut pile carpeting featuring thin accent stripes. The PSU & Headliner are Ivory colored Ultra Leather; windowline side panels are completed in an Eggshell Alcantara, Herring pattern and lower sidewall Dado panels are Light grey colored leather with a dark leather accent.
Entertainment
• Airshow 4000
• Gulfstream Cabin Management System
• 21" Forward Bulkhead Monitor
• 17" Monitor Above Credenza
• Individual 7" Monitors
• Two (2) DVD Players
• One (1) CD Player
• Two (2) iPod Docs
Exterior
(2018 Paint by West Star Grand Junction)

Overall Matterhorn White with Titanium Metallic & Medium Concorde Blue Metallic Accent Striping.
Send a message to Eddie Kilkeary III at Avpro, Inc.