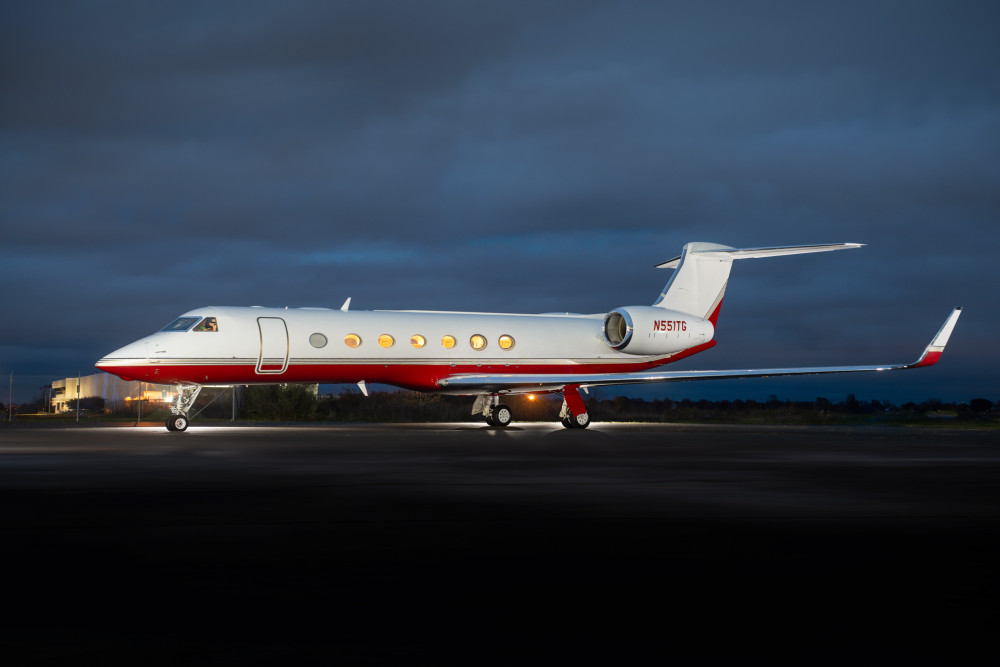 2010 Gulfstream G550
Price: Make Offer
Serial Number:

5264

Tail Number:

N551G

Hours:

6,292

Cycles:

2,930
Two U.S. Corporate Operators Since New – Excellent Pedigree
Gulfstream maintained
Engines Enrolled on Rolls-Royce Corporate Care
APU on MSP & Avionics on HAPP
144-month inspection completed June 2022 at Gulfstream Savannah
14 Passenger Aft Galley/Fwd Crew Rest Configuration
Triple FMS with Enhanced Navigation
Head-Up Display (HUD), Enhanced Vision System (EVS), Synthetic Vision 2.0
Emergency Vision Assurance System (EVAS)
FANS 1/A – CPDLC, TCAS 7.1
Offered by:

Westlake, TX
Airframe
Engines
Rolls-Royce BR700-710C4-11
Engine Program Coverage:
Rolls Royce Corporate Care (RRCC)
Avionics
Gulfstream PlaneView™ (Honeywell Primus Epic®) with ASC 912B
Plan: Honeywell MSP Avionics
AFCS: 3-Axis Automatic Flight Control System with Autothrottle & Dual
Cursor Control Devices
EFIS: Four (4) Honeywell DU-1310 Flat Panel Display Units
VisionSafe Emergency Vision Assurance System
SVS: Honeywell Synthetic Vision 2.0
FMS: Triple Honeywell FMS with Enhanced Navigation & WAAS/LPV
(Software NZ7.1.2)
CDU: Triple Honeywell MZ-850 Multifunction Control Display Units
ADS: Triple Honeywell AZ-200 Air Data Modules
VHF COM: Triple Honeywell VHF Modules (Dual VHF & Single NAV/COM Modules)
HF COM: Dual Rockwell Collins HF Communication System with SELCAL
AUDIO: Triple Honeywell Audio Panels
PHONE: Aircell Axxess® II Iridium Satellite Telecommunications System with Multiple Handsets
DATALINK: Honeywell CMF with FANS 1/A – CPDLC
ELT: Artex 406 MHz ELT with Navigation Interface
SATCOM 1: Honeywell MCS-7000
CVR: Cockpit Voice Recorder
DATA 1: Broad Band Multi Link (BBML)
GPS: Dual Honeywell SBAS/WAAS GPS Modules
LRNAV: Triple Honeywell LASEREF® V Micro Inertial Reference Units
NAV: Dual Honeywell Navigation Modules
DME: Dual Honeywell DME Modules
ADF: Dual Honeywell ADF Modules
RADAR: Honeywell Primus® 880 Weather Radar System
WX: XM® Weather Installation
RADALT: Dual Honeywell RT-300 Radio Altimeters
TAWS: Dual Honeywell EGPWM's with Runway Awareness & Advisory System
ACAS: ACSS® RT-951 (TCAS II) with Change 7.1
XPNDR: Dual Honeywell ADS-B Out (DO-260B) Transponder Modules
FDR: L3 88 parameter Flight Data Recorder & Micro Quick Access
Recorder
CVR: L3 Cockpit Voice Recorder
Additional Equipment/Features
ASC 008 – Maximum Landing Gross Weight-75,000 Lbs
ASC 009 – Maximum Zero Fuel Gross Weight-53,500 Lbs
ASC 014 – Category II Annunciation – Activation
Enhanced Soundproofing
SecuraPlane® 500 Aircraft Security System
Interior
This 14 Passenger Executive Interior features a 3-zone cabin with an aft galley, a forward crew rest, forward and aft lavatories, and an aft in-flight accessible baggage compartment. Cabin seating consists of a forward cabin 4-place club, a mid-cabin left-hand 2-place club opposite a 4-place divan, and aft-cabin left-hand 4-place conference/dining group opposite a credenza.

The forward crew rest area features a single seat, a pullout footrest, a Rosen 7" plug-in LCD monitor, and a wooden hinged door.
The Cabin Management System incorporates a Gulfstream Audio/Video Distribution system and a galley 8.4" touchscreen LCD monitor. Entertainment equipment includes: a cabin speaker audio system, four (4) cabin 20" LCD monitors, eight (8) cabin single seat 7" Rosen LCD monitors, a 7" Rosen crew rest seat monitor, two (2) Blu-ray players, a CD changer, and various audio/video inputs including an HDMI. Airshow® 4000, and an external camera system with three (3) cameras.

The cabin woodwork is finished in medium brown gloss veneer, cabin hardware is plated in a satin light gold color, and speckled-grey countertops are installed in the galley and aft lavatory. Light brown patterned carpet is installed in the cabin, and the galley/vestibule features brown vinyl flooring. The cabin headliner and PSU panels are covered in a cream-colored Ultraleather®, the window panels are finished in a cream-colored fabric, and the
lower sidewalls are covered in tan leather. The cabin single seats are covered in "Wilcox Field" leather, the conference group seats are finished in "Harmony Coffee" fabric, and the divan is covered in "Continuum Mink" fabric.

The galley features a BE Aerospace oven, a Sharp microwave, dual TIA coffee makers, a Dynamo cold storage unit, a sink and faucet with hot and cold water, and several dedicated and miscellaneous storage drawers and compartments. The forward lavatory features a vacuum toilet and a folddown sink with faucet opposite a mirrored vanity, and the aft lavatory has a vacuum toilet with sink and faucet, and miscellaneous storage.
Exterior
Original exterior is painted in overall Matterhorn White with a Ferrara Red lower fuselage, Gloss Black, Sitton Gold, and Gray stripes.
Send a message to Gretchen Braley at Dallas Jet International