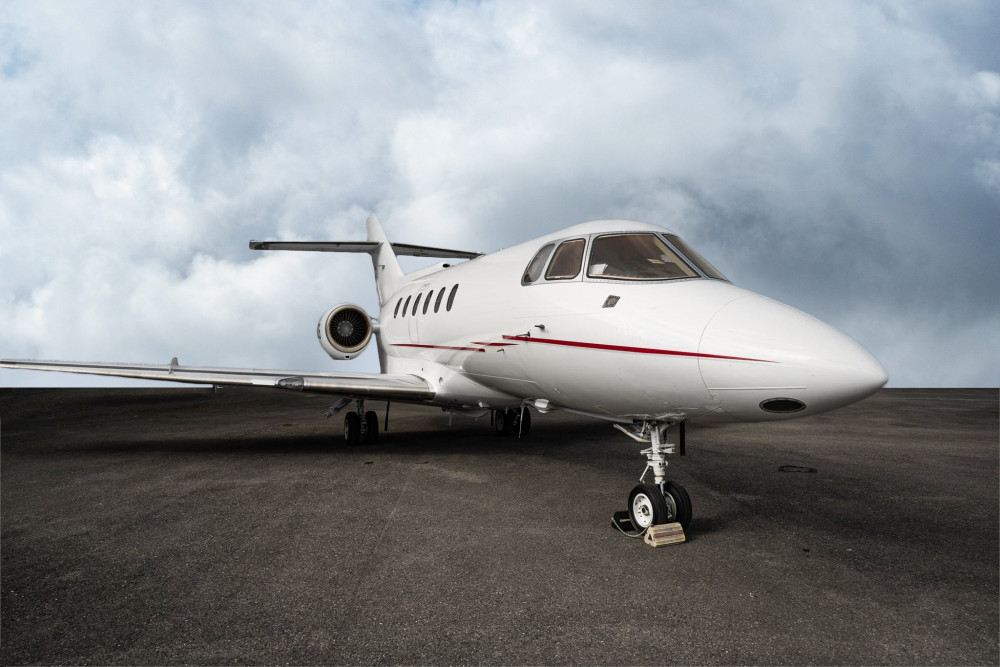 1989 Hawker 800A
Price: $1,895,000
Serial Number:

258153

Tail Number:

EJ-GABJ

Hours:

12,477

Cycles:

9,592
Pro Line 21 Equipped 800A, Almost an 800XP | 8 Passenger Configuration | Engine & APU on Programs | EASA Compliant & operated | 115-Volt AC Inverter & Outlet | Externally- Serviceable Lav | Forward Galley
Offered by:

Lincoln, NE
Airframe
Home Base:
Bournemouth, UK
AIRFRAME
Total Time 12,477
Total Landings 9,592
Engines
ENGINES 1 2
Description TFE-731-5R-1H TFE-731-5R-1H
Program MSP Gold
Serial No. P-91411 P-91407
Total Time Since New 12,023 12,085
Cycles 9,208 9,296
Engine Program Coverage:
MSP Gold
APU
APU Program Coverage:
MSP Gold
Total Time Since New:
5,222
Avionics
AVIONICS

Description Quanity/Model
Autopilot Collins Pro Line 21 IFCS
Avionics Collins Pro Line 21
Comms/Radios Triple Collins
CVR L3 FA2100 SSCVR
DME Collins DME-42
EFIS Collins 4-Tube
FMS Dual Universal UNS-1FW
GPS UNS GPS
IFIS Mapping Dual Collins FSUs
Hi Frequency Dual
Nav Radios Collins
SATCOM AirCell ST-3100 Iridium
TAWS Honeywell Mark VII EGPWS
TCAS TCAS-II
Transponder Dual Collins TDR-94D
ADS-B Yes
Interior
INTERIOR Description
PASSENGERS 8
FORWARD CONFIGURATION 5 single chairs
AFT CONFIGURATION 3 right side aft divan


NOTABLE FEATURES
Interior partially refurbised in 2009
Right side vesibule panels, cabin sidewall panels & lav wall panels refurbished 12/2016
New carpeting 02/2015
Left side forward galley w/ microwave oven & hot water container
115-volt AC inverter & outlet
Externally-serviceable lav
Exterior
EXTERIOR
Fuselage painted snow white and cumulus gray with red stripes.
Send a message to Tim Barber at Duncan Aviation, Inc.