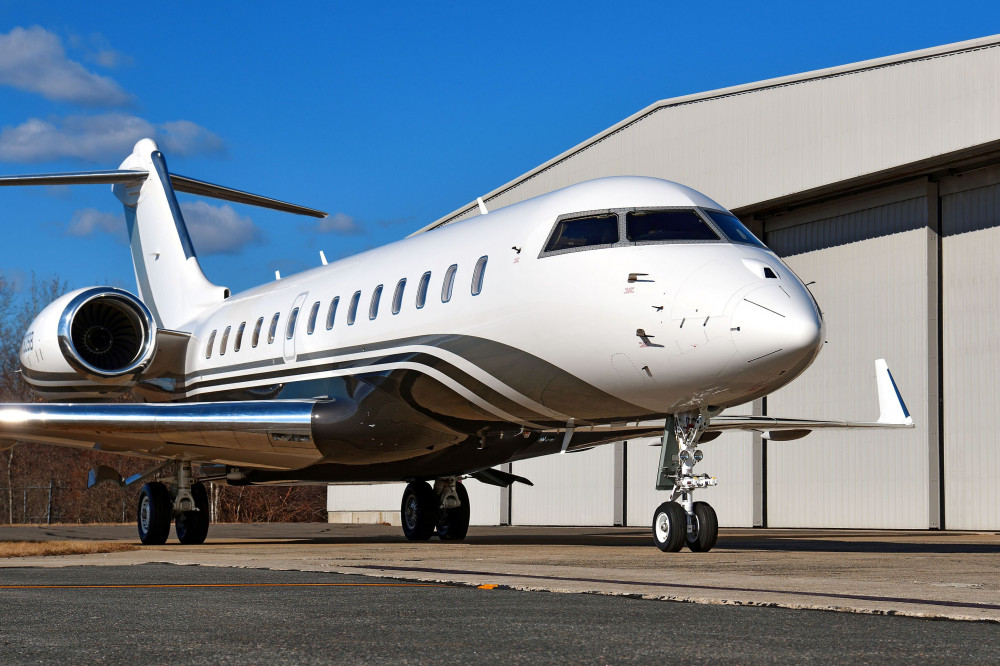 2011 Bombardier Global 5000
Price: Make Offer
Serial Number:

9392

Tail Number:

N782SB

Hours:

3,403

Cycles:

1,461
Swift Broadband 64 Internet
FANS 1/A, CPDLC, ADS-B, WAAS LPV
Batch 3.4 Upgrade
DU875 Avionics Upgrade
Fresh Level 1 pre-purchase inspection completed in August 2022 at BBD
10-year inspection completed 11/2020
SB 31-001 complied with (FDR Mod / Activation of Crew Force Measuring System)
SB 11-008 complied with (MTOW increase to 92,500 lbs)
Offered by:

Guilford, CT
Airframe
Engines
Rolls Royce BR700-710A2-20
Engine Program Coverage:
Rolls Royce Corporate Care (RRCC)
APU
Description:
Honeywell RE-220 (GX)
Total Time Since New:
2,719
Avionics
Honeywell Primus 2000 XP Integrated Avionics
ADF: Dual Honeywell RNZ-851
Autopilot: Honeywell IFCS w/IC-800
Avionics Package: Honeywell Primus 2000XP
Communication Radios: Dual Honeywell RCZ-833K w/8.33 kHz spacing
CVR: Honeywell SSCVR
DME: Dual Honeywell RCZ-851
EFIS: Honeywell DU-875 6-tube
FDR: Honeywell SSFDR
Flight Director: Honeywell IFCS
FMS: Triple Honeywell NZ-2000
GPS: Dual Honeywell HG2021
Hi Frequency: Dual Collins HF-9031A w/SELCAL
IRS: Triple Honeywell HG-2001 LASEREF
Navigation Radios: Dual Honeywell RNZ-851 w/FM immunity
Radar Altimeter: Dual Collins ALT-4000
SATCOM: Collins SAT-6100 w/four handsets
SATPHONE: ICG ICS-100 Iridium
Stormscope: Honeywell LSZ-860
TAWS: Honeywell Mark V EGPWS w/windshear escape
TCAS: ACSS TCAS-2000 TCAS-II w/change 7.1
Transponder: Dual Honeywell RCZ-833K Mode S
Weather Radar: Honeywell Primus 880
Navigation and Compliance
ADS-B Out, WAAS/LPV, CPDLC, FANS-1/A, FANS-1/A+
Thales heads-up display, enhanced vision system
Batch 3.4 upgrade, triple Honeywell AZ-940 micro air data computers
Honeywell DL-1000 data loader
AEROCOM A3000B communication system
Artex 406-4 ELT, quick access recorder
Airborne datalink system
Triple Honeywell AV-850A audio panels
Additional flight compartment refuel/defuel panel
FTU & Crew Force Measuring System Crew
Additional Equipment/Features
Fresh Level 1 pre-purchase inspection was completed in August 2022 at BBD
10-year inspection completed 11/2020
SB 31-001 complied with (FDR Mod / Activation of Crew Force Measuring System)
SB 11-008 complied with (MTOW increase to 92,500 lbs)
Interior
Thirteen passenger executive interior. The floor plan features a 4-place club in the forward cabin, a conference table opposite a credenza in the mid cabin, and 3-place divan facing a 2-place club in the aft cabin. A well-equipped forward galley, forward crew lavatory and extended aft lavatory, jumpseat in the cockpit, and an in-flight accessible baggage bay completes this interior.
Entertainment
High Speed Internet:
Swift 64 Broadband internet w/CNX accelerator
In-Flight Phone:
ICG ICS-100 Iridium Phone
Airshow ASXi
19-inch HD monitor
Dual 21.3-inch Monitors
Dual Blu-ray players
Collins 4-disc CD changer
Eight personal monitor docking stations
Apple device connectivity
Thirteen iPod docking stations
Satcom Collins SAT-6100 w/four handsets
Exterior
Repainted in February 2013 by Jet Aviation, St. Louis
Weights
Max Takeoff Weight:
92,500.00
Max Landing Weight:
78,600.00
Max Zero Fuel Weight:
56,000.00
Usable Fuel Capacity:
36,187.00
Send a message to Samantha Langen at Guardian Jet, LLC