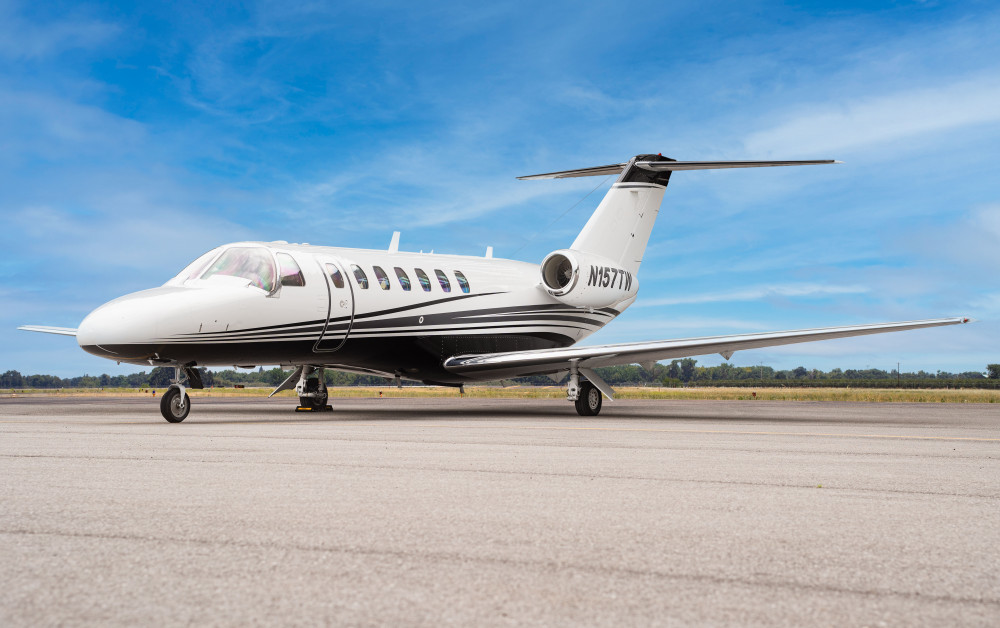 2007 Cessna Citation CJ3
Price: $5,450,000
Serial Number:

525B-0157

Tail Number:

N157TW

Hours:

7,476

Cycles:

5,044
Engines on TAP Elite
GoGo AVANCE L3 Wi-Fi
Currently Operated Part 135
WAAS/LPV Equipped
New Strip, Paint & Interior October 2021
Offered by:

Leading Edge Aviation Solutions, LLC
Parsippany, NJ
Airframe
Entry Into Service Date:
May, 2007
Certificate of Airworthiness:
May 23, 2007
Entry into Service:
May 31, 2007

Airframe:
7,476 Hours 5,044 Landings
Engines
Williams International FJ44-3A
Engine Program Coverage:
TAP Elite
Engine 1
Hours Since Overhaul:
3,201
Engine 2
Hours Since Overhaul:
2,370
Avionics
Avionics Package: Collins Pro Line 21 IFCS
EFIS: Collins Pro Line 21 3-Tube (10 x 8 Inch)
Flight Director: Collins Pro Line 21 IFCS
Comm. Radios: Dual Collins VHF-4000 w/ 8.33 spacing
Navigation Radios: Dual Collins NAV-4500 w/ FM Immunity
Transponder: Dual Collins TDR-94 Mode S w/ Enhanced Surveillance & ADS-B Out
Weather Radar: Collins WXR-800 color
FMS: Collins FMS-3000 w/ WAAS/LPV GPS & 4.0 Software
CVR: Cockpit Voice Recorder
DME: Collins DME-4000
GPS: Garmin GPS-500
Hi Frequency: Collins HF-9000 w/ SELCAL
Radar Altimeter: Collins ALT-4000
SATCOM: AirCell ST-3100 Iridium
TAWS: Honeywell Mark VIII EGPWS
TCAS: Collins TTR-4000 w/ Change 7.1
Inspections
Inspection Type
Performed
Next Due
Doc 9
Performed:
September 2019
Doc 11
Performed:
June 2022 @ 7,357 Hours
Next Due:
June 2023 @ 7,657 Hours
Doc 12
Performed:
January 2022 @ 7,099 Hours
Next Due:
January 2024 @ 7,699 Hours
Doc 14
Performed:
May 2021 @ 6,610 Hours
Next Due:
May 2023 @ 7,810 Hours
Doc 16
Performed:
September 2019 @ 5,436 Hours
Next Due:
September 2023 @ 7,836 Hours
CESCOM (Cessna Computerized Maintenance Tracking Program)
Additional Equipment/Features
Currently Operated Part 135
Go-Go AVANCE L3 Wi-Fi
WAAS/LPV Equipped
Aft Belted Flushing Lavatory
Artex C406-N ELT w/ Nav Interface
RVSM
Aircell ST-3100 SatPhone
XM Satellite Weather
Jeppesen Electronic Charts
Voice Annunciator
Ground Comm Dispatch Switch
Monorail Sunvisors
110-Volt Cockpit and Cabin Outlets
Steep Approach Option
Bravo/Encore Style Entry Steps
DeVore Tail Logo Light
Precise Flight Pulselight System (2401) w/ Interface to TCAS II
SER Kit for Exterior Stainless Steel Screws
Interior
New Interior October 2021 @ SureFlight Coatesville, PA
Eight (8) passenger executive configuration features a forward right-side single side-facing seat, followed by a 4-place club with manually operated executive tables between the opposing club chairs, followed by two (2) forward-facing club chairs, followed by an Aft Belted Flushing Lavatory located behind a cabin divider with privacy sliding pocket doors. Light Beige Leather seats (Refurbished October 2021), Mappa Burl high gloss wood veneer, grey carpet (New October 2021), finished with satin gold plating. The forward cabin features a left-side storage cabinet with AvVisor moving map display and right-side slimline refreshment center with hot liquid dispenser.
Exterior
New Paint & Striping October 2021 @ SureFlight Coatesville, PA
Overall Matterhorn White with black and grey striping.
Send a message to Rick Richardson at Leading Edge Aviation Solutions, LLC