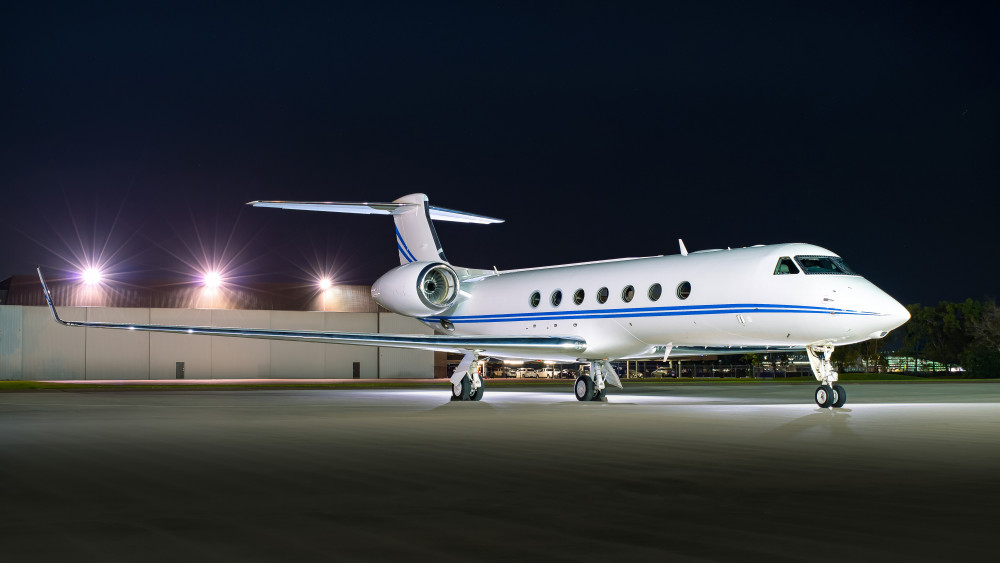 2019 Gulfstream G550
Price: Call for Price
Serial Number:

5583

Tail Number:

N223A

Hours:

876

Cycles:

275
• One U.S. Owner Since New
• Fully Transferrable Manufacturer Warranties
• Engines Enrolled on Rolls Royce Corporate Care
• APU Enrolled on MSP Gold
• PlaneView Enhanced Navigation (ASC-084D)
• Head Up Display (HUD)
• Gulfstream Enhanced Vision System (EVS)
• Synthetic Vision System (SVS)
• JetConneX KA BroadBand International High Speed Data
• XM Weather (ASC 085A) – U.S. / Canada / Mexico Coverage
Offered by:

Annapolis, MD
Airframe
Engines
Rolls Royce BR700-710C4-11
Engine Program Coverage:
Rolls Royce Corporate Care (RRCC)
APU
APU Program Coverage:
MSP Gold
Avionics
• Gulfstream PlaneView Avionics Suite
• Four (4) 12" x 10" Adaptive LCD Displays
w/Primary Flight Display Synthetic Vision System (SVS)
• Triple Multi-Function Controllers
• Micro Quick Access Recorder (ASC 071A)
• Head-Up Display (HUD)
• Gulfstream Enhanced Vision System (EVS)
• Emergency Vision Assurance System (EVAS)
• Triple Honeywell VHF Comms w/DataLink
• Triple Honeywell VHF Navs
• Dual Honeywell ADF's
• Dual Honeywell DME's
• Dual Honeywell Transponders
• Triple Flight Management Systems
• Dual 24-Channel GPS
• Triple Micro IRU's
• Dual 10-Channel SELCAL
• Dual HF Radios
• Enhanced Ground Proximity Warning System w/Windshear
• Traffic Collision Avoidance System (TCAS II 7.1)
• Terrain Awareness & Warning System
• Runway Awareness Advisory System (RAAS) (ASC 065A)
• Cockpit Voice Recorder
• 88 Parameter Digital Flight Data Recorder
• C-406 Emergency Locator Transmitter (ELT)
• ACARS System w/SatCom Link & Cockpit Printer
Navigation and Compliance
• PlaneView Avionics Enhancement (ASC-912C & 123C)
• PlaneView Enhanced Nav. (RNP, FANS-1A, WAAS/LPV) (ASC 084D)
• FANS-1/A Over Iridium Option
• CPDLC
• ADS-B Out Version 2
• RVSM / 8.33 Channel Spacing
Additional Equipment/Features
• Enhanced Soundproofing
• XM Weather (ASC 085A) – U.S. / Canada / Mexico Coverage
• Emergency Vision Assurance System (EVAS)
• Therapeutic Oxygen System
• 30 Gallon Pressurized Water System
• Cockpit Jumpseat w/Audio Control
• Dual Zone Cabin Temperature Control
• Security System
• Entryway Acoustical Door
• Electric Window Shades
• Advanced Aviation Medical Kit (AAMK)
• Defibrillator
• 115V/60Hz Utility Outlets throughout Aircraft
• Towbar Storage Mounting in Aft Equipment Bay
• Two (2) 60 HZ Converters
• Lockable Fuel Caps
• Common Keyed Locks

Connectivity:
• JetConneX KA BroadBand International High Speed Data
• INMARSAT SATCOM w/3G & 4G Ground Based Support
• Wireless Local Area Network (LAN)
• SRD Gateway w/Automatic Switching Feature
• Analog Handset
Interior
Fourteen (14) Passenger, Aft Galley with Forward Crew Rest.
The forward cabin consists of a forward four-place (4) club arrangement; followed by a left side mid-cabin two-place (2) club – opposite a four-place (4) berthable divan. The aft cabin consists of a left side four-place (4) conference group with an opposing credenza on the right with gasper-cooled wine storage.

All cabin veneers are competed in a QTR Comp Ebony dark high-gloss finish and high-gloss Pewter plated metalwork/hardware. All individual chairs are completed in a light-grey Volaero-Starling Cowhide; complimented by a subtly patterned Seal Grey Nylon fabric divan. A darker Delano Grey solid colored wool carpet along with Volaero-Pascal Cowhide sidewalls; Natural Ultraleather Upper side-panels and headliner.

The full-service aft galley is capable of hot/cold meal and beverage services and features a color touch-screen control panel, pull out work surface, High Temp Oven, Microwave, Dual TIA Coffee Makers with Remote & Manual Fill plus two (2) large ice drawers and ample cabinet storage. Wood laminate flooring upgrades are found in the galley area as well as the aft passenger lavatory. The galley countertop – as well as countertops in the forward crew and aft lavatories feature upgraded Whisper Corian surfaces.
Entertainment
• Airshow 4000 V2 Updates
• Gulfstream HD Audio-Video Distribution System
• 21" Widescreen HD LCD Forward Bulkhead Monitor
• 17" Widescreen HD LCD Over Credenza
• Six (6) Individual 9" x 6" Seat Mounted Monitors
• Multiple Auxiliary Entertainment HDMI Inputs
• 3 Auxiliary CAT 6 Ethernet Ports
• Passenger Flight Information System
• Passenger Address System
• Attendant Call System w/Passenger Warning Signs
Exterior
Overall Matterhorn White with Marlin Blue Accent Striping.
Send a message to Bob Butcher at Avpro, Inc.