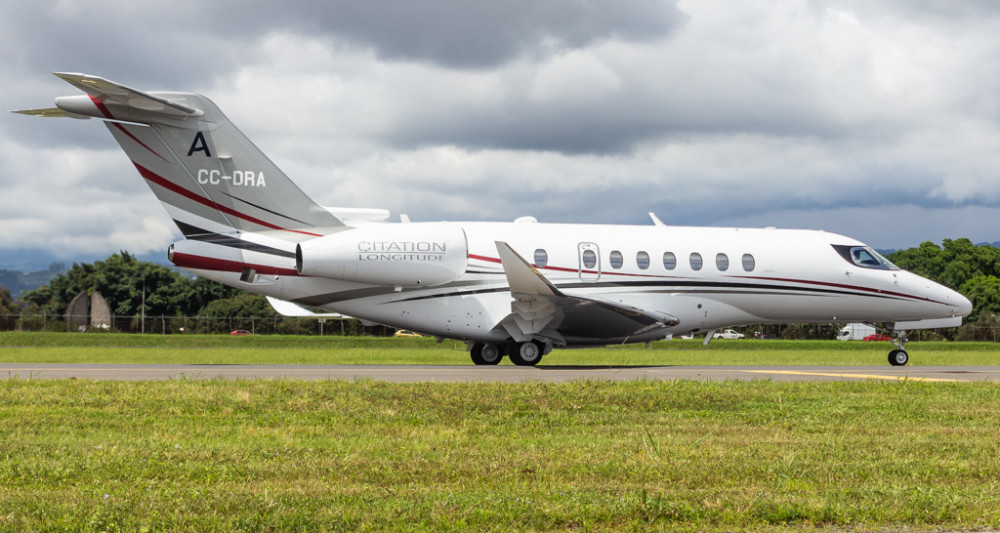 2020 Cessna Citation Longitude
Price: Call for Price
Serial Number:

700-0030

Tail Number:

CC-DRA

Hours:

300

Cycles:

265
• Low Total Time
• 100% Bonus Depreciation for 2022
• Worldwide Wireless Connectivity System
• Enrolled on ProParts, Power Advantage+, ProTech
• Aux Advantage
Offered by:

Annapolis, MD
Airframe
Program Coverage:
Cessna ProAdvantage, Cessna ProParts, Cessna ProTech
Engines
Engine Program Coverage:
PowerAdvantage+
APU
Avionics
Maintenance Program:
ProParts
• Garmin G5000 Flight Deck
• Fully Integrated Autothrottles & LINXUS Software
• Garmin Synthetic Vision Technology (SVT)
• Dual Honeywell Laseref VI Inertial Reference System Dual - Honeywell KHF-1050 HF Radio Transceivers
• Garmin Link 2000+ CPDLC
• Garmin Surfacewatch
• Head Up Display (PDW)
• Garmin ACARS Capability
• Flight Data Recorder (ICAO Type 1A)
• Quick Access Recorder
Navigation and Compliance
• Garmin FANS-1/A+ CPDLC Capability
• Garmin Link 2000+ CPDLC
• ADS-B Out/In
Additional Equipment/Features
• Extended Range Oxygen System
• Pylon Work Lights
• Crew Seat Sheepskin Cover Assembly
• RH Cockpit Storage Case
• Convection Oven
• Crew Jump Seat
• Common Key Fuel Caps
• Non-Standard Common Keyed Lock Set
• Footrests Four (4) Units
• Eight Person Winslow Life Raft Part 135/EU-Ops Two (2) Ea.
• EROS MLD20-505 Full Face Oxygen Masks
• Required Navigation Performance Authorization Required

Connectivity:
• Worldwide Wireless Connectivity System
• Iridium Data Radio
Interior
Nine Passenger Configuration With Crew Jump Seat.
The Forward Cabin Features a Four (4) Place Double Club. The Aft Cabin Features a Four (4) Place Double Configuration, Followed By An
Aft Lavatory. Seats Are Adorned In An Immaculate Beige Leather.
Entertainment
Display TV Monitors:
22" Aft Bulkhead Monitor
• Stereo Speaker System
• 22" Aft Bulkhead Monitor
Exterior
Overall White with Dark Navy Blue Accent Striping.
Send a message to Todd Bennett at Avpro, Inc.