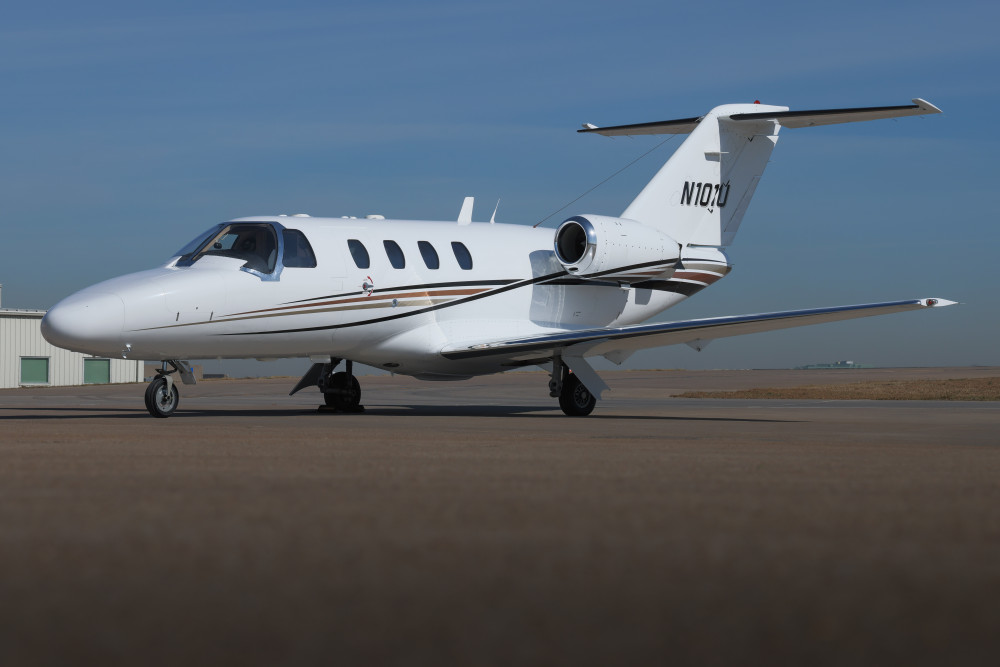 2001 Cessna Citation CJ1
Price: Contact Broker
Serial Number:

525-0454

Tail Number:

N101U

Hours:

3,950

Cycles:

3,117
Low time of 3950 Hours AFTT
Recent Doc 8/Doc 10 (36-month) inspections at West Star Aviation
Recent deep cleaning, conditioning, and redye of interior leather goods
3-Tube Collins Pro Line 21 EFIS
Engines enrolled on TapAdvantage Blue
Exterior paint redone February 2016 at Westar Aviation
Corporate US Owner
ADS-B Out
TCAS I
HF Radio
XM Weather
Side Facing Seat
Belted Lav
Offered by:

Dallas Jet International
Airframe
Program Coverage:
Cessna ProParts
Maintenance Tracking:
FlightDocs
Engines
Engine Model: Williams FJ44-1A
Engine Program Coverage:
TAP Blue
Avionics
Collins Pro Line 21 Three Tube EFIS Avionics Package
FMS: UNS-1K (not equipped with WAAS or LPV Approach Capability)
Installed ADS-B Out: CNI-5000 Integrated Avionics System with KT-74 ADS-B out Upgrade (STC# SA00765DE)
Portable ADS-B In:FreeFlight Portable ADS-B for weather and traffic information
VHF: Dual Bendix/King KY-196B
NAV: Dual KN-53 Navs
AHRS: Dual Collins AHC-3000
ADC: Dual Collins ADC-3000
DME: Single Bendix/King KN-63
ADF: Single Bendix/King KR-87
Autopilot: Single Collins FGC-3000
GPWS: Honeywell/Bendix/King KGP-560 GA-EGPWS
TCAS: Single Honeywell CAS-66A TCAS I
Weather Radar: Single Collins TWR-800
Radar Alt: Single Collins Radar Alt
XPNDR: Dual KT-74 with ADS-B Out
HF: Bendix/King KHF-950 (JETNET) – Single
ELT: Artex C-406
Nexrad: XM Satellite Weather
STORM: WX-1000E Stormscope
Additional Equipment/Features
  FreeFlight Portable ADS-B In
  Cockpit Speaker Mute Switch
  Dual Nav Chart Cases
  EROS Crew Oxy Masks
  Sheepskin Pilot Seats
  Left Hand Belted Flushing Toilet
  Electrically Heated Hot Pot
  SafeFlight N1 Computer
Interior
Aft Belted Lav
Forward LS Galley
Side Facing Seat - Belted

Original Standard CJ1 Seating Configuration with a Four-Place Forward Club equipped with Two Executive Tables. Side-Facing Seat located across from the Main Entrance Door. Refreshment Center
behind the Pilot Seat features an Electric Coffee Pot, one ice drawer for cold storage, and one trash bin. Side Ledges and Fold-Out Tables in the Main Cabin Area. Upwash Lighting illuminates the
Headliner, which is equipped with drop-down Oxygen Masks. The Aft Cabin Area is equipped with a Left-Side Belted Lav Seat and Chemical Toilet. A fold-down Coat Hanger Bar allows for Storage of
Jackets and Suits. The Flight Deck features Sheepskin Pilot Seats.
Exterior
Snow White with Sable Brown Metallic, Dark Saddle Metallic, and Frost Gold Metallic Stripes.
Exterior paint redone February 2016 at Westar Aviation
Send a message to Shawn Dinning at Dallas Jet International