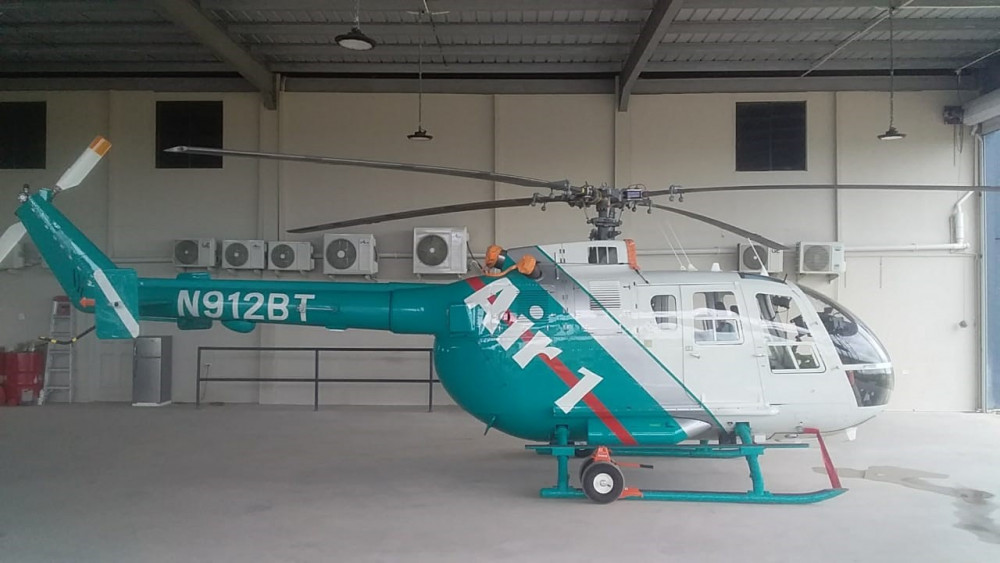 1988 Eurocopter BO 105
Price: Make Offer
Serial Number:

S-772

Tail Number:

N912BT

Hours:

14,693

Cycles:

38,746
N912ET is an active air ambulance BO-105 CBS-5 with HTAWS which is ready for a new home. Always hangared and available for immediate sale. This helicopter is maintained to exacting standards by Metro Aviation and Helicopter Specialties in superb condition to meet your transportation or air ambulance flight requirements.
Offered by:

Chesterfield, Missouri
Airframe
Engines
Avionics
GARMIN GNS 430 WAAS GPS/ NAV/ COM
KING KX-165 NAV/ COM
KING KCS-55A HSI
KING KI-206 NAV Indicator
KING KRA-405B Radio Altimeter
GARMIN GTX-330 Transponder
SANDEL ST3400H EHSI with HTAWS
Directional Gyro Sperry C-14A
AMS-43 Crew Audio Panel
BFG WX-500 Stormscope
TECHNISONIC TFM-500 FM- VHF/UHF Transceiver 138-174, 403-512 MHz
Motorola XTL-2500 800 MHz Transceiver
OuterLink CP-3I SatCom - Flight Tracking
Artex ELT-100HM
External PA Speaker TS100WR
Additional Equipment/Features
EMS Kit
Outerlink CP-3I
Search and Rescue Spot Light
Manual Anti Ice System
Surfacite Skid Shoes
Dual Controls
Ground handling wheels
CBS4 blade conversion
Interior
EMS interior with leather crew seats.
Exterior
Beautiful base of White with Aqua Marine highlighted by Red, Silver and White accents.
Send a message to Marc Dickensheets at Meisinger Aviation