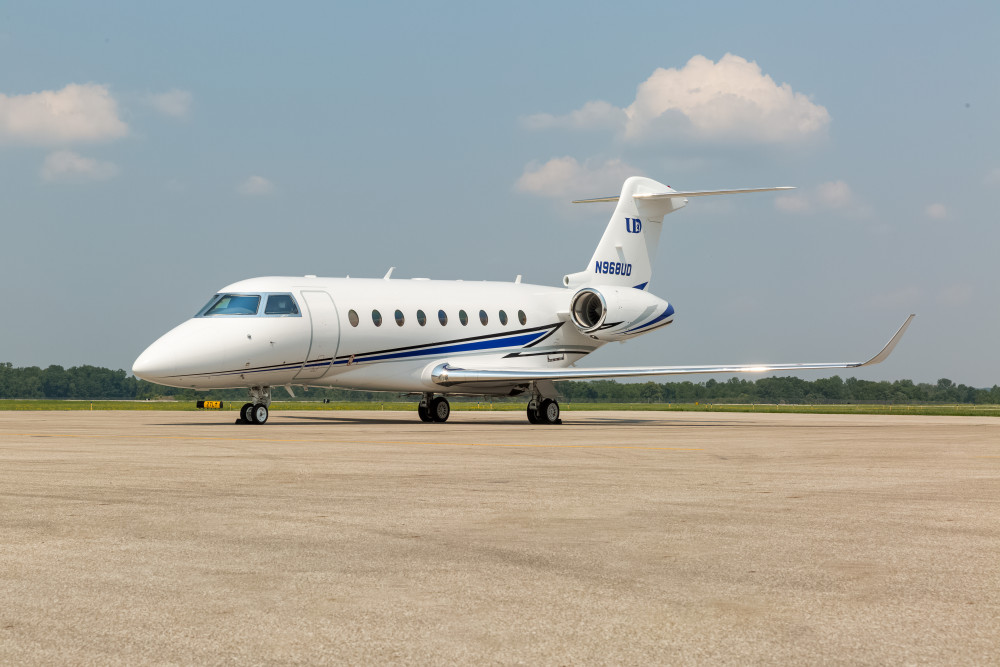 2019 Gulfstream G280
Price: Make Offer
Serial Number:

2157

Tail Number:

N968UD

Hours:

687

Cycles:

520
• Low time (687 hours)
• One U.S. owner since new
• Standard new aircraft warranty transferable
• 10 passenger configuration
• FANS 1/A
• GoGo Avance L5 WiFi
Offered by:

Guilford, CT
Airframe
Engines
APU
Avionics
AVIONICS: Rockwell Collins Pro-Line Fusion
AIR DATA COMPUTER: Dual Rockwell Collins ADC-3010 Air Data Computers
AUTOTHROTTLES: Gulfstream Auto Throttles
COCKPIT VOICE RECORDER: Multi-Purpose CVR/FDR
COMMUNICATIONS: Triple Rockwell Collins VHF-4000E VHF Transceivers
DISTANCE MEASURING EQUIPMENT: Dual Rockwell Collins DME-4000 Distance Measuring Equipment
EMERGENCY LOCATOR TRANSMITTER: Artex C406-N ELT
FLIGHT DATA RECORDER: Multi-Purpose CVR/FDR
FLIGHT MANAGEMENT SYSTEM: Dual Rockwell Collins FMS
GLOBAL POSITIONING SYSTEM: Dual Rockwell Collins GPS-4000S Global Positioning System
GRAPHICAL WEATHER: Rockwell Collins XM Weather
HIGH FREQUENCY COMMUNICATION: Dual Rockwell Collins HF-9031A HF Transceivers
INERTIAL REFERENCE SYSTEM: Dual Honeywell Laseref VI Micro Inertial Reference Unit
NAVIGATION: Rockwell Collins NAV-4000 and NAV-4500 VOR/ILS/ADF/MB Navigation Receiver
RADAR: Rockwell Collins RTA-4118 Weather Radar
RADIO ALTIMETER: Single Rockwell Collins ALT-4000 Radio Altimeter
TERRAIN AWARENESS WARNING SYSTEM: Rockwell Collins Integrated TAWS System
TRAFFIC COLLISION AVOIDANCE SYSTEM: Rockwell Collins TSS-4100 TCAS
TRANSPONDER: Rockwell Collins TDR-94D Transponder
Navigation and Compliance
Inspections
Inspection Type
Performed
Next Due
Interior
Interior Last Refurbished:
2019
Beautiful ten(10) passenger cabin features a 4-place club seat configuration with two fold out tables in the forward cabin. The aft cabin features a four-place conference group across from two club seats. A forward galley and aft lavatory complete this interior.
Entertainment
High Speed Internet:
GoGo Avance L5
In-Flight Phone:
ICG 220A Dual Channel Iridium satellite phone
Gulfstream Cabinview System
Forward Cabin 19" HD Monitor
Aft Cabin 19" HD Monitor
Blu-Ray Player with Media Server
LED Lighting
ICG 220A Dual Channel Iridium satellite phone
GoGo Avance L5 WiFi
Exterior
Overall White with Black and Blue Striping
Weights
Max Takeoff Weight:
39,600.00
Max Landing Weight:
32,700.00
Max Zero Fuel Weight:
28,200.00
Basic Operating Weight:
24,460.00
Send a message to Patrick Lynch at Guardian Jet, LLC