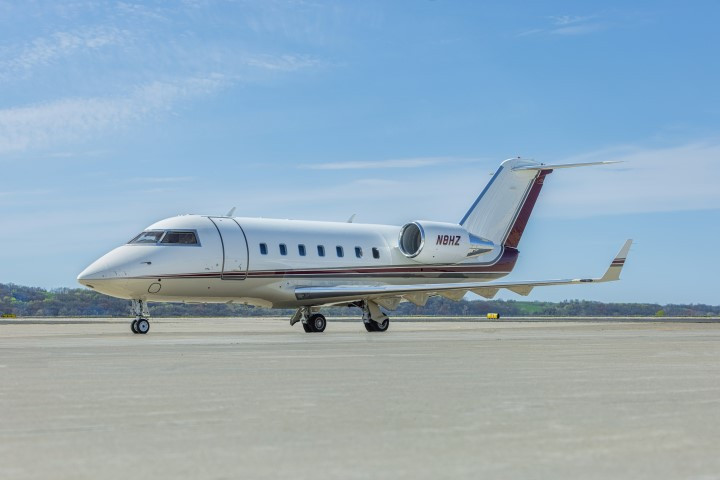 1988 Bombardier Challenger 601 - 3A
Price: Call for Price
Serial Number:

5030

Tail Number:

N8HZ

Hours:

9,712

Cycles:

5,792
Excellent Maintenance History
Great Pedigree
Ready to be placed in operation
Airframe
AIRFRAME TOTAL TIME: 9711.3 Hours
LANDINGS: 5792 Cycles
Engines
ENGINES: CF34-3A2
#1 Engine (SN 350303)
9303.1 Hours 6148 Cycles

Overhauled/Conversion to MSG-3 On Condition:
5737 Hours 4073 Cycles (6/26/2006)

#2 Engine (SN 350304)
9249.9 Hours 6114 Cycles

Overhauled/Conversion to MSG-3 On Condition:
5852.2 Hours 4154 Cycles (6/26/2006)
APU
APU Program Coverage:
MSP Gold
Total Time Since New:
8,633
Avionics
Honeywell ED-800 5-Tube EFIS
Honeywell SPZ-800 Autopilot
Dual Collins VHF-22 Comm's w/ 8.33 Spacing
Dual Collins NAV-4000
Dual Collins VIR-32 Navs
3 Honeywell Laser Ref II's IRUs
Dual Collins DME-42 DME
Sperry RT-300 Radio Altimeter
Dual Collins TDR-94D Enhanced Mode S Transponders
Dual Collins ADF-462 ADF
Honeywell WU-870 Radar
Honeywell Radar Controller WC-880
Dual Honeywell FMS 2010 w/ CD-820s Dual WAAS LPV NZ 6.1 Software
Honeywell CAS-100B TCAS II w/ ADS-B Smart Traffic 7.1
EGPWS MK V
CMS-400Electronic Checklist
Dual Aeronetics D3337LB21C RMI Indicators
Baker Audio System
FMS & EFIS Master Switches
ARTEX-C406-1 MHz ELT
Dual Collins KHF 9030 H Radios
AVTECH NA137-714B Sel-Cal
Fairchild A-100A CVR
LP-850 Honeywell Lighting Processor
RVSM Equipped & Compliant
ADS-B Out Compliant
Honeywell Provisions Installed for FANS-1/A+ CPDLC (Duncan Aviation STC ST02467SE)
Additional Equipment/Features
Aircell Axxess Broadband Go-Go Biz ATG5000 Wi-Fi Internet
Aircell ST3120 Air/Satellite Telephone System
Airshow 400
WAAS/LPV
EMTEQ LED Up & Down Wash Lighting
EMTEQ LED Reading Lights
DVD/CD Players
Sirius XM Radio Two 17-Inch Rosen Monitors
Microwave Oven
Coffee Maker
TIA High Temp Oven
KGS SPS-1308 Static Inverter
Four 115v 60HZ Cabin Outlets, One 115v 60HZ Galley Outlet, One 115v 400Hz Galley Outlet
Logo Lights
Potable Water System 2 each 5 Gal Tanks
Precise Flite Pulse Light System
Interior
Ten-passenger interior. Forward 4-place club, aft 4-place berthable divan with opposite 2 club. Forward lavatory. Stowable jump seat. Microwave and coffee maker, vanity lighting, Corian countertops and sinks, static inverter with four cabin outlets, DVD/CD player, two Rosen 17-inch Monitors, Interior materials inculde a neutral ultra-leather headliner, ultra-leather window panel covering, and tan 100% wool cut pile carpet. Rich tan leather lower sidewall panels and full grain burgundy leather executive chairs. The divan is covered in Lenis Textiles custom antelope & red rayon chenille fabric. The cabinetry throughout is Platawe Burl MA Veneer with Cherry veneer accents hosing a gloss finish. Corian counters and polished 24k gold-plating throughout. Magnifoam Technology insulation package installed. Skandia over frame blanket installed for a quiet cabin. Aft galley includes a coffee maker, potable water system, glassware storage, china storage, sink, 32-can soda storage dispenser, large cold-storage, and multiple storage drawers for snacks, beverages, ice, and trash. Additional storage opposite galley for china, dirty dishes, microwave, oven.
Exterior
Overall Cheveron White & Beighe with red metallic and charcoal metallic stripes. Painted by West Star 2/2013. Permagard applied each year by Appearnce Group now called Prime Appearance.
Send a message to Rene Cardona at Duncan Aviation, Inc.