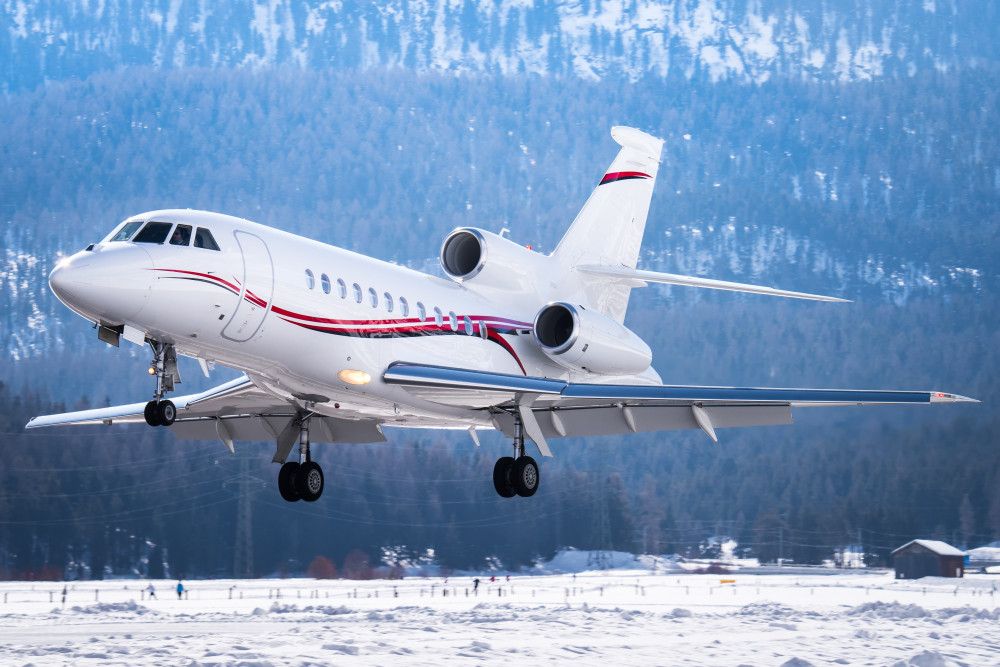 2008 Dassault Falcon 900EX EASy
Price: Make Offer
Serial Number:

207

Tail Number:

PR-PMV

Hours:

5,756

Cycles:

1,820
One Owner Since New
2C Check in Progress @ DFJ Wilmington
Aircraft will be delivered with fresh 2C & Landing Gear Inspection
Delivered with Fresh Paint
Engines & APU on MSP Gold
Enhanced Flight Vision System
Heads Up Guidance System
FANS 1/A – CPDLC
WAAS / LPV
Offered by:

Guilford, CT
Airframe
Maintenance Tracking:
CAMP
Engines
Engine 1
Hours Since Hot Section:
2,732
Engine 2
Hours Since Hot Section:
2,732
Engine 3
Hours Since Hot Section:
2,732
Avionics
AVIONICS: EASy II Flight Deck with Honeywell Primus Epic System

AIR DATA COMPUTER: Dual Honeywell AZ-200 Air Data Modules
AUTOMATIC DIRECTION FINDER: Dual Honeywell DF-855 ADF Receivers
COCKPIT VOICE RECORDER: Honeywell Solid State Cockpit Voice Recorder
COMMUNICATIONS: Dual Honeywell TR-866B VHF Comm Radios and Third VHF Module (VHF Data Radio)
DISTANCE MEASURING EQUIPMENT: Dual Honeywell DM-855 DME Transceivers
EMERGENCY LOCATOR TRANSMITTER: ELTA ADT406
ENHANCED GROUND PROXIMITY WARNING: Honeywell EGPWS Module
FLIGHT DATA RECORDER: 88 Parameters
FLIGHT MANAGEMENT SYSTEM: Triple Honeywell EASy
GLOBAL POSITIONING SYSTEM: Dual Honeywell GPS Modules with WAAS/LPV
HEADS UP DISPLAY: Flight Dynamics HGS-4860
ENHANCED VISION SYSTEM: CMC CMA-2600 Suresight
HIGH FREQUENCY: Dual Rockwell Collins HF-9000
LONG RANGE NAVIGATION: Triple Honeywell Laseref V Inertial Reference Units
NAVIGATION: Dual Honeywell NV-875A Navigation Modules
RADIO ALTIMETER: Dual Honeywell RT-300 Radio Altimeter System
TRAFFIC ALERT & COLLISION AVOIDANCE SYSTEM: Honeywell TCAS 3000 with Change 7.1
TRANSPONDER: Dual Honeywell XS-858B ADS-B Transponders
WEATHER RADAR: Honeywell WU-880 RX/TX/ANT
LIGHTNING SENSOR: Honeywell LSS-860
EFB: CMC CMA-1100 Pilot View
Navigation and Compliance
Inspections
Inspection Type
Performed
Next Due
1C
Performed:
March 2021 @ 5,756 Hours
2C
Performed:
March 2021 @ 5,756 Hours
Landing Gear
Next Due:
February 2033 @ 7,820 Hours
1000/1300 Hr Engine Inspection Eng #1,2,3
Performed:
January 2019 @ 5,345 Hours
1500/1650 Hr Engine Inspection Eng #1,2,3
Performed:
May 2017 @ 4,650 Hours
Engine MPI
Performed:
July 2013 @ 3,024 Hours
Interior
Luxurious fourteen-passenger interior beginning with a forward four-place club-seating area and two-fold-out side ledge tables, followed by a four-place conference group in the mid-cabin across from a credenza. The aft cabin features 2 three-person, berthable divans. A well-equipped galley / entryway area features a large storage closet, galley sink, coffee maker, high temp oven, microwave, dual ice drawers. 115 VAC / 60 Hz electrical outlets throughout the interior provide power for electronics and small appliances. A forward crew lavatory, rear VIP lavatory, in-flight accessible baggage compartment, and cockpit jumpseat complete this interior.
Entertainment
Display TV Monitors:
Fwd and Aft Cabin Bulkhead Monitors
Airshow System:
AIRSHOW ROCKWELL COLLINS 4000 (2)
Cabin Management System:
FALCON CABIN MANAGEMENT SYSTEM ROCKWELL COLLINS
High Speed Internet:
HIGH SPEED INTERNET SBB 264 THRANE & THRANE
In-Flight Phone:
AIRCELL TELEPHONE SYSTEM
AIRSHOW ROCKWELL COLLINS 4000 (2)
FLIGHT DECK VIDEO INTERFACE HONEYWELL EASy
FALCON CABIN MANAGEMENT SYSTEM ROCKWELL COLLINS
HONEYWELL EASy UPLINK WEATHER CAPABILITY
Exterior
Base Paint Colors:
Matterhorn White
Stripe Colors:
Red and Black
Overall Matterhorn White with Gloss Red and Gloss Black Stripes
Send a message to John Peters at Guardian Jet, LLC