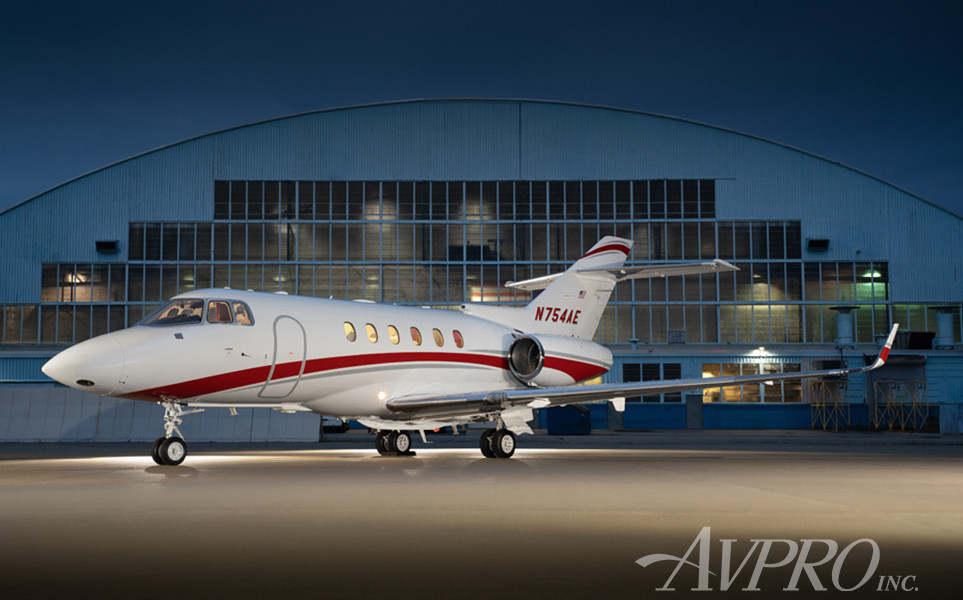 2010 Hawker 900XP
Price: $4,495,000
Serial Number:

HA-171

Tail Number:

N754AE

Hours:

3,744

Cycles:

3,060
Fresh Pre-Purchase Evaluation & E Check by West Star Aviation
One U.S. Owner & Flight Department Since New
GoGo Biz ATG-5000
ADS-B Out V2, WAAS, LPV
2016 Paint by Duncan Aviation, Battle Creek
Engines & APU Enrolled on Honeywell MSP Gold
Offered by:

Annapolis, MD
Airframe
Engines
Engine Program Coverage:
MSP Gold
APU
Description:
GTCP36-150(W)
Total Time Since New:
2,322
Avionics
Collins ProLine 21 Avionics Suite w/Four (4) 8" x 10" LCD EFIS
Collins Integrated Flight Control System
Collins Integrated Electronic Checklist
Dual Collins File Servers/IFIS – Paperless Cockpit
Dual Collins FGC-3000 Flight Guidance Computers
Dual Collins Air Data Computers
Triple Collins VHF-4000 Comm's
Single Collins NAV-4000 w/ADF/VOR/ILS/GS/MBKN
Single Collins NAV-4500 w/VOR/ILS/GS/MBKN
Dual Collins DME 4000 DME's
Dual Collins TDR-94D Enhanced Transponders w/ADS-B v2
Dual Collins FMS-6000 V4.0 FMS w/3D Mapping & Enhanced Map Overlays
Dual Collins GPS-4000S w/WAAS-LPV
Dual Collins ALT-4000 Radio Altimeter System
Dual Collins AHC-3000 AHRS System
Collins HF-9000 High Frequency Radio w/SELCAL
ACSS TAWS TW 950
Collins TCAS II w/Change 7.0
Meggitt Standby Instrument System (ESIS); SafeFlight AOA
Universal CVR-120 Solid State Cockpit Voice Recorder (SSCVR)
Honeywell Solid State FDR (SSFDR)
Artex C406N ELT
Navigation and Compliance
ADS-B Version 2
WAAS-LPV
RVSM / 8.33 Spacing
Additional Equipment/Features
Interior Soundproofing Package
Single Point Refueling
Interior Fuel Panel
Therapeutic Long-Range Oxygen System (Two (2) 750 Liter Bottles)
Cabin 110V AC Inverter
Baggage Smoke Detector System
Interior
Elegantly appointed interior offers the popular forward four-place (4) club arrangement followed by a single (1) forward facing seat; opposite a three-place (3) aft cabin divan.

All seating surfaces are completed in rich light beige leather complimented by the tan carpeting (New 2016 by Duncan Aviation – Battle Creek). Medium hued high-gloss veneers are present throughout the cabin including galley, bulkheads, drink rails, aft cabin cabinetry and closet as well as the aft private passenger lavatory. Silver plated bright-work on the seat controls, drink rail, door hands and drawer pulls, stylish mid-level upper sidewall sconces compete the look. Tan patterned fabric lower side panels are nicely offset by the lighter upper sidewalls and headliner.

The fully enclosed aft cabin passenger lavatory features a sink, multiple storage areas and a round lighted mirror. A hard-partitioned aft passenger lavatory door assures privacy.
Entertainment
Display TV Monitors:
Forward & Aft Bulkhead Monitors
Airshow System:
Airshow 4000 w/Network
Cabin Management System:
Collins CMS-1 Cabin Management System
High Speed Internet:
GoGo Biz ATG-5000 Wi-Fi System
DVD/CD Players:
Dual DVD Player
Exterior
Base Paint Colors:
Matterhorn White
Stripe Colors:
Red & Grey Accent Stripes
2016 Paint by Duncan Aviation – Battle Creek
Overall Matterhorn White w/Fuselage Length Red & Grey Accent Stripes; From Nose Gear Door to Tail with Matching Nacelle and Vertical Stabilizer Accents.
Send a message to Eddie Kilkeary, III at Avpro, Inc.