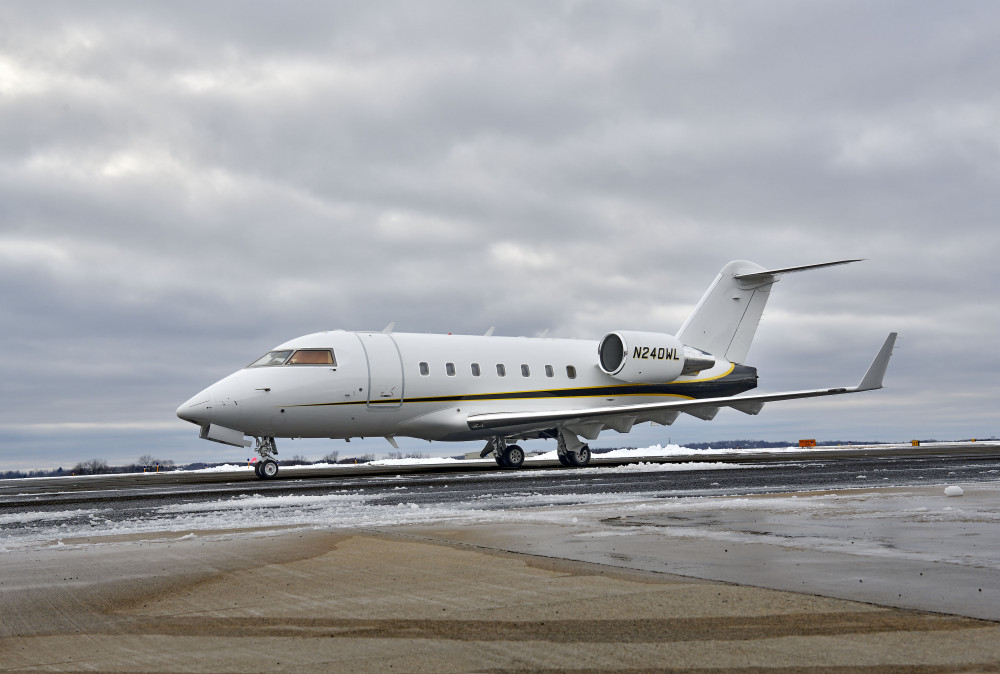 2006 Bombardier Challenger 604
Price: $5,395,000
Serial Number:

5643

Tail Number:

N240WL

Hours:

5,542

Cycles:

3,971
Engines Enrolled on GE OnPoint
APU Enrolled on Honeywell MSP
Gogo Biz® AVANCE L5 Hi-Speed Broadband
Alto Aviation Cadence Hi-Definition Cabin Management System Upgrade
ADS-B Out v2 (DO-260B) (SB 604-34-068 R1)
Rockwell Collins Flight Dynamics HGS‐2150 Head‐Up Guidance System (HUD)
Aircraft is Enrolled on Bombardier Smart Parts Plus
Two U.S. Owners Since New
Operated and Maintained Part 135
Aircraft is Hangared at Waterbury–Oxford Airport (OXC) in Oxford, CT, USA.
Offered by:

Leading Edge Aviation Solutions, LLC
Parsippany, New Jersey
Airframe
Entry Into Service Date:
September, 2006
Airframe:
5,542 Hours
3,971 Landings

Date of Manufacture (U.S./FAA CofA): January 2006
Entry into Service: September 2006
Engines
General Electric CF34-3B
On Condition
Engine Program Coverage:
GE OnPoint
APU
Description:
Honeywell GTCP36-150 (CL)
Total Time Since New:
4,770
Avionics
Rockwell Collins ProLine 4 Avionics w/ 6 EFIS LCD Screens & PrecisionPlus™ Upgrade
Flight Director: Dual Rockwell Collins ProLine 4 Flight Directors
AFCS: Integrated Dual Two‐Axis Autopilots w/ Dual Flight Directors & Safe Flight
Enhanced AutoPower® Automatic Throttle System
FMS: Dual Rockwell Collins FMC-6000 w/ 3D Map & Long Range Cruise
CDU: Dual Collins CDU‐6000
HUD: Rockwell Collins Flight Dynamics HGS‐2150 Head‐Up Guidance System (HUD)
STDBY: BF Goodrich GH‐3000 Electronic Standby Instrument
VHF: Triple Rockwell Collins VHF-22C w/ 8.33 kHz Spacing
HF: Dual Rockwell Collins HF-9031A w/ SELCAL
NAV: Dual Rockwell Collins VIR-432 w/ FM Immunity
ADC: Dual Rockwell Collins ADC-850E Air Data Computers
Transponder: Dual Rockwell CollinsTDR-94D w/ Enhanced Mode S Transponders
GPS: Dual Rockwell Collins GPS-4000S w/ WAAS
Radio Altimeter: Dual Rockwell Collins ALT-55B
IRS (LRNAV): Triple Litton LTN-101 LASEREF IRS
Color Weather Radar: Dual Rockwell Collins WXP-4220 Digital Color Weather Radar
Autopilot: Dual Rockwell Collins
SATCOM: EMS HSD‐400 Inmarsat & Dual ICG ICS‐220A Iridium® Satellite Communications
Systems w/ Cockpit & Cabin Handsets
Lightning Detection: L3 WX‐1000E Stormscope® Series II Lightning Detection System
TCAS: Rockwell Collins TTR-921 (TCAS II) w/ Change 7.1
IFIS: Rockwell Collins Integrated Flight Information System
EGPWS (TAWS): Honeywell MK V EGPWS w/ Terrain Display & Honeywell Runway Awareness Advisory System (RAAS)
FDR: L3 FA-2100 Flight Data Recorder
CVR: L3 FA-2100 Cockpit Voice Recorder
ELT: Artex C406‐N 406 MHz ELT w/ Navigation Interface
ADF: Dual Rockwell Collins ADF-462
DME: Dual Rockwell Collins DME-442
Inspections
Inspection Type
Performed
Next Due
96 Month Tasks
Performed:
September 2014
96 Month Landing Gear Detailed Inspection
Performed:
September 2014
Engines Enrolled on GE OnPoint APU Enrolled on Honeywell MSP Aircraft is Enrolled on Bombardier Smart Parts Plus Operated and Maintained Part 135 Maintenance Records Tracked on CAMP On MSG-3 Maintenance Program
Additional Equipment/Features
Additional Equipment, Enhancements, & Upgrades:
SB 604‐11‐001 R1 Increased MTOW to 48,200 LB
SB 605-34-005 2nd Radio Altimeter Data Link w/ Weather Maps Voice Check List
SB 604-34-068 R1 ADS-B Out v2 (DO-260B)
SB 604‐23‐006 Installation of Additional Winglet Static Discharger
SB 604‐27‐032 R2 Replacement of Horizontal Stabilizer Trim Actuator (P/N 604‐92305‐7)
SB 604‐29‐009/010/011 Replacement of Hydraulic System Accumulators
SB 604‐31‐010 Installation of Expanded Flight Data Recorder
SB 604‐32‐027/028 Hydraulic System Brake Accumulator Replacement
SB 604‐34‐010 Metric Altitude Indication – Switch Installation
Jump Seat
Dual Cockpit Audio Control Panels & Jump Seat Audio Panel
Landing & Taxi Pulsating Light System
Production Installed APU Stainless Steel Exhaust Shield
Production Installed Three (3) Additional Cabin Windows
Collins DBU‐5000 USB Database Loading Unit
Pulse Lights
Dual Cockpit VisionSafe Emergency Vision Assurance System (EVAS®)
Remote Refuel Panel
Rosen® Cockpit Sun Visors
Locking Fuel Caps
Heads Up Technologies CMS‐400 Cockpit Digital Voice Checklist
RVSM Capable
NAT/MNPS Capable
RNAV‐1/PRNAV Capable
RNAV‐5/BRNAV Capable
RNP‐10 Capable
Interior
Soft Goods Refurbished March 2012 @ Gulfstream - Appleton, WI
Ten (10) Passenger Floorplan 3 (Extended Lavatory) fire-blocked interior featuring a crew jump seat, left‐side closet, right-side forward galley, aft externally serviceable main lavatory, aft baggage compartment, and manual window shades. The entryway has an acoustical curtain, a pocket door is installed in the forward cabin bulkhead, the aft cabin bulkhead features a hinged door, and another hinged door separates the lavatory and baggage compartment. The main cabin features a forward-cabin 4-place club, and an aft-cabin left-side 2-place club opposite a 4-place berthable divan. The forward-cabin 4-place club and aft-cabin 2-place club include stowable executive writing and dining tables between the opposing club chairs. The divan features removable worktables that plug into the divan's armrests and stow in an aft cabin cabinet when not in use. The club chairs are covered in "Velluto Pelle" platinum‐colored leather, and the divan is finished in "Couture Tweed‐Stone" fabric, complemented by a custom gray textured carpet, and coordinating vinyl flooring is installed in the vestibule‐galley area. The interior wood/cabinetry is finished in Carl Booth "Quarter Figured Makore" semi‐gloss veneer, the galley and lavatory counter tops are covered in mocha‐colored Corian®, and most cabin exposed hardware is plated in brushed "Chrome‐Satin".

The right-side full service Forward Galley is equipped to provide full meal and beverage service to passengers. The Galley features a TIA coffee maker, TIA high-temperature oven, TIA Wavejet microwave oven, stainless steel sink and faucet assembly with hot/cold water, china, crystal and cutlery storage, waste container, dirty dish drawer, ice compartment, can drink storage, food storage compartment, countertop with pop‐out work surface, miscellaneous storage, and 115V/60Hz universal outlets. The private aft lavatory and dressing area features a mirrored, lighted vanity, sink, externally serviceable flushing toilet, ample closet and storage areas, and in-flight accessibility to the spacious walk-in aft baggage compartment. Two (2) Winslow 14-man life rafts with triple-frequency ELT (beneath divan). Multiple 110VAC outlets are found throughout the cockpit, galley, cabin and lavatory, and the cabin features therapeutic oxygen and LED lighting. Interior completed by Midcoast Aviation (Jet Aviation) Cahokia, IL in September 2006.

Cabin entertainment includes Gogo Biz® AVANCE L5 Hi-Speed Broadband Internet Service connected via a wireless LAN and Airshow 4000 which can be viewed on One (1) 24" HD LCD Monitor in the Right-Hand Forward Cabin Bulkhead and One (1) 24" HD LCD Monitor in the Left-Hand Aft Cabin Bulkhead. EMS HSD‐400 Inmarsat and ICG ICS‐200 Iridium® SATCOM Systems both provide satellite voice calling capabilities via cockpit and cabin handsets. The forward cabin's right‐hand forward‐facing VIP seat features a wireless handset, and the cockpit has an ICG JetPhone handset.

Alto Aviation Cadence Hi-Definition Cabin Management System Upgrade performed at Innotech Aviation in October 2019.
Upgrade includes:
• Forward & Aft Cabin Monitors Upgrade to Rozen HD Monitors
• Cabin Relay Switch Panels & Wiring Replaced w/ New Alto Switch Panel System
• Replaced Existing Cabin Speakers & Subwoofers w/ New Alto System
• Installed New Cockpit USB Outlets
Exterior
Stripped & Painted March 2012 @ Gulfstream - Appleton, WI
Overall Matterhorn White with Black and Yellow striping.
Weights
Max Takeoff Weight:
48,200.00
Max Landing Weight:
38,000.00
Max Zero Fuel Weight:
32,000.00
Usable Fuel Capacity:
20,000.00
Send a message to Frank Janik at Leading Edge Aviation Solutions, LLC