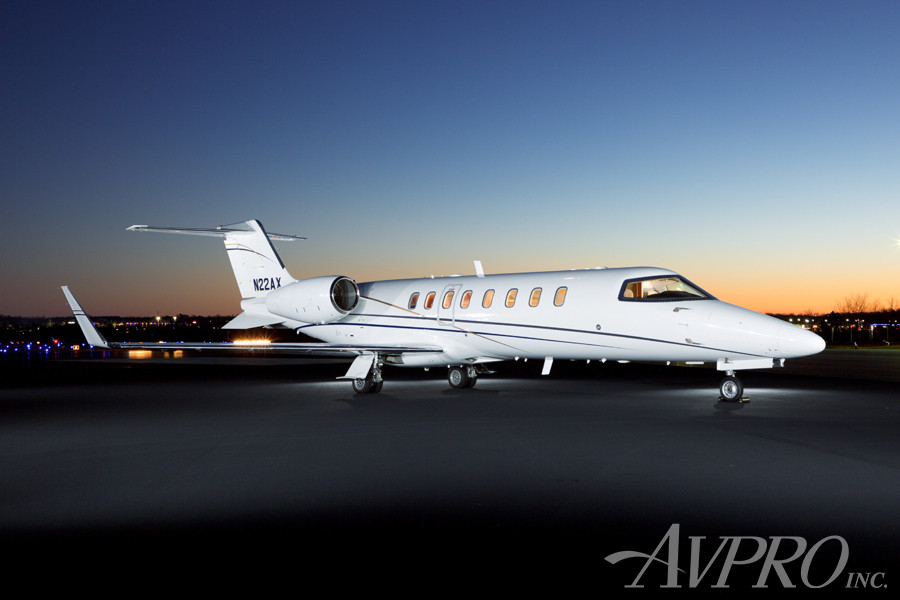 2000 Bombardier Learjet 45
Price: $1,395,000
Serial Number:

45-101

Tail Number:

N22AX

Hours:

6,357

Cycles:

4,901
TFE731-20BR Engine Upgrade
21,500 lb. Increased MGTOW
Engines Enrolled on MSP Gold
Airframe Enrolled on Smart Parts Plus
Dual UNS-1Ew FMS w/ WAAS/LPV
Paint from 2015 @ Sturgis Avtn (GYH)
Offered by:

Avpro, Inc.
Airframe
• Airframe on Smart Parts Plus
Engines
Engine Program Coverage:
MSP Gold
Avionics
• Honeywell Primus 1000 w/ 4 Tube EFIS
• Four (4) DU-870 Displays
• IC-600 Autopilot System
• Dual (2) RNZ-851 Integrated NAVs w/ FM Immunity
• Dual (2) RCZ-851M Integrated Mode S Transponders/Comms w/ 8.33 Spacing
• KHF-950 HF Radio w/ SELCAL
• Dual (2) RMU-855 Radio Management Units
• Dual (2) UNS-1Ew w/ WAAS & LPV
• TPU-67 TCAS II-7
• Honeywell Mark V EGPWS
• CVR-120 Cockpit Voice Recorder
• RT-300 Radio Altimeter
• Dual (2) DA-800 Data Acquisition Units
• Dual (2) ADS-850 Air Data Computers
• WU-660 Color Weather Radar
• Dual (2) AHS-800 AHRSs
• Artex 406MHz ELT
Navigation and Compliance
• ADS-B Out Capable
• WAAS & LPV Capable
• RVSM/RNAV/PRNAV/RNP Capable
Inspections
Inspection Type
Performed
Next Due
Phase A
Next Due:
December 2021 @ 6,645 Hours
Phase B
Next Due:
December 2021 @ 6,868 Hours
Phase C
Next Due:
December 2021 @ 7,261 Hours
Phase D
Next Due:
December 2021 @ 8,051 Hours
Additional Equipment/Features
• - BR Engine Upgrade
• 21,500 MGTOW Increase
• ADS-B Out Capable
• WAAS & LPV Capable
• Keith R134 Freon Air Cycle System (Air Conditioning)
• Airshow 400
• Forward & Aft Bulkhead Monitors
• Aft Pyramid Cabinets
• Belted Lavatory Seat
• Lighted Vanity Mirror w/ Sink
Interior
Beautifully appointed interior featuring a forward Refreshment Center followed by a forward four (4) place club and an aft four (4) place club; both seating areas offer pull out tables. Finishes include high gloss medium colored cabinetry, brushed Silver colored plating and new coordinating patterned carpeting with tones of tan and brown. Aft Pyramid cabinets provide additional in-cabin storage. The forward and aft bulkhead monitors display the Airshow 400 Flight Information System.

Additional amenities include a belted lavatory with a lighted vanity mirror and a sink.
Entertainment
Airshow System:
Airshow 400
Exterior
Stripe Colors:
Gold, Dark Blue & Dark Gray Accent Striping
Weights
Max Takeoff Weight:
21,500.00
Max Landing Weight:
19,200.00
Max Zero Fuel Weight:
16,000.00
Basic Operating Weight:
14,088.00
Send a message to Eric Davis at Avpro, Inc.