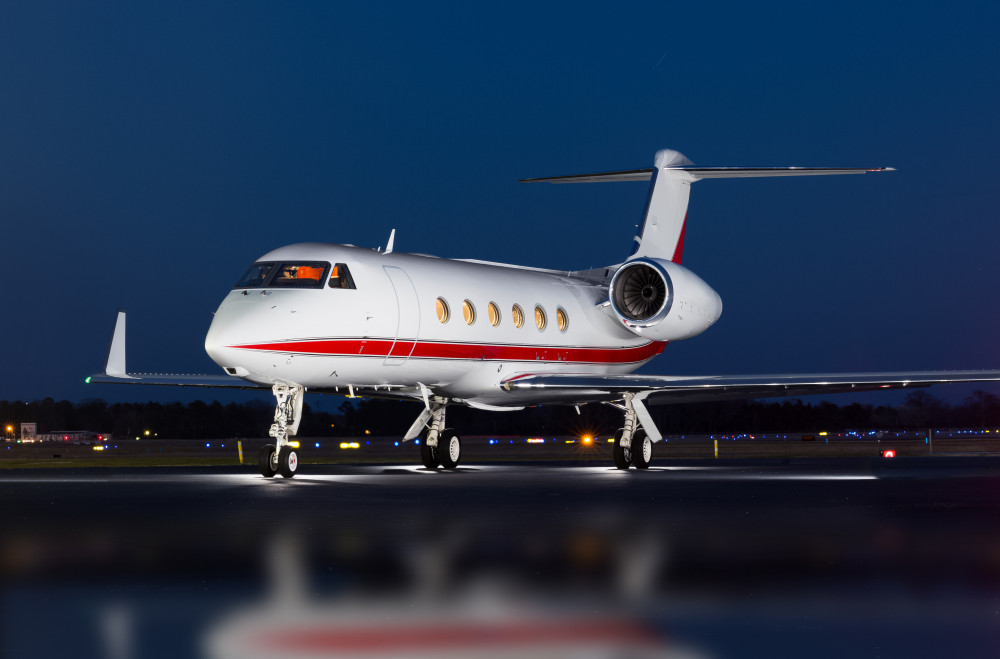 2010 Gulfstream G450
Price: Make Offer Sale Pending!
Serial Number:

4199

Tail Number:

N804AG

Hours:

2,841

Cycles:

1,495
Rolls Royce Corporate Care
APU enrolled on Honeywell MSP
Honeywell HAPP and MPP
FANS 1A / CPDLC / ADS-B Out Version 2
HUD with EVS
Swift Broadband High Speed Data
ATG 4000 High Speed Internet
Offered by:

Guilford, CT
Airframe
Entry Into Service Date:
October, 2010
Maintenance Tracking:
Gulfstream CMP
Airframe Certification:
FAR Part 91
Airframe (Structural) on Warranty until 10/2030
Engines
Engine Program Coverage:
Rolls Royce Corporate Care (RRCC)
Engine 1
Hours Since Overhaul:
2,814
Cycles Since Overhaul:
1,477
Engine 2
Hours Since Overhaul:
2,814
Cycles Since Overhaul:
1,477
APU
Description:
Honeywell GTCP36-150(G)
APU Program Coverage:
MSP Gold
Total Time Since New:
2,056
Total Cycles Since New:
2,751
Avionics
ADS-B In/Out Equipped:
Yes
AVIONICS: Honeywell Primus Epic PlaneView® Cockpit with Enhanced Navigation Package
AIR DATA COMPUTER: Triple Honeywell AZ-200 Air Data Modules
AUTOMATIC DIRECTION FINDER: Dual Honeywell DF-855 ADF Modules
AUTOTHROTTLES SYSTEM: Yes
COCKPIT VOICE RECORDER: CVR-120R with embedded RIPS (120 minutes)
COMMUNICATIONS: Dual Honeywell TR-865A and Third Honeywell NC-860A Comm Modules
DATA MANAGEMENT UNIT: Honeywell DL-700 DMU
DIGITAL CLOCK: Dual Davtron Digital Clocks
DISTANCE MEASURING EQUIPMENT: Dual Honeywell DM-855 DME Modules
ELECTRONIC FLIGHT INSTRUMENT SYSTEM: Four Honeywell DU-1310 Flat Panel Displays EMERGENCY LOCATOR TRANSMITTER: Artex C406-N ELT
ENHANCED VISION SYSTEM: Honeywell / Kollsman Enhanced Visual Guidance System EVS
FLIGHT DATA RECORDER: Universal Avionics FDR-25
HEADS UP DISPLAY: Honeywell HUD System
HIGH FREQUENCY RADIO: Dual Rockwell Collins HF-9034A Receiver/Transmitters
LIGHTNING SENSOR: Honeywell LP-850 Lightning Sensor System
LONG RANGE NAVIGATION: Triple Honeywell IRU's
NAVIGATION: Dual Honeywell NV-875A Nav Modules
QUICK ACCESS RECORDER: Micro QAR 200
RADIO ALTIMETER: Dual Honeywell RT-300 Radio Altimeters
TRAFFIC COLLISION ALERT AND AVOIDANCE SYSTEM: ACSS RT-951 TCAS Processor with Change 7.0 TERRAIN AWARENESS and WARNING SYSTEM: Dual Honeywell EGP-100 EGPWS Modules TRANSPONDER: Dual Honeywell XS-858B Mode S Transponders with ADS-B Out Version 2
WEATHER RADAR: Honeywell WU-880 Radar Receiver/Transmitter
Navigation and Compliance
Interior
Seats Re-covered at Gulfstream, Appleton in 10/2018
Carpet Replaced and Pilot Seats Replaced in at Gulfstream, Appleton in 06/2020

The beautiful 12 passenger configuration features an aft galley, cockpit jumpseat, a spacious aft lavatory, and in-flight
accessible baggage bay. The spacious cabin includes forward six-place club, followed by a mid-cabin four-place
conference group opposite a large credenza. The aft cabin is equipped with two forward facing single seats.
Entertainment
Display TV Monitors:
(8) 7" Rosen Sidewall Mounted Monitors
Airshow System:
Airshow 4000
Cabin Management System:
Rockwell Collins CMS
High Speed Internet:
Aircell ATG 4000 High Speed Internet
 Airshow 4000
 Rockwell Collins CMS
 Dual Rockwell Collins DVD Player
 3 External Cameras
 (8) 7" Rosen Sidewall Mounted Monitors
 Forward Bulkhead and Credenza Monitors
Exterior
Base Paint Colors:
Overall Matterhorn White
Stripe Colors:
Sunfast Red and Gloss Black Stripes
Weights
Max Takeoff Weight:
74,600.00
Max Landing Weight:
66,000.00
Max Zero Fuel Weight:
49,000.00
Send a message to Samantha Langen at Guardian Jet, LLC