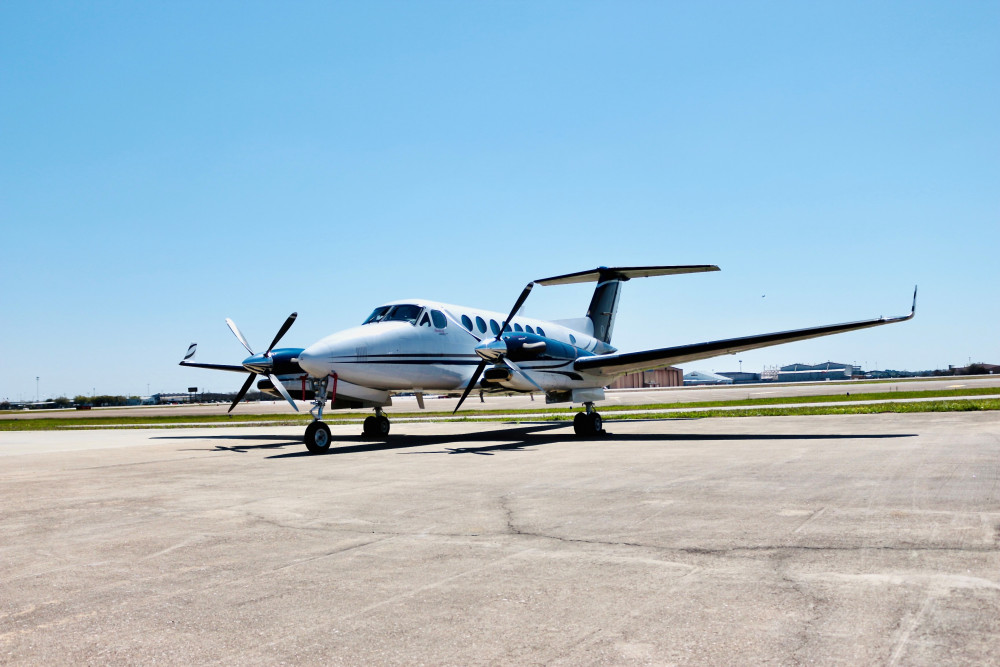 2010 Beechcraft King Air 350i
Price: Make Offer
Serial Number:

FL-0706

Tail Number:

N384GD

Hours:

2,849

Cycles:

2,554
Raisbeck Mods
ADS-B Out, WAAS
Offered by:

Houston, TEXAS
Airframe
Hours as of 12/18/2020
Raisbeck Mods: Dual Aft Body Strakes, Nacelle Wing Lockers
Butterfield Oil/Air Separator
Brake De-Ice
Engines
Engine 1
Serial Number:
PCE-PK 1257
Engine 2
Serial Number:
PCE-PK 1259
Avionics
ADF: Collins NAV-4000
AHRS: Dual Collins AHC-3000
Autopilot: Dual Collins FGC-3000 IFCS
Avionics Package: Collins Pro Line 21
Communication Radios: Dual Collins
VHF-4000 w/8.33 spacing
CVR: L3 FA2100
DME: Collins DME-4000
EFIS: Collins 3-tube w/AFD-3010
Flight Director: Dual Collins FGC-3000 IFCS
Flight Rules: IFR
FMS: Collins FMS-3000
GPS: Collins GPS-4000A
Navigation Radios: Collins NAV-4000
Radar Altimeter: Collins ALT-4000
TAWS: ACSS TAWS+
TCAS: L3 Skywatch TCAS-I
Transponder: Dual Collins TDR-94D Mode S
Weather Radar: Collins TWR-850 (color)

FEATURES:
Belted Lav
Airframe Maintenance Program
RVSM
Brake De-Ice
Gogo AVANCE L3 PLUS Wifi
ADS-B Out Upgrade (Oct, 2019)
Raisbeck Mods

ADDITIONAL EQUIPMENT:
Cockpit: ADS-B Out, WAAS, dual Collins ADC-3000 air data computers, L3 GH-3100 ESIS, Collins RTU-4200 radio tuning unit, Collins CDU-3000 control display unit, DB Systems 700 & 800 audio
systems, Artex C406-2 ELT, Garmin GWX-3001 satellite weather, Collins MDC-3110 maintenance diagnostic computer
Modification: Raisbeck dual aft body strakes & nacelle wing lockers, Butterfield oil/air separator system
Equipment: Hartzell 4-blade props w/prop synch & auto feather, brake de-ice
Navigation and Compliance
Props
Inspections
Inspection Type
Performed
Next Due
Additional Equipment/Features
MAINTENANCE:
MAY 2020
Textron Houston Phase 1-4 inspection
Propellers Overhauled
Interior
Interior Last Refurbished:
2010
Executive/9 passenger configuration in wheat & tan interior with center club seating and wheat leather lower sidewalls and cobble frieze carpeting. Brushed nickel hardware, electrically-heated seats and light tan textured window reveals. Mahogany wood veneer, executive tables. Left side refreshment center, forward 15.4-inch HD
monitor, Collins Venue entertainment system w/moving map & Blu-ray player. AirCell Gogo Biz w/ATG-2000 broadband internet, Wi-Fi, 110-volt outlets, passenger noise-cancelling headsets. Right side storage cabinet. Belted lav. (Hawker Beechcraft, 2010)
Entertainment
Cabin Management System:
Collins Venue w/ Moving map
High Speed Internet:
GoGo Avance L3 Plus WiFi
Exterior
Base Paint Colors:
Matterhorn White
Stripe Colors:
Ming Blue and Light Saddle Metallic
Send a message to Jerry Smith at JBA Aviation, Inc.