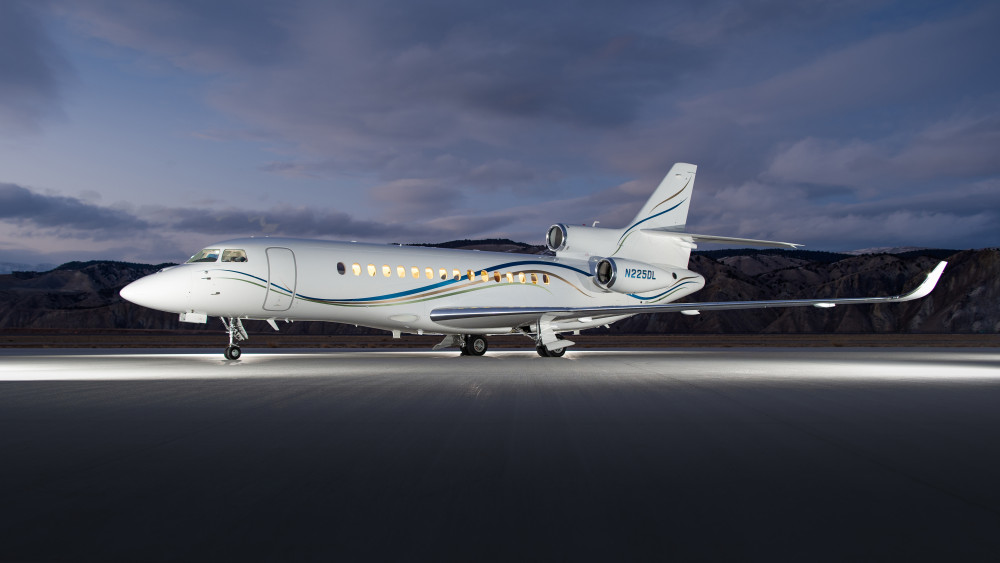 2018 Dassault Falcon 8X
Price: Make Offer
Serial Number:

8X-440

Tail Number:

N225DL

Hours:

442

Cycles:

268
Only 442 Hours Total Time
Transferable Manufacturer Warranties- Start Date 09/07/2018
Gogo L5 AVANCE High Speed Internet
FalconEye HUD and Combined Vision System
Aircraft delivered in September 2018
One US Owner Since New
14-Passenger Configuration with Double Aft Divans
Forward Crew Lav
Engines Enrolled on ESP Platinum and APU on MSP Gold
Fresh 12/24-Month Inspection – SEPT 2020
Falcon EASy III Flight Deck w/ Honeywell Primus EPIC Platform:
• SBAS/LPV
• CPDLC & ADS-C
• FANS-1/A+
• ATN-B1
• ADS-B Out
• Auto Descent Mode
• SmartView SVS
Offered by:

Colleyville, TX
Airframe
Engines
Pratt & Whitney Flight Data Acquisition Storage & Transmission (FAST)

Engine Model: Pratt & Whitney Canada PW307D
Engine Program Coverage:
ESP Platinum
APU
Description:
Honeywell 36-150 [FN]
APU Program Coverage:
MSP Gold
Serial Number:
Honeywell 36-150 [FN]
Avionics
Falcon EASy III Flight Deck w/ Honeywell Primus EPIC Platform
SBAS/LPV | CPDLC & ADS-C | FANS-1/A+ | ATN-B1 | ADS-B Out| Auto Descent Mode | SmartView SVS
FalconEye Head-Up Display (HUD) + Head-Up Synthetic Vision System (SVS)
FalconEye Enhanced Vision System (EVS) + Combined Vision System (CVS) FANS-1/A+ DataLink (CPDLC & ADS-C)
ATN-B1 Data Link (Protected Mode CPDLC)
Honeywell SmartRunway RAAS
Triple Honeywell EASy Flight Management System
Dual CMC CMA-1310 Pilot View Electronic Flight Bags (Class II EFB) with FALCON PERF Software
Triple Honeywell LASEREF V Inertial Reference Units Automatic Descent Mode
Honeywell KSG 7200 ADAHRS
Honeywell TPA-100B TCAS II (Change 7.1) Traffic System Honeywell EGPWM-100 EGPWS with Windshear
Dual Electronic Jeppesen Charts
Honeywell EASy Uplink Weather Capability
Triple Honeywell AV-900 Audio Panels
Triple Honeywell TR-866B Comms
Honeywell TR-866B VDR (VHF Mode 2 Data Radio for VHF 3) VHF Voice & Flight Deck Data Link Communications System
Miltope TP 4840 Flight Deck Text/Graphics Printer
Dual Honeywell NV-878A Navs
Dual Honeywell KRX-1053 HFs
Dual Honeywell DF-855 ADFs
Dual Honeywell DM-855 DMEs
Dual Honeywell NV-877A GPS
Honeywell RDR-4000 3D Weather Radar
XM Graphical Weather System and Display on EASy cockpit (U.S. coverage only)
Honeywell LSS-860 Lightning Sensor
Honeywell SmartView Synthetic Vision System (SVS)
Dual Honeywell KRA-405B Radio Altimeters
Dual Honeywell XS-858B Transponders with Mode S
CTS Quick Access Recorder (QAR)
Honeywell 406 ELT – Tri Frequency
Honeywell EASy Communications Management Function (CMF)
Aircell Axxess II Iridium Cabin Telephone (One Cabin Voice, One Cockpit Data Channel) Two Corded Handsets & One Cordless Handset
Aircell Data Interface Unit (DIU) interfaces Axxess II Iridium Cabin Telephone w/the EASy System for Flight Deck Data Link Capability (Requires One Channel Dedicated to Data)
Aircell Axxess II Expansion Transceiver (ST4020); Two Additional Channels
Otonomy Aviation VCCU-E Airborne Video Camera Control System
Inspections
Inspection Type
Performed
Next Due
Fresh 12/24-Month Inspection at Dassault Little Rock
Additional Equipment/Features
Sabena Technics Aircraft Security System (Vigiplane)
Third Flight Deck Seat 16g with Floor Storage Drawer and Fold Down Hanger Bar
Winslow Life Rafts (2 Each 12-Man) with 406 ELT
Honeywell EASy Video Interface
3D Interactive Moving Map w/Airshow App
USB Port w/Power Outlet for Video On Demand
HDMI / USB Charging Port w/Power Outlet
USB Port for Audio On Demand
KGS Electronics 115 V AC 60 Hz, 2000 VA Invertor w/13 Outlets
Cabin Air Filtration System
Humidifier System
Aft Cabin Pocket Sliding Door
Interior
Fourteen-passenger interior configured with a four-place club arrangement in the forward cabin, a four-place dining conference group with an electric hi-lo table opposite a credenza, and two three-place divans located in the aft cabin. All individual seats are berthable with passenger seating completed in beige leather and accented with pecan ultraleather lower side panels, ivory ultraleather headliner and upper side panels, and tan sculptured carpet. The two divans are completed in beige fabric and are electrically berthable. Forward and aft lavatories provide additional convenience for both crew and passengers.
The cabin management and entertainment system includes the latest state of the art Collins Venue system with Airshow and dual Blu-Ray players with video provided on a 22" HD monitor located on the front right-hand cabin bulkhead, a 24" HD monitor located on the aft mid-cabin bulkhead directly across from the dining conference group, and a 24" HD monitor located on the aft cabin bulkhead. The Alto entertainment system provides cabin sound by cabin speakers or individual passenger headsets. Numerous 110VAC main cabin outlets provide power for laptops, mobile devices, etc.
A galley is located opposite the main entry door and includes a sink with faucet, a large trash container, refrigerator unit, and various storage cabinets. The upper galley includes a Nespresso machine, hot cup, TIA microwave oven, and Enflite high temp oven. A sliding pocket door separates the galley from the main cabin.
Entertainment
Collins Venue Falcon Cabin HD+ Cabin Management System
3D Interactive Moving Map
12 Each TouchScreen TC-6000 Cabin Controls
Rockwell Collins 32" Widescreen HD Monitor for LH Mid-Cabin
Bulkhead (Aft Face)
One Collins 2-Disc Blu-Ray Player
USB Port w/Power Outlet for Video On Demand
HDMI / USB Charging Port w/Power Outlet
USB Port for Audio On Demand
Forward 22" HD LED Backlit Bulkhead Monitor
iPad & iPod Touch Remote Controls (1 each)
Rockwell Collins Plug-In 10.6" Color HD LED Touch Screen Monitor
w/Swing Arm (2 each)
Seven (7) Plug-In Monitor Receptacles
Six (6) ALTO Speakers
Three (3) ALTO Subwoofers
Two (2) ALTO Amplifier
One (1) ALTO Amplifier & Speaker (Lavatory)
Exterior
Exterior paint is original and in like new condition with a custom color scheme.
Weights
Max Takeoff Weight:
73,000.00
Max Landing Weight:
62,400.00
Max Zero Fuel Weight:
41,000.00
Send a message to Shawn Dinning at Dallas Jet International