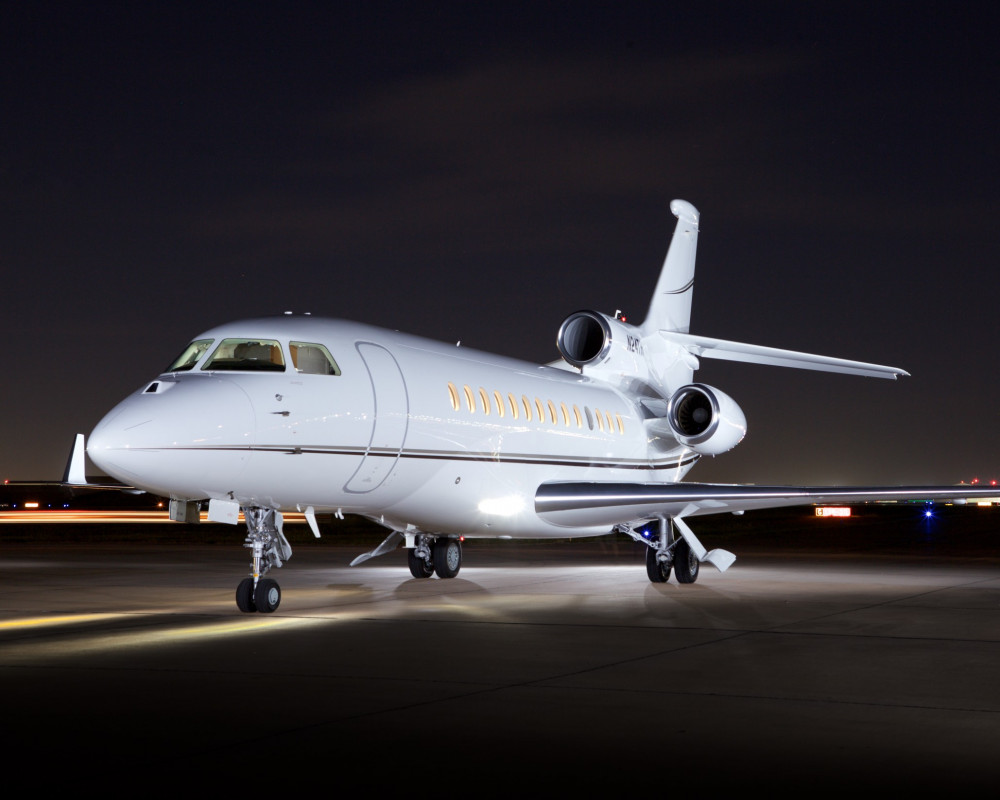 2013 Dassault Falcon 7X
Price: $24,500,000
Serial Number:

0203

Tail Number:

N24TH

Hours:

2,818

Cycles:

1,286
Fresh C Check March 2021 by Dassault
One Owner Since New
ESP Gold, MSP Gold, HAPP, CAMP
FANS-1A, CPDLC, ADS-B Out
Heads Up Display
Enhanced Flight Vision System
Synthetic Vision System
Swift Broadband Global Internet
Gogo AVANCE L-5 Hi-Speed Domestic Internet
Rockwell Collins Tailwind 500 Sat TV
12 passenger BMW Design Interior
No Damage History
Offered by:

Long Beach, CA
Airframe
Entry Into Service Date:
August, 2013
Home Base:
Dallas Love Field, Texas
Maintenance Tracking:
CAMP
Airframe Certification:
FAR Part 91
SB 7X-520 Enhanced Avionics System - Easy II CERT 4
SB 7X-523 Enhanced Avionics System "Push-to-Load" Functionality
SB 7X-522 Faster Chart Database Loading Activation
Honeywell EASy Flight Deck Video Interface
Honeywell EASy Uplink Weather Capability
KGS Electronics SS200 2000VA Inverter with (9) Power Outlets
Avionics Master System, Cabin and Galley Masters
Honeywell EASy Central Maintenance Computer
LoPristi Boom Beam Landing & Taxi Lights
Dual Recognition Lights
LED Cabin Lights
Operating on FAR 91 and 135
Engines
Engine Program Coverage:
ESP Gold
APU
Description:
Honeywell GTPC-36-150
APU Program Coverage:
MSP Gold
Total Time Since New:
2,419
Total Cycles Since New:
1,871
Avionics
Primus Epic EASy II Cert 4
Triple Honeywell TR-866B VHF Communication
Dual Honeywell KHF-1050 High Frequency Communications
Honeywell SELCAL
Triple Honeywell AV-900 Flight Deck Audio
Honeywell Rescu 406AF Emergency Locator w/ Nav Interface
Honeywell EASy Communications Management Function (CMF)
Dual Honeywell NV-877A VOR / ILS / MKR / GPS
Dual Honeywell DF855 Automatic Direction Finder
Triple Honeywell EASy Flight Management Systems
Triple Honeywell Laseref V Inertial Reference Units
Dual Honeywell EASy II Jeppesen Electronic Charts
Honeywell EASy Enhanced Ground Proximity Warning System
Honeywell EASy II CPDLC ATN-B1
Honeywell EASy II CPDLC FANS 1/A
Honeywell EASy II SBAS / LPV
Honeywell Primus 880 Weather Radar
Dual Honeywell DM-855 Distance Measuring
Dual Honeywell XS-857B ATC Transponder
Honeywell EASy II ADS-B Out V2
Dual Honeywell KRA-405B Radar Altimeter
ACSS TCAS 3000 w/change 7.1 Traffic Alert and Collision Avoidance
Rockwell Collins HGS-5860 Head - Up Guidance System (CAT I)
Rockwell Collins Enhanced Flight Vision System (EFVS)
Honeywell EASy II SmartView Synthetic Vision System (SVS)
Honeywell EASy Auto Throttle
Honeywell EASy Modular Avionics Units
Honeywell EASy Electronic Display and Management
Dual Honeywell AR-Combi CVR/FDR (2 Hour/88 parameters)
Quick Access Recorder with Flight Data Monitoring
Pratt & Whitney Flight Data Acquisition Storage & Transmission System (FAST)
Navigation and Compliance
Inspections
Inspection Type
Performed
Next Due
Interior
Interior Last Refurbished:
2013
The 12-passenger executive interior was designed for functionality and flexibility in mind with three seating areas. The forward cabin is separated from the galley area and R/H crew lavatory by a sliding pocket door and contains a 4–place double club arrangement with two pull out writing tables and 22" HD monitor. In the center cabin there is a 4-place conference group with electric telescoping dining table opposite a storage credenza. The aft cabin is separated by a hard wood divider and features a 3-place 80" berthable divan opposite an executive chair with pull out writing table and 24" HD monitor. Behind the third seating area is an enclosed lavatory with vanity, storage cabinet, coat closet and baggage compartment.

The well-equipped 50" R/H forward galley features a sink, hot/cold water, split pop-out work surface, Corian countertop, lighted crystal display, wine bottle storage, ice drawer, cold storage drawer, condiment and silverware storage, china drawer, two carafes, Nespresso coffee maker, microwave and high temp oven. On the opposite side of the main Galley is a 38" Galley Annex/Closet containing bus bin/tray carrier storage with cold air gaspers, Coat Closet, Entertainment Center with dual Blu-Ray players and 10.6" Membrane Galley Control.

The BMW Group Designworks interior option combines a modern elegant look with warm colors and materials for a more open and spacious feeling environment. The 20" wide seats feature winged headrest, electric lumbar support, (left #2, right #2, and aft executive seat, are full electric tilt and recline), foot rest, and berthing capability are finished in Garrett Putty leather with center piping, and complemented by dark Olive Grey conference seating, Tapis Rice ultra-leather headliner, Carl Booth satin Walnut veneer, medium Grey fabric aft divan Mocha/Grey textured carpet, brushed Satin Nickel finish hardware/trim and Corian countertops.
Entertainment
Display TV Monitors:
Forward 22" and Aft 24" HD LED
Airshow System:
Rockwell Collins w/3D worldwide maps
Cabin Management System:
Rockwell Collins
High Speed Internet:
Aircell Avance L-5
DVD/CD Players:
Dual Blu-Ray
In-Flight Phone:
Honeywell MSC-7120 Inmarsat AERO H+ SatCom
Swift Broadband Global Internet.
Gogo AVANCE L-5 High Speed Domestic Internet
Aircell Axxess II Iridium Telephone System with (4) handsets
Rockwell Collins Tailwind 500 Satellite TV
Rockwell Collins HD Cabin Management System
Dual Blu-Ray Players
8 Speakers and 2 Subwoofers
10.6" Galley/Entertainment Control
Individual 10.6" Plug-In HD Monitors w/Swing Arm
Itouch Remote Control + HDMI and USB ports
Exterior
Base Paint Colors:
Matterhorn White
Stripe Colors:
Metallic Bronze and Platinum
Weights
Max Takeoff Weight:
70,000.00
Max Landing Weight:
62,400.00
Max Zero Fuel Weight:
41,000.00
Basic Operating Weight:
36,896.00
Usable Fuel Capacity:
31,940.00
Send a message to Walt Wakefield at Jeteffect, Inc.