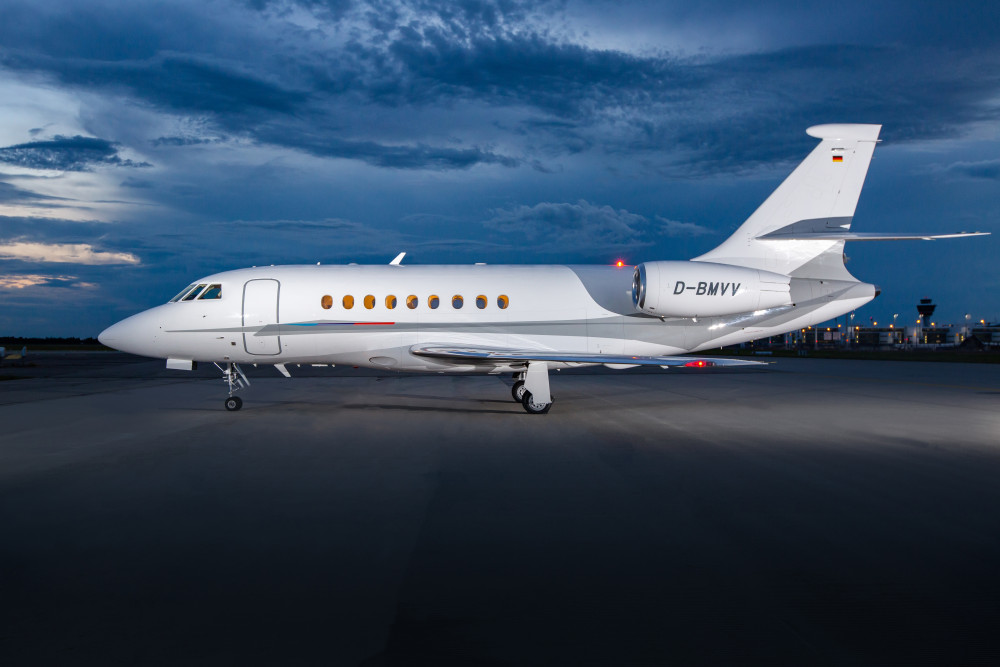 2004 Dassault Falcon 2000EX EASy
Price: Call for Price
Serial Number:

0042

Tail Number:

D-BMVV

Hours:

4,407

Cycles:

3,375
• Low Airframe Hours
• Exceptional One Owner Pedigree – Top global Brand
• Preferred 10 Passenger Interior Configuration
• New Paint January 2018 by TAg Aviation Paris
• Head Up guidance System (HgS) – CAT IIIa Approved
• EASy II Next gen Upgrades:
- SmartView SVS – Synthetic Vision System
- Enhanced Nav with WAAS-LPV
- CPDLC with FANS 1/A & ATN-B1
- ADS-B Out / Dual Jeppesen Charts / TCAS 7.1
- Runway Awareness & Advisory System (RAAS)
- Easy II Cert 4 with Push to Load Function
• Engines on ESP gold & APU on MSP gold
Offered by:

Annapolis, Maryland
Airframe
Maintenance Tracking:
CAMP Maintenance Tracking Program
3 EROS Full face O2 Masks
Enlarged O2 Bottle (115 Cu. Ft.)
2 Winslow 9 Man Life rafts w/ 406MHz ELT
Therapeutic Portable O2 System w/ Mask
First Aid O2 System, 2 Masks and 2 Outlets
Goodrich Ice Detection System
Main Batteries Charging w/ GPU
SAFT Ni-Cad Aircraft Main Batteries (Extended 33 Months Inspection Intervals)
Teleflex Tail recognition Lights
Dual Navigation Wing-Tip Position Lights
LED Taxi & landing Lights
Telescopic Tow Bar
Crash Axe w/ Storage
FADEC
Improved Wing Anti-Ice
Engines
Pratt & Whitney PWC-308C
Engine DTU For Trend Data Transmission
Engine Program Coverage:
ESP Gold
APU
Description:
Honeywell GTCP36-150 (F2M)
APU Program Coverage:
MSP Gold
Total Time Since New:
4,382
Avionics
• Honeywell EASy Primus Epic System
• Honeywell EASy Flight Display w/ (4) 14" LCD Units & Cursor Control Devices
• Honeywell EASy Flight Controls w/ Auto Throttle
• Honeywell EASy Comm. Mgmt Function for AFIS Capability
• Honeywell Interactive Checklist
• EASy II Cert 4 Upgrade w/Push to Load & Fast Database Loading
• Honeywell Data Acquisition & Central Maintenance Computer
• Triple Honeywell Crew Alerting & Aural Warning Systems
• Triple Honeywell AV-900 Flight Deck Audio w/Radio & Intercom
• Triple Honeywell TR-865A VHF Communication Systems
• Dual Honeywell NV-865A NAV Navigation Systems
• Dual Honeywell DF-855 ADF
• Dual Honeywell DM-855 DME
• Dual Honeywell Mode S Transponders w/Enhanced Surveillance
• Dual Honeywell AZ-200 Air Data Computer
• Dual Honeywell AA-300 Radar Altimeters
• Honeywell TCAS-2000 w/ Change 7.1
• Honeywell EASy EgPWS w/Windshear Detection
• Dual Collins HF-9000 HF Communications Systems
• Honeywell 2 Channel SELCAL (HF 1 & 2)
• Honeywell Primus WU-880 Weather Radar
• Lightning Sensor System LSS-860
• Triple Honeywell Flight Management Systems w/Dual gPS
• Triple Honeywell Laseref V Inertial Reference Systems`
• Rockwell Collins Head Up guidance (HgS) – Cat IIIa Approved
• Honeywell DCVR Cockpit Voice Recorder (2 Hours)
• Honeywell Digital Flight Data Recorder (25 hours) - 88 parameters
• CTS Quick Access Recorder for FOQA
• Audio International AV-9693 Public Address/Chime Amplifier
• Elta ADT406 ELT
• Smiths Standby Magnetic Compass
• Meggitt Integrated Electronic Secondary Flight Display
EVAS
Lighted Chart Holders
• Dual Jeppesen Charts
Navigation and Compliance
B-RNAV (RNP 5) Equipped:
Yes
EASy II Next Gen/Navigation Compliance:
• ADS-B Out
• Runway Awareness & Advisory System (RAAS)
• VDL Mode 2 Radio in 3rd VDR Position
• RVSM Compliant
• RNP5 / RNP10 / MNPS
Inspections
Inspection Type
Performed
Next Due
Additional Equipment/Features
• Engine DTU for Trend Data Transmission
• Miltope TP-4840 Flight Deck Printer
• Three (3) EROS Full Face Oxygen Masks
• EVAS Emergency Vision Assurance System
• Lighted Chart Holders
• Two (2) Rechargeable Flight Deck Flashlights
• ERDA 3rd Flight Deck Seat
• Krups 554 Nespresso System Espresso Maker
• TIA 1602 Automatic Coffee Maker
• TIA 1545 High Temp Oven w/ Digital Controller
• TIA Wavejet 28V Microwave
• UV Water Treatment System
• Galley Pocket Sliding Door
• Removable Mid-Cabin Curtain Divider
• Two (2) Bulkhead Storage Cabinets with Drawers
• KGS Electronics Auxiliary 115V AC 60 Hz Power (6 Outlets)
• Fold Down Hanger Bar in Aft Baggage Compartment
• Two (2) Winslow 9-Man Life Rafts w/ 406MHz ELT
• Enlarged Oxygen Bottle (115 Cu. Ft.)
• Therapeutic Portable Oxygen System w/ Mask
• First Aid Oxygen System, Two (2) Masks and Two (2) Outlets
• Goodrich Ice Detection System
• Main Batteries Charging w/gPU
• SAFT Ni-Cad Aircraft Main Batteries (extended 33 months inspection intervals)
• Teleflex Tail Recognition Light System
• Dual Navigation Wing-Tip Position Lights
• LED Taxi & Landing Lights
• Telescopic Tow Bar
• Crash Axe w/ Storage
Interior
(Refreshed wood veneer February 2016 by TAg Aviation geneva, New carpet November 2019)
Beautiful ten (10) passenger interior featuring a four-place club arrangement in the forward cabin, followed by a four-place conference/dining group with manual table opposite a two-place club in the aft cabin. galley Pocket Door & removable Mid-Cabin Curtain Divider provide privacy throughout.

The cabin is completed in luxurious earth tones with soft Edelman "almond" leather seats accented by Townsend Leather "classic hazel" lower sidewalls and beige carpet throughout, with "milkweed" Tapis Corporation Ultraleather upper sidewalls and "milkweed" color Tapis Corporation Ultrasuede headliner. The cabinetry is finished in rich Carl Booth "walnut burl" high-gloss woodwork (refreshed in 2016) and complimented by tasteful "matte nickel" colored plating.

The forward 46" galley with Corian counter tops is optioned with a left-hand crew closet and is fully equipped to include ice/cold chests, ample storage, high temperature oven, microwave oven, espresso maker and coffee maker. A full-size galley pocket door and removable mid-cabin curtain divider separate the cabin for improved privacy and a quieter environment. The fully enclosed, private lavatory is in the aft cabin with an electric flushing toilet that is serviced externally. The spacious baggage compartment with fold down hanger bar is accessible in-flight through the mirrored door in the back of the lav. The 3rd flight deck seat (ERDA) also has a storage drawer.
Entertainment
Display TV Monitors:
2 (2) 20" FWD & Aft Bulkhead Monitors
Airshow System:
Airshow 400 w/ Worldwide Maps
Cabin Management System:
Audio International Cabin Management System
High Speed Internet:
Swift Broadband
DVD/CD Players:
Two (2) Multi-Regional DVD/CD Players
In-Flight Phone:
Honeywell MSC-7120 Inmarsat SATCOM
• Two (2) Multi-Regional DVD/CD Players
• Airshow 400 Cabin Display System w/Worldwide Maps
• Audio International Cabin Management System
Exterior
Base Paint Colors:
Matterhorn White
Stripe Colors:
Gamma Grey, Thunderstorm Grey, Freeport Blue, Bright Poppy, Majestic Accents
(New Paint January 2018 by TAg Aviation Paris)

Overall Jet glo Matterhorn White with gamma grey and Thunderstorm grey stripe with Freeport Blue, Bright Poppy and Majestic Accents (former BMW M Colours).
Weights
Max Takeoff Weight:
42,800.00
Max Landing Weight:
39,300.00
Max Zero Fuel Weight:
29,700.00
Basic Operating Weight:
25,060.00
Send a message to Mike Caruso at Avpro, Inc.