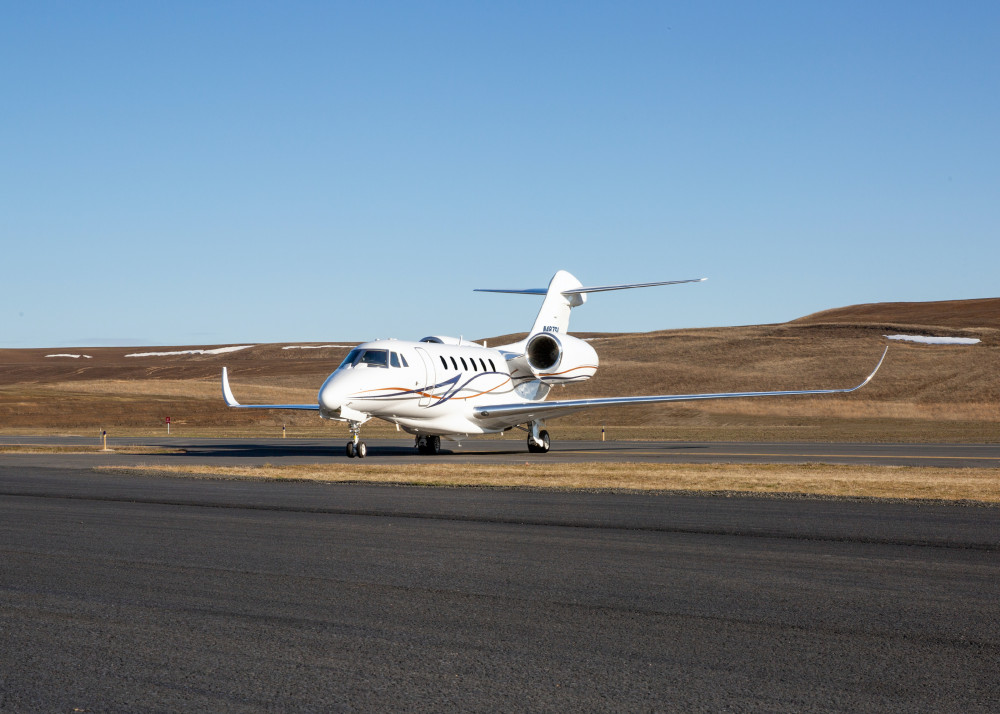 2016 Cessna Citation X+
Price: $7,950,000 Sale Pending!
Serial Number:

0525

Tail Number:

N487SL

Hours:

2,054

Cycles:

1,086
Auto Throttles
Gogo Biz ATG 4000 High Speed Internet Inmarsat Swift Broadband
Rolls Royce Corporate Care
Aircraft Winglets
Offered by:

Guilford, CT
Airframe
Maintenance Tracking:
Flight Docs
Airframe Certification:
FAR Part 91
Aircraft Winglets
LED Wing Navigation Lights
Dual ATSP-44 Nicad Ship Batteries
EROS O2 Masks
Engines
Rolls Royce AE 3007C2
TBO: 4500 Hours
Engine Program Coverage:
Rolls Royce Corporate Care (RRCC)
APU
Description:
Honeywell GTCP36-150 (CX)
Total Time Since New:
1,012
Avionics
Garmin G5000 Avionics System
ADC: Dual Garmin GDC 7400
AHRS: Dual Litef LCR 100N
Audio Processor: Dual Garmin GMA 36 Audio Processors
ADF: Rockwell Collins ADF 4000
CVR: L3 FA2100 (120 Minutes)
COMMs/NAVs: Dual Garmin GIA 63W Integrated Avionics Unit
DME: Dual Rockwell Collins DME-4000
EFIS: Triple Garmin GDU 1400W 14" Cockpit Displays
ELT: Artex C406-N 406 MHz
Flight Guidance Controller: Garmin GMC 7200 Autopilot
HF COMM: Dual Honeywell KHF-1050
RADIO ALTIMETER: Garmin GRA 5500
Secondary Flight Display: L3 Communications GH-3900 ESIS
SELCAL: Avtech CSD-10
4 Garmin GTC 570 Touchscreen Controlllers
Dual Garmin GCU 275 Backup Touchscreen Controller
TCAS: GarminnGTS 8000 TCAS II
XPNDR: Dual Garmin GTX 3000 w/ ADS-B Out V2
Weather Radar: Garmin GWX 70
XM Weather: GDL 69A
Electronic Checklists
Electronic Standby Instrument
Navigation and Compliance
Inspections
Inspection Type
Performed
Next Due
Doc 1
Performed:
December 2019 @ 2,008 Hours
Doc 2
Performed:
November 2018 @ 1,274 Hours
Doc 3
Performed:
December 2019 @ 2,008 Hours
Doc 11
Performed:
November 2019 @ 1,980 Hours
Doc MG
Performed:
April 2019 @ 1,600 Hours
Interior
Interior Last Refurbished:
2016
Executive nine passenger interior features a forward and aft 4-place club with fold-out side ledge tables custom built by Textron to provide an extra 4 inches of leg room to maximize comfort along with a forward galley, and aft lavatory. The galley is equipped with two electric coffee pots, a microwave, an ice drawer, and ample storage space. The aft lavatory features a belted toilet, a vanity equipped with a water heater, pocket doors, and a storage closet. USB charging ports,115 VAC / 60 Hz electrical outlets, and cabin phone handsets in the forward and aft cabin complete this interior.
Entertainment
High Speed Internet:
Gogo Biz ATG-4000 High Speed Internet, Thrane & Thrane Inmarsat Swift Broadband
In-Flight Phone:
Iridium Satellite Phone System
Garmin Connext
Garmin Surface Watch
Exterior
Base Paint Colors:
Overall Matterhorn White
Stripe Colors:
Blue, Gold, and Grey Metallic striping
Weights
Max Takeoff Weight:
36,600.00
Max Landing Weight:
32,000.00
Max Zero Fuel Weight:
22,532.00
Minimum Fuel Weight:
24,000.00
Send a message to Samantha Langen at Guardian Jet, LLC