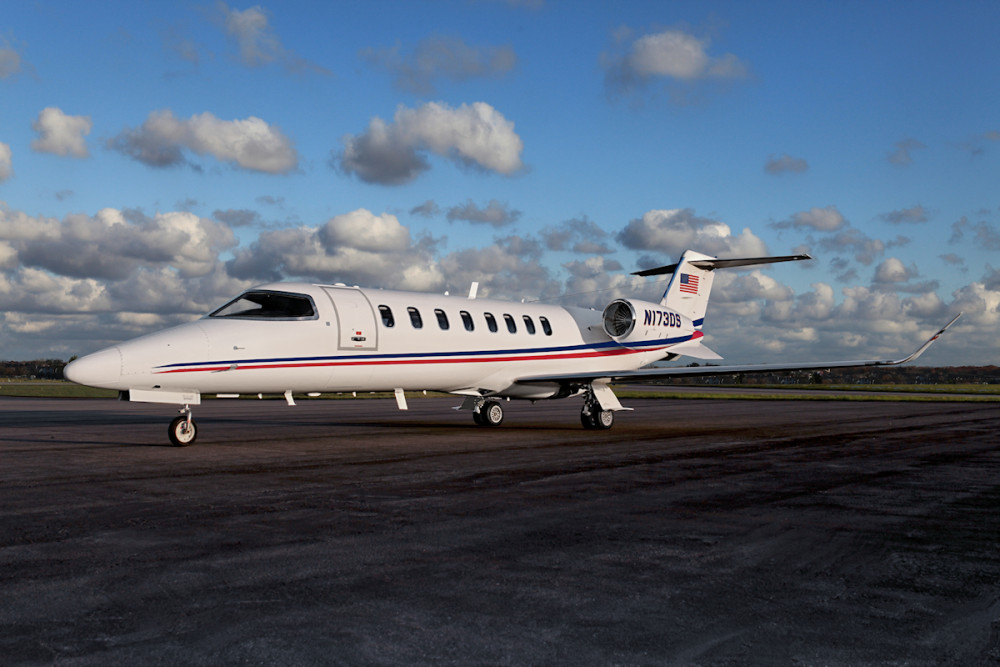 2016 Bombardier Learjet 75
Price: Contact Broker
Serial Number:

0533

Tail Number:

N173DS

Hours:

788

Cycles:

517
• Factory warranty through March 2021
• No Damage History
• GoGo ATG-5000 WiFi
• 36 Month c/w February 2020
• Delivery available with SmartParts, Engines and APU on MSP or JSSI
Offered by:

Lincoln, NE
Airframe
Maintenance Tracking:
CAMP
Factory warranty through March 2021
Engines
Honeywell TFE731-40BR-1B
MSP Engines Buy-In $297,000
MSP Hourly per Engine $338.05
APU
Description:
Honeywell RE100 (CIMMS)
Avionics
ADS-B In/Out Equipped:
Yes
Garmin G5000 Integrated Flight Deck
• Three (3) Garmin GDU1400W Flight Displays with Synthetic Vision
• One (1) Garmin GMC 7250 AutoFlight Control System
• Three (3) Garmin GSA 9000 AutoFlight Servos
• Four (4) Garmin GEA 71 Engine/Airframe Data Units
• Two (2) Garmin GCU 275 Display Controllers
• Two (2) Garmin GTC 570 Radio Controllers
• Two (2) Garmin GIA 63W Nav/Com Units with 8.33 kHz Spacing
• Two (2) Garmin GMA 36 Digital Audio Panels
• Two (2) Garmin GSD 41 Data Concentrators
• Two (2) Garmin GRS 7800 AHRS
• Two (2) Garmin GMU 44 Magnetometers
• Two (2) Garmin GDC 7400 Air Data Computers
• One (1) L3 GH-3900 Standby Instrument System
• One (1) Garmin GWX 70 AHRS Stabilized Vertical Profile Weather Radar with WATCH
• Two (2) Garmin GTX 3000 Transponders (ADS-B Out and In)
• One (1) Garmin GTS 8000 TCAS II (7.1)
• One (1) Collins ALT-4000 Radio Altimeter
• One (1) Collins DME-4000 DME Receiver
• One (1) Artex C406-N 406 MHz ELT

AVIONICS OPTIONS:
• One (1) Garmin GDL 69A Sirius XM Weather and Radio Receiver
• One (1) L3 FA2100 SSCVR (120-minute) with Datalink
• One (1) ATG-5000 WIFI System, including:
• One (1) GoGo UCS 5000 Smart Router/Media Server
• One (1) Garmin GSR 56 Iridium Datalink Receiver
Navigation and Compliance
Inspections
Inspection Type
Performed
Next Due
Additional Equipment/Features
Duncan Aviation is proud to bring Bombardier Learjet Serial Number 45-533 to the market. This Lear 75 represents the perfect aircraft for value driven purchasers: a program-free, no damage history, US based, single owner aircraft that has always been hangered. For additional assurance, serial number 533 has one (1) year remaining on its factory warranty and can be enrolled on MSP, JSSI, or purchased without an engine or APU program, giving potential buyers the freedom to choose.

Serial number 533 is as well-equipped as any Lear 75 available today, and with less than 790 Hours Total Time since new, it is one of the lowest time aircraft as well.

There are few, if any, options that the initial owner did not select. Key features of its Garmin G5000 Flight Deck include:
• Garmin Synthetic Vision Technology
• Dual Garmin FMS with WAAS/LPV Approach Capability
• Garmin ADS-B Out and In
• Dual Garmin Diversity Transponders and Enhanced Surveillance
• Digital Cockpit Voice Recorder (120 minutes) and Mini QAR
• TOLD Performance Database
• Garmin Digital Charts, XM Satellite Weather, Class A TAWS, and more
• GoGo ATG-5000 WiFi

Serial number 533 appears nearly new cosmetically with a tasteful selection of the best materials, colors, and patterns. The aircraft features the most desirable nine (9) passenger configuration with dual club groupings and an aft belted lavatory seat. Serial number 533 features an ample forward refreshment center and the Lufthansa NICE cabin management system with six (6) pop-up LCD screens, one (1) 12.1" High Resolution Flat Panel LCD monitor, Sirius/XM Radio, and an iPad docking station.

The Lear 75 is all about raw performance, exceptional handling and cutting-edge technology. If you are looking for an exquisite, turn-key Lear 75, go no further than serial number 533.
Interior
Interior Last Refurbished:
2016
Nine (9) Passenger configuration with two (2) four-place club seating groups and one (1) additional belted lav seat. Fully articulated cabin seating with custom diamond stitching, pull-out cabin tables, and custom-woven carpet with maintenance runner. Excellent condition.

Two (2) forward left and right galley and cabinet assemblies with multiple storage units. Fully enclosed aft lavatory with partition, hot water dispenser and externally serviced flushing toilet.
Entertainment
Cabin Management System:
Lufthansa NICE
High Speed Internet:
GoGo ATG-5000
Lufthansa NICE Cabin Management System, with six (6) pop-up touch entertainment displays, one (1) 12 inch forward high resolution LCD Monitor with Airshow, iPad docking Station, USB power supplies, Blue-Ray DVD Player, Sirius XM/Radio and GoGo ATG-5000 wireless high-speed internet.
Exterior
Base Paint Colors:
Matterhorn White
Stripe Colors:
Egyptian Blue, Sunfast Red
Overall Matterhorn White with Egyptian Blue and Sunfast Red striping. Excellent condition.
Send a message to David Coleman at Duncan Aviation, Inc.