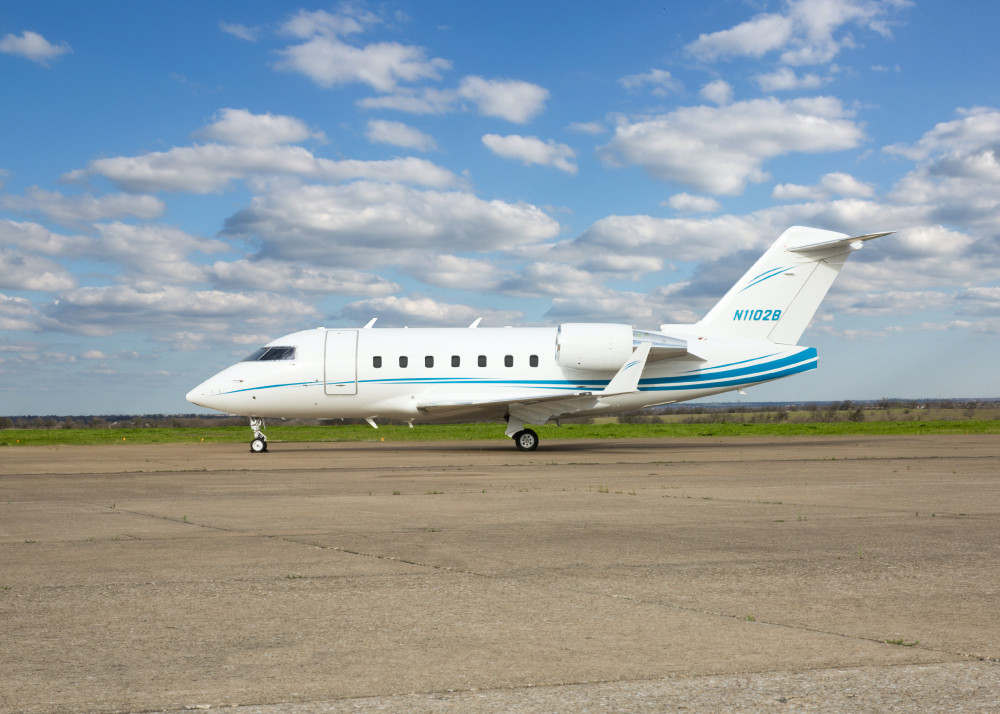 1998 Bombardier Challenger 604
Price: Make Offer
Serial Number:

5376

Tail Number:

N1102B

Hours:

10,038

Cycles:

7,277
1998 Challenger 604 #5376
• 10,038 hours Total Time
• Engines on Condition
• WAAS/LPV/ADS-B Out
• Heads Up Display
• Precision Plus Avionics
• Auto-Throttles
• ATG-4000 High Speed WIFI
• High Density 14 Pax configuration
• 192 Month Inspection & Gear Overhaul Complied with 4/2014
Offered by:

Houston, TEXAS
Airframe
Engines
APU
Total Time Since New:
7,811
Avionics
EFIS Collins Proline 4 - Six Tube EFIS
Dual Collins VHF-422D Communications (w/ 8.33 Spacing)
Dual Collins VIR-432B Navigation (w/FM Immunity)
Dual Collins DME-442 Distance Measuring Equipment
Dual Collins ADF-462 Automatic Direction Finder
Dual Collins TDR-94D Transponders Enhanced Surveillance
w/ flight ID
Dual Collins FMC-6000 Flight Management System
WAAS / LPV Compliant
Dual Collins GPS-4000 Global Positioning System
Triple Litton LTN-101 LASEREF
Dual Collins HF w/ SELCAL
Single Collins RTA-854 Weather Radar
Single Collins ALT-55B Radar Altimeter
Single Honeywell Mark V EGPWS w/ RAAS
Single Collins TCAS II (w/ Change 7) TTR-920
Single Fairchild A100 Cockpit Voice Recorder
Single Fairchild F-1000 Flight Data Recorder
Airtex ELT-406 Emergency Locator Transmitter
Collins DBU-5010E Database Unit
SATAFIS
ADS-B Out Compliant
Additional Equipment/Features
Flight Dynamics 2150 HUD
Precision Plus
Auto Throttles
Aircell ATG-4000 WIFI
Airshow Genesys
Axxess II Iridium Sat Com phone
Winglets
Audio International DVD (1 ea) Player
Audio International (10 Disc) Player
Interior
Interior Last Refurbished:
2014
14 Place cabin featuring Forward 4-Place Conference Group Across from 2-Place Club. Aft 4-Place Conference Group Across from 4-Place Divan. Beige leather seating with complementary headliner, window reveals and lower sidewalls. Light colored woodwork featured on all cabinetry, bulkheads and drink rails. Forward & Aft 19" video monitors. Forward S-shaped galley featuring laminate stone countertops with coffee pot and microwave. (Partial Interior Refurb - 2014)
Exterior
Base Paint Colors:
Matterhorn White
Stripe Colors:
Medium Gray & Process Blue
Send a message to Toby Smith at JBA Aviation, Inc.