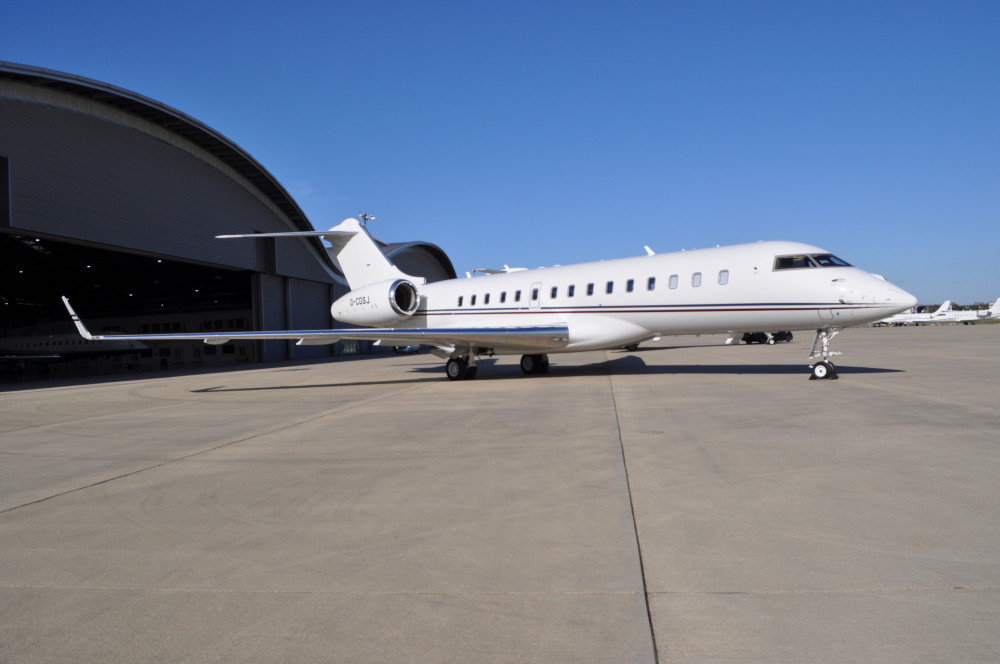 2010 Bombardier Global Express XRS
Price: Call for Price
Serial Number:

9377

Tail Number:

G-CGSJ

Hours:

3,642

Cycles:

1,738
Aircraft available for private viewing by appointment at Duncan Aviation's Provo, UT facility
One owner since new
2020 Compliant
Primus Elite
Batch 3.4-Fans 1/A+, CPDLC, ADS-B Out, LPV, TCAS 7.1
Smart Parts+/CorporateCare/MSP
Motivated to sell!
Airframe
Program Coverage:
Bombardier SmartParts Plus
Maintenance Tracking:
CAMP
AFTT: 3642 Hours
LANDINGS: 1738 Cycles
Bombardier Smart Parts Plus

One owner since new.

Aircraft available for private viewing by appointment at Duncan Aviation's Provo, UT facility
Engines
ENGINES: Rolls Royce BR700-710A2-20
Rolls Royce CorporateCare

ENGINE 1:
S/N: 12879
3642 Hours
1738 Cycles

ENGINE 2:
S/N: 12880
3642 Hours
1738 Cycles
Engine Program Coverage:
Rolls Royce Corporate Care (RRCC)
APU
Description:
Honeywell RE220 (GX)
Total Time Since New:
4,140
Avionics
Maintenance Program:
SMART PARTS
Honeywell Primus 200XP Integrated Avionics Flight Control System
Dual Honeywell Primus 2000XP Flight Director
Batch 3.4/FANS 1A+/RNP4 30/30/CPDLC/SBAS LPV/ADS-B Out/TCAS 7.1
Dual Honeywell Auto-Pilot with AFCS + Yaw Damper and Windshear Escape Guidance Function
6 Honeywell Primus Elite LCD EFIS DU-875 Flight Deck Upgrade with Integrated Charts and Maps Function + IESI
Honeywell DL 1000 Data Loader
Dual Honeywell RCZ-833K VHF COM with XS-822 Mode S Diversity Transponder with Extended Squitter
RCZ-833 VHF COM (Com 3)
Dual Honeywell RNZ-851 Nav
Dual Honeywell DF-850 ADF
Dual Honeywell DM-850 DME
Honeywell NZ-2000 Triple FMS
Dual Honeywell HG2021GD04 GPS
Teledyne ADLU AFIS
Collins SAT-6100 Triple Channel Satcom
Collins HST-900/2110 Transceiver Units
Dual Collins HF-9031A HF Com
Coltech CSD-714 Selcal
Aerocom ICG 3000 Cabin Telephone Unit
Honeywell WU-880 Radar
Dual Collins ALT-4000 Rad. Alt
Thales HUD
Thales/CMS EVS
Honeywell LZS 860 Lightning Sensor System
Honeywell RT-950 TCAS 2000 7.1
Honeywell EGPWS Mk V with RAAS
Honeywell Solid State FDR
Avionica QAR
Honeywell Solid State CVR
Artex B406 ELT
Triple Honeywell Laseref IV IRS
Additional Equipment/Features
CAMP Maintenance Tracking
RVSM/MNPS/RNP5/RNP10/FM Immunity/8.33 Khz spacing.
Flight Crew Emergency Vision Assurance System (EVAS)
Puritan Bennett Flight Crew Quick Donning Masks
Quick Donning 3rd Crew Seat Eros MC-20 Oxygen Mask
Crew Half-Face MC20-004 Oxygen Masks
Securaplane External Camera System
Airshow ASXI Moving Map
Flight Deck CMC Class II EFB's
Miltope Cockpit Printer
Cabin Printer WIFI
Portable Maintenance Access Terminal fitted in Crew Rest
Rockwell Collins Cabin Electronic System
Ground Service Cabin Power Function
Cabin WIFI/Ethernet LAN System with Swift 64 and AeroH+
Dual Channel Swift-broadband (SBB) with Data Acceleration (CNX200) 432kbps quoted speed.
Iridium ICG-100 Telephone System
Two, corded backlit handsets and two, cordless handsets
Three CD/DVD/iPod Units
Two 21.3" LCD monitors
One 10.4" touch screen LCD monitor in the galley, nine 10.4" touch screen plug-in receptacles in the cabin, three plug-in 10.4" touch screen LCD monitors (loose equipment)
Main Entry Door Forward and Aft Handrail Extensions

SERVICE BULLETINS
SB 700-11-018 Operations at airports with max weight restrictions
SB 700-11-020 Increased MTOW to 99,500 lbs
SB 700-23-005 Airborne Data Link System ("ADLS")
SB 700-28-002 Addition of refuel/defuel control panel in flight compartment
SB 700-33-001 Addition of logo lights
SB 700-34-032 Heads Up Display
SB 700-34-033 Enhanced Vision System
SB 700-34-053 FANS 1/A+ and RNP 4
SB 700-34-054 SBAS w/ LPV Approach Capability
SB 700-34-062 ADS-B Out
SB 700-34-064 TCAS 7.1
SB 700-44-004 CES Wireless Passenger Control Unit iPod Touch 5 Smart Dock Installation
Interior
This Global Express XRS offers a spacious cabin configured with a forward galley, forward and aft lavs, crew rest, and large, luxurious seating for 13 passengers (max allowable PAX 14 with removable bulkhead removed). Forward cabin is situated with four, wide single seats in club configuration with two pull-out tables; four-place double club configuration mid-cabin; two-place club seating opposite a three-place divan aft.
Exterior
Overall Matterhorn White with Navy and Brown Stripes
Send a message to Tim Barber at Duncan Aviation, Inc.