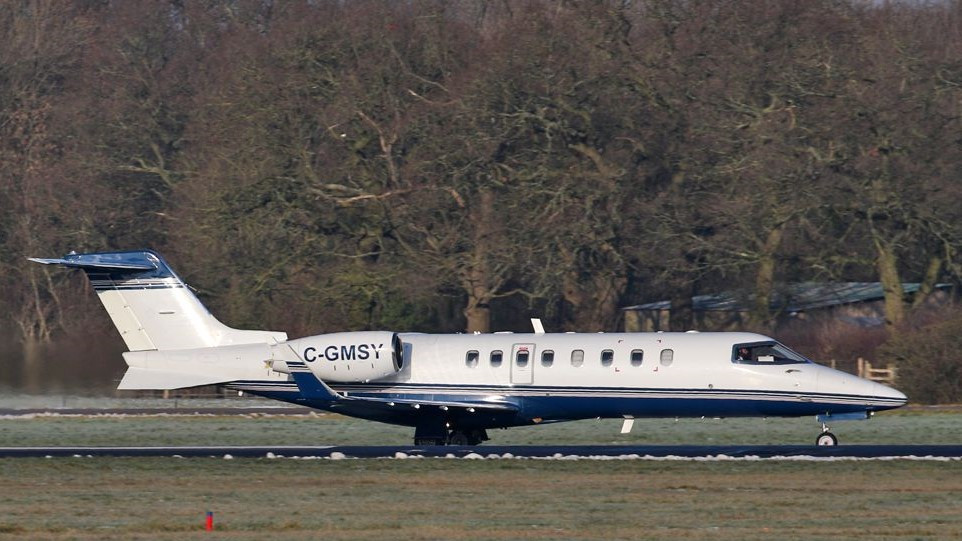 2000 Bombardier Learjet 45
Price: Make Offer
Serial Number:

0112

Tail Number:

C-GMSY

Hours:

9,973

Cycles:

7,633
Skyservice is proud to offer this professionally maintained and operated 2000 Lear 45. This great pedigree aircraft has recently completed the 10,000 hr inspection, has ADS-B out, TCAS II 7.1, and Universal 1Ew upgrade. The Aircraft has BR engine upgrade and enrolled on MSP. It also comes with both a Corporate and Medevac Interior. For additional information, please contact Skyservice today!
Offered by:

Skyservice Business Aviation, Inc.
Mississauga, ON
Airframe
Home Base:
Montreal, Quebec, Canada
Maintenance Tracking:
CAMP
CAMP (Computerized Aircraft Maintenance Program)
Engines
TFE731-20BR-1B
BR Engines
Engine Program Coverage:
MSP
Avionics
ADC: Dual Honeywell AZ-850 air data computers
ADF: Dual RNZ-851
AHRS: Dual Honeywell AHZ-800
Autopilot: Honeywell IFCS (dual Honeywell IC-600 autopilot computers)
Avionics Package: Honeywell Primus 1000
Communication Radios: Dual Honeywell RCZ-833 w/8.33 kHz spacing
CVR: AlliedSignal
DME
EFIS: Honeywell DU-870 4-tube 8x7-inch
Flight Data Recorder: FA2100
Flight Director: Honeywell IFCS
Flight Phone: MagnaStar C-2000 (Cockpit & Cabin)
FMS: Dual Universal UNS-1Ew w/GPS (WAAS/LPV capable)
Hi Frequency: AlliedSignal KHF-950 w/SELCAL
Navigation Radios: Dual Honeywell RNZ-851 w/FM Immunity
Radar Altimeter: Honeywell RT-300
TAWS: AlliedSignal EGPWS w/windshear
TCAS: Honeywell TPU-67A TCAS-II elementary w/change 7.1 & enhanced surveillance
Weather Radar: Honeywell Primus 660 (color)
SATPHONE GOGO 4300
Additional Equipment/Features
Cockpit:
EICAS
Standby Airspeed & Attitude indicators
Artex C406-2 MHz ELT w/nav interface
Enhanced ACAS-II
Dual Davtron clocks
ADS-B Out (SB45-34-36)
WAAS/LPV (Dual Universal 1Ew upgrades)
BR ENGINES

Crew Accessories:
Lighted chart holders
Electric foot warmers
Smoke Goggles
Oxygen masks
Sun Visors
Jeppesen storage
Cockpit Assist handle
Fire Extinguisher

Equipment: 45XR mod,
115-volt AC outlets,
External baggage compartment with Lighting
Life Vests (11)
Therapeutic 02 bottle

Lights: Pulselites, Strobes, Nav Lights, Beacon, Anti-Collision

Medical Equipment:
Lifeport Plus main base
Lifeport Plus tandem base
Stretcher loading ramp w/stretcher locking & height ratcheting mechanism
Custom ground-level weight bearing foot stand & bridge ramp
Custom medical galley to hold four (4) 70-liter medical oxygen tanks
Interior
Configuration/PAX: Executive/8+1 passengers
Air Conditioning: Yes
General: Dual configuration; Executive or Medevac interior
Seating: Tan leather double club seating
Headliner: Milkweed ultraleather headliner
Sidewalls: Milkweed ultraleather sidewalls with 115V AC outlets
Carpet: Custom keystone & tobacco fabric carpeting
Refreshment : Forward galley, hot coffee and ice storage
Cabinetry/Wood: High-gloss striped Sapele woodwork, four executive foldout tables
Entertainment : Airshow 400, forward & aft LCD monitors, cassette player, 10-disc CD changer, VCR, video system
Lavatory: Aft lav (Belted), plus 115V AC outlet, Vanity with Mirror & Cabinet
Exterior
Base Paint Colors:
Matterhorn White Over Royal Blue
Colors: Matterhorn white upper & royal blue lower including stripes
Weights
Max Takeoff Weight:
21,500.00
Max Landing Weight:
19,200.00
Max Zero Fuel Weight:
16,500.00
Basic Operating Weight:
14,117.00
Usable Fuel Capacity:
6,062.00
Send a message to Geoff Carlyle at Skyservice Business Aviation, Inc.