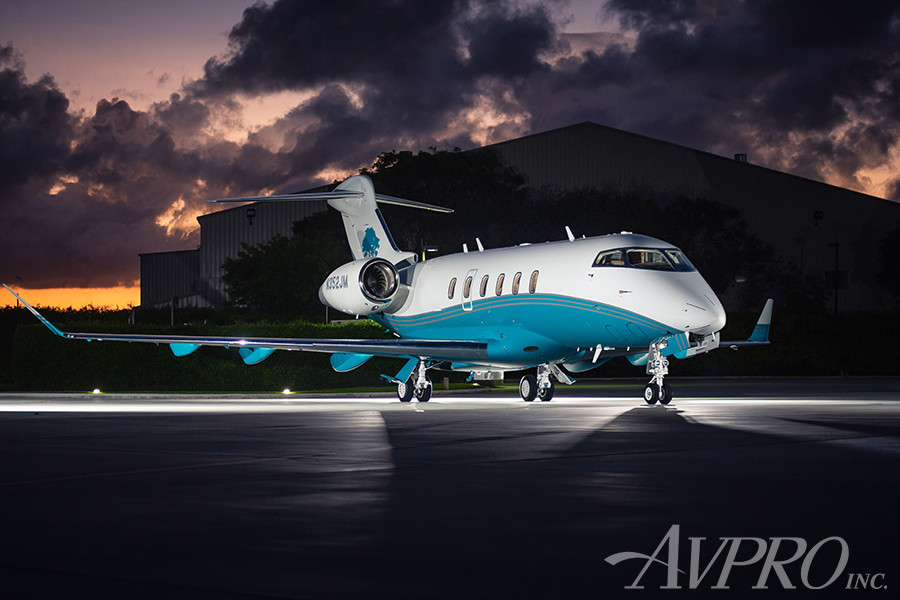 2014 Bombardier Challenger 350
Price: $12,250,000
Serial Number:

20522

Tail Number:

N352JM

Hours:

2,354

Cycles:

1,510
One U.S. Forbes 25 Owner Since New
FANS-1A+/CPDL/ADS-B Out (V2)
XM Graphical Weather, 3-D Navigational Maps
SmartRunway & SmartLanding (SB350-008)
2000 Hour Engine Insprctions - Dec. 2018
Enrolled on Bombardier SmartParts Plus
Engines & APU on Honeywell MSP
Offered by:

Annapolis, Maryland
Airframe
Program Coverage:
Bombardier SmartParts Plus
Maintenance Tracking:
Flight Docs
APU Improved Carbon Seal, New January 2018
Dual LED Navigation Lights
3 life Rafts Each w/ ELT
Pulse Landing Lights
Logo Light Option
Cockpit and Lavatory Protective Breathing Equipment (PBE)
Cockpit O2, Smoke Goggles
Engines
Honeywell AS907-2-1A (HTF 7350)
2000 Hour Inspections c/w December 2018
Engine Program Coverage:
MSP
APU
Description:
Honeywell CTCP 36-150 (BD)
Total Time Since New:
1,613
Avionics
Collins Pro Line 21 Advanced Avionics
(Synthetic Vision System, XM Graphical Weather (SB350-46-002), -3D Navigational Maps (SB350-34-003)
Dual Flight Guidance Computer FGC-3002
2nd File Server Unit (SB350-46-001)
Third VHF Meets Link 2000+ Certifications (SB350-23-015)
Triple VHF 4000 COMMs w/SELCAL
NAV 4000 w/ADF & NAV 4500
Dual Collins DME-4000 DMEs
Dual Air Data Computer ADC-3000
Maintenance Diagnostic Computer MDC-3000
DCU-5000 Data Concentrator Unit
RDC-5000 Remote Data Concentrator Unit
TDR-94D Mode S XPNDR w/ SDS-B V2 (DO 260B)
Dual FMC-6200 FMS w/V-Speed & Performance Database (SB350-34-013)
Dual Collins GPS-4000s System WAAS
Dual Honeywell IRS IR 600
Dual Collins HF-9031A w/SELCAL (SB350-23-002)
Datalink SELCAL (SB350-23-004)
Honeywell Mark V RGPWS TAWS
Collins TCAS II w/Change 7.1 TSS-4100
Lower Traffic Surveillance Directional Antenna Option (SB350-34-004)
Multi-Scan Weather Radar RTA-4100
Datalink Meets Eurocontrol Link 2000+ (SB350-23-010)
CVR FA2100 w/RIPS (SB350-23-009)
FDR FA2100 (SB350-31-001)
ELT Artex C406 w/Nav Capabilities
Iridium Satellite Communications System (SB350-23-13)
Navigation and Compliance
ADS-C
SmartRunway and SmartLanding (SB350-008)
Inspections
Inspection Type
Performed
Next Due
2400 Hr. & 48 Mo. Inspections by Bombardier, FLL
Interior
Fwd Cabin: Double Club Configuration, Seating Covered in Vanilla Colored Townsend Leather
High Gloss Smoked Oak Medium Colored Woodwork
Silver Colored Plating
Tan Colored Patterned Carpet
Galley Enhanced Package w/Microwave, TIA Coffee Maker, Large Ice Drawer
Entertainment
Display TV Monitors:
Fwd and Aft Bulkhead Monitors
Cabin Management System:
Lufthansa Technik "NICE" Cabin Management System
High Speed Internet:
Aircell ATG-5000 Broadband Internet w/Talk & Text
DVD/CD Players:
Blu-Ray Player
In-Flight Phone:
Aspire 100 Wireless Cabin Handset w/Spare Handset & 2 Channel Iridium Transceiver
2 Aircell ATG Broadband Antennas on the Belly FairingCabin Entertainment System, iPod, DVD, DVD/CD
Exterior
Base Paint Colors:
Matterhorn White Upper Over Teal Lower
Stripe Colors:
Green, Gray
Send a message to Don Bass at Avpro, Inc.