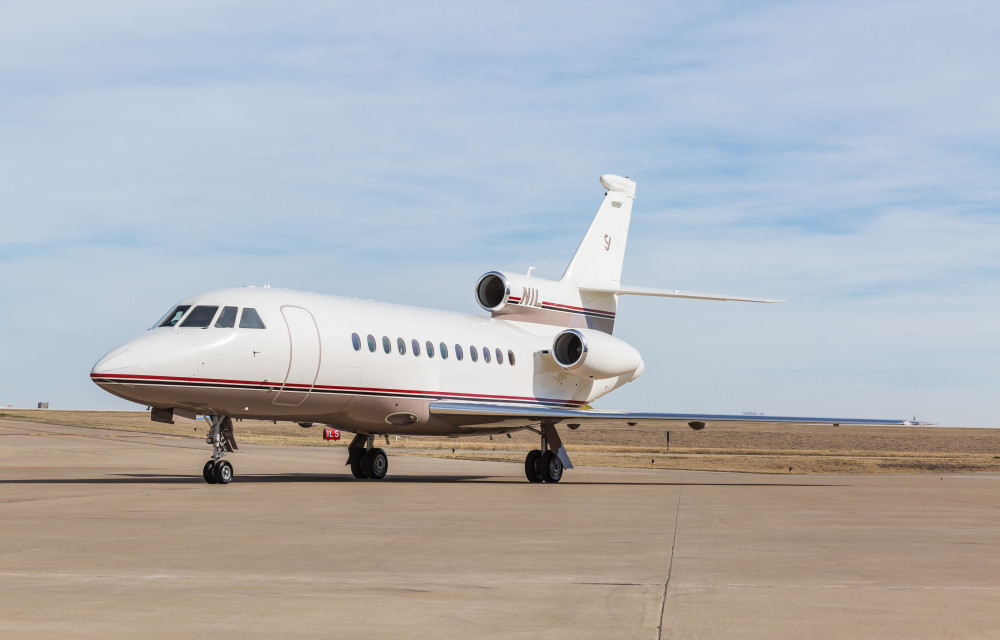 1987 Dassault Falcon 900B
Price: Make an Offer
Serial Number:

0019

Tail Number:

N19FJ

Hours:

8,275

Cycles:

3,909
Honeywell N1 DEECs
Swift Broadband Internet
Aircell ATG 4000 Equipped
Engines enrolled on Honeywell MSP
Cabin LED Lighting
ADS-B Out Version 2 Installation Scheduled for October 2019
Offered by:

Guilford, CT
Airframe
Maintenance Tracking:
Flightdocs
Engines
ENGINES: Garrett TFE-731-5BR-1C
Engine Program Coverage:
MSP
APU
Total Time Since New:
3,952
Avionics
AIR DATA COMPUTER: Dual Honeywell AZ-810 Air Data Computers
AUTOMATIC DIRECTION FINDER: Dual Collins ADF-60B
AUTOPILOT / FLIGHT DIRECTOR: Dual Honeywell SPZ-8000 Autopilot
COCKPIT VOICE RECORDER: Universal Cockpit Voice Recorder
COMMUNICATIONS: Dual Collins VHF-22C Transceivers with 8.33 Spacing and FM Immunity
DATA LOADER: Honeywell DL-950 USB Data Loader
DISTANCE MEASURING EQUIPMENT: Dual Collins DME-42
EMERGENCY LOCATOR TRANSMITTER: Artex C406-1 ELT
ENHANCED GROUND PROXIMITY WARNING SYSTEM: Honeywell EGPWS MK V
FLIGHT MANAGEMENT SYSTEM: Dual Honeywell NZ-2010 FMS with Software Version NZ 6.1
GLOBAL POSITIONING SYSTEM: Dual Honeywell GNSSU GPS Units
HIGH FREQUENCY COMMUNICATION: Dual Honeywell KHF-1050 High Frequency Radios
INERTIAL REFERENCE SYSTEM: Dual Honeywell Inertial Reference Systems
NAVIGATION: Dual Collins VIR-32 Navigation Receivers
RADAR: Honeywell Primus 880 Weather Radar
RADIO ALTIMETER: Single Honeywell RT-300 Radio Altimeter
SELCAL: Terra Jetcall Selcal Unit
TRAFFIC COLLISION AVOIDANCE SYSTEM: ACSS TCAS 2000 with Change 7.1
TRANSPONDER: Dual ACSS RCZ-852 Transponders (ADS-B Out V2 Scheduled 10/2019)
Navigation and Compliance
8.33 kHz Channel Spacing for Comms
FM Immunity
RVSM
BRNAV / VNAV
MNPS
WAAS/LPV
RNP 10
TCAS 7.1
Inspections
Inspection Type
Date Performed
Next Due
3C Inspection
Date Performed:
September 2005
Interior
Interior Last Refurbished:
2010
Interior Refurbished by Standard Aero – Springfield, IL in April, 2010.
The aircraft has a fourteen-passenger interior beginning with a forward four-place club-seating area and two fold-out side ledge tables, followed by a four-place conference group in the mid-cabin across from a credenza. The credenza is equipped with a stowable, side-facing seat (not certified for taxi, take-off, or landing). The mid-cabin conference table can be extended to meet the credenza side facing seat. The aft cabin features dual three-person divans. A spacious forward galley and aft lavatory completes this interior.
Entertainment
➢ Custom Control Concepts Skyshow
➢ Forward Cabin Bulkhead Monitor
➢ CCC Credenza Monitor
➢ Aft Cabin Bulkhead Monitor
➢ Swift Broadband High Speed Data
➢ Aircell ATG 4000 (Go-Go Biz) High Speed Internet Broadband System
➢ Iridium satellite phone system – (3) handsets – (1) Wired in the cockpit, (2) Wireless in the cabin
➢ CNX-200 Wireless Router
Exterior
Base Paint Colors:
Two-tone Chevron White and Castle Tan base
Stripe Colors:
Red and Brown
Last painted by Standard Aero – Springfield, IL in April, 2010

Two-tone Chevron White and Castle Tan base with red and brown stripes.
Send a message to Guardian Jet, LLC