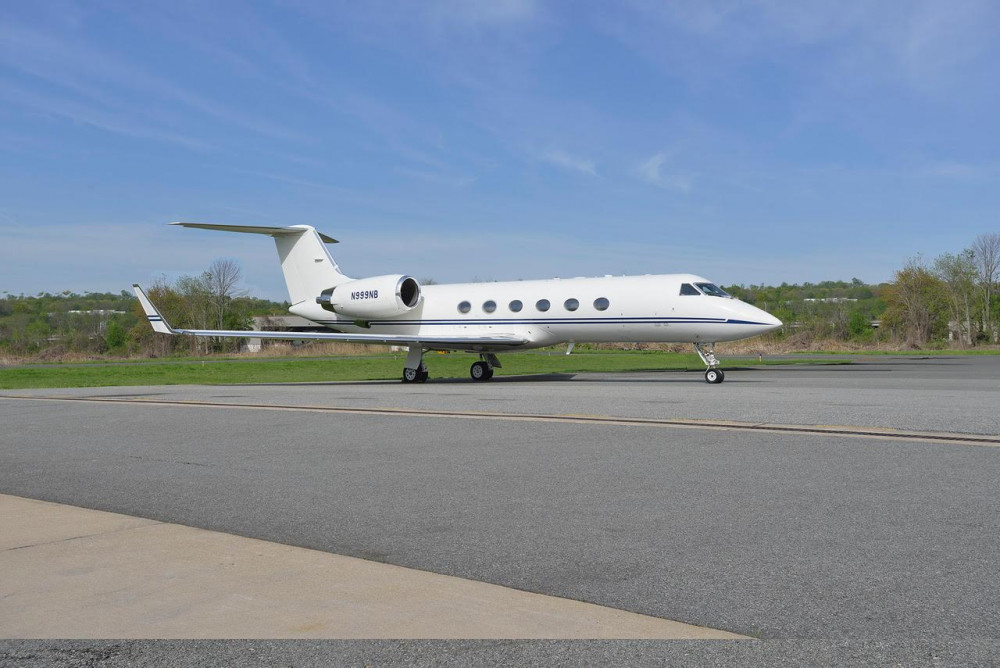 1994 Gulfstream G-IV SP
Price: Contact Broker Currently Leased
This aircraft is also available for lease.
Serial Number:

1234

Tail Number:

N999NB

Hours:

6,661

Cycles:

4,943
Aircraft Is Available For Lease Only
Wingtip Taxi Lights
Offered by:

Business Aircraft Leasing, Inc.
Nashville, TN
Contact Business Aircraft Leasing, Inc.
Engines
APU
Total Time Since New:
4,562
Avionics
Dual Honeywell SPZ-8000 FD
Dual Honeywell NZ-2000 w/6.1 Software (ASC 477A0
Dual Honeywell24 Channel GPS
Dual Honeywell AA-300 Radio Altimeter
Honeywell WU-870 Color Radar
Dual Collins VIR 432 NAVs
Dual Collins ADF-462
Dual Honeywell AZ-810 Digital ADC
Dual Collins TDR-94D XPNDRs w/Mode S
Dual Collins DME-442
Triple Collins 422 B COMMs w/ 8.33 kHz Spacing
EGPWS w/ Windshear Detection
Triple Honeywell LASEREF III IRS
TCAS II w/ Change 7.1
Motorola NA-138 SELCAL
AFIS w/ Cockpit Printer
406 MHz ELT w/ FMS Position
Jet Standby Flight Instruments
Emergency ILS
Honeywell DL-950 Data Loader
Teledyne FDR
Dual Aeronautics Compass System
Honeywell LSZ-850 Lightening Detector
CMS-400 Voice Checklist
Inspections
Inspection Type
Performed
Next Due
12/24 Month
Date Performed:
July 2018
Interior
Interior Last Refurbished:
2004
14 Passenger Fireblocked
FWD 2 Chairs, Crew LAV, and MIni Galley
AFT Cabin 5 Single Chairs, 3 Place Divan & 4 Place Divan
Mid-Cabin Credenza w/Entertainment System
High Gloss Veneers and Gold Plating
Emergency O2
Entertainment
Airshow System:
Airshow 400
In-Flight Phone:
Aircell ST3100 Iridium SAT Phone, 3 Handsets
Send a message to Business Aircraft Leasing, Inc.